News: United Airlines is undergoing a massive period of change following it's merger with Continential Airlines. The final shape of the airline is not yet known, but it is clear that United Airlines has cut back on many inflight perks. The airline you fly on now may be a different beast to one the one you expect. All that is certain at the moment is that these are times of change - and not necesarily for the better - for United Airlines.
Once the darling of the US, United Airlines is a confused and sickly bird at the moment. However, against the commercial wind it is still resolutely flying, with both long haul from London to the US, domestically on many routes inside the US, and from there to many Asian and South American destinations. It offers a below-average, slightly aged experience, with a real low-cost no-frills flight in the back of the bus, but still decent up front. Read more about United's seats and fleet.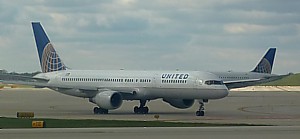 United Continetal Boeing 757 at Chicago
Once United Airlines reviews waxed lyrical about famous for its food and lounges, there is a still a First Class section on domestic flights which is well worth it. Alas United have taken on many of the features of a no-frills carrier with cramped seats, food is limited long-haul (and United now charge for it on domestic), alcohol must now be paid for in Economy, the Frequent Flyer scheme isn't the best in the Star Alliance, and one some longhaul planes there is no seatback TV. United seatback TV details.
However if you know what you're getting United Airlines reviews can sometimes be positive. The lounges are better than others in the US, ticket prices are marginally cheaper, and United are very good at upgrading from economy to business class.
And yet if you think you know United Airlines from a couple of years back – think again. The United you fly on now is a very different beast from the airline you once flew on. Much of this change has come because of the merger of Continental Airlines and United Airlines: two airlines that were once at diametrically opposite ends of the luxury scale.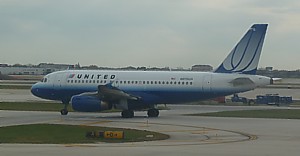 United ex Continetal Boeing 737 at Chicago
Indeed part of the problem is that Airlines in the United States is a country that just doesn't seem to be able to 'do' airlines any more, and certainly can't do them in quality. In the race to the bottom, United were a long way ahead (or behind) and seemed to leave innovation behind in the 1960s. Continental however was at the top of the heap, with free meals and drinks, and live inflight TV on domestics. Continental was the most European of US Airlines, and that tells you a lot. Continental had two classes of service on board – United had four, of a much poorer quality. United inflight food.
United have flirted with upmarket services. Indeed, in 2004 it started a domestic PS (Premium Service) on the east-west triangle, offering a three-cabin configuration with new First Class seats up front. The service proved remarkably popular, and have shown that there is a market for a superior quality product within the US, but United failed to capture on this success across its network.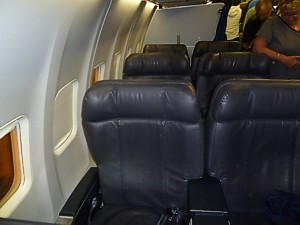 United Continetal Boeing 737 First Class seats
So what is United Airlines like now? A mess, quite frankly, as it scrambles to align services between a marriage of un-equals. All of Continental's old quality and perk are slowly being downgraded to the level of United: which means they get worse, although prices do also seem to be more aligned: ex-United fares are more expensive, but ex-Continental fares are slightly cheaper. United Airlines reviews generally reflect this: they are a bit of a mixed bag.
The new United Airlines mainline flies to 73 domestic destinations and 41 international destinations in 25 countries making it one of ten airlines that flies to all six inhabited continents. All that means that if you want to fly direct, you may end up on United, even if you don't want to. United inflight experience.
However the merger (combining the operations of Continental Airlines and United Airlines into what is officially known as United Continental Airlines) is still underway: it'll be years before the old Continental name vanishes. My United Airlines reviews hence go into a lot of detail about whether the planes are ex-UA or ex-CO. About 40% of the combined fleet has been painted with the new United name and Continental's globe-like logo and blue colour scheme. Equally the carriers' names for their airport lounges — Continental's Presidents Club and United's Red Carpet Club — have been retired and rebranded as United Club. United Continental also has begun to merge the combined fleets by moving some planes to better matching routes.
Note that all reviews and opinions on United food, service, seats, planes, upgrades, the Red Carpet Club, lounges, and the Frequent Flyer scheme is soley at my judgement. No legal liability is accepted if you take my advice.