United Airlines Upgrades
United are very good at complementary upgrades. As always my advice on
how to get upgraded
applies, however United also try very hard to upgrade their most frequent flyers, so if you are at Gold level it makes sense to reverse your upgrade policy, and try to book yourself on the most empty planes, rather than the most full ones.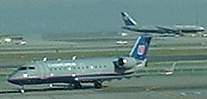 United Regional jet at San Francisco

The United policy is that if there is an empty seat in business, United will try and fill it, firstly from their premier 1K flyers, then Premier Executive, Star Alliance Gold, then Premier. Getting upgraded sometimes works automatically, if your correct Star Alliance status is in the system. However you can dramatically increase your chances by checking in very early, and asking if United are likely to upgrade anyone on the flight. You may get lucky at this point, but most likely the checkin droid will say no. If this is the case ask how full business is - if its only just full, or only overbooked by 1 or 2 seats, then chances are some people may not show, and there may be a spare seat. Accordingly ask if you can be on the list for optional complementary upgrades, and get the number of your place on the list. United will then upgrade those people on the list, in list order, if a space comes up. This is the reason for checking in early - to get onto the list first.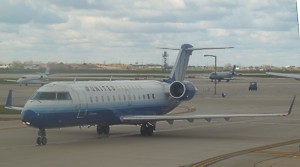 United Continental Airlines Embraer ERJ-145 at Chicago O'Hare
Next comes the clever bit - start by asking in the lounge if it looks as if upgrades are happening. Chances are they won't be, so you'll have to get to the gate by the time checkin closes. The minute it does close (30 minutes before takeoff) ask at the desk if there have been no-shows in business which means seats are free and United are upgrading...
This will give you a good indication of your place on the list - and to the gate clerk it makes it clear they can change your seat without having to call you. Then wait at the gate - whatever you do don't board. What until everyone is on the plane, and the gate is calling out the names of the last customers - ask again. These no-shows may be in business, and you may get their seat, because they didn't make it on time. United also like to upgrade people before they board the plane (it makes less obvious to those in cattle that someone has got lucky), so hang around the gate until its clear the airbridge is about to be removed, because again its clear to the clerk that you are infront of them, and a new seat takes far less time than trying to find another passenger.
Claim back your ticket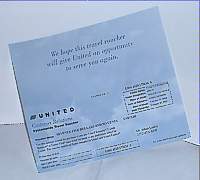 United voucher for $75
If you can find something wrong with a United plane, do complain about it - from lights that won't switch off, to monitors that don't work. The cabin crew will hand you a claim form (although sometime you have to ask for it) and in due course you'll be sent a voucher which you can use for future flights, returning a large part of your fare.
Typically the voucher is for about US$75, however it will take a long time to arrive - about 4 months from when you took your flight. You can use the voucher to pay for E-tickets, however you have to go through a long process of calling up the US call centre to do this. Alternatively you can just pay over the counter at any United ticket office with the voucher.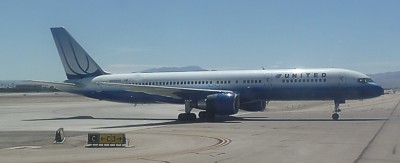 United Continental Airlines Boeing 757 at Las Vegas
Booking Engine issues
The UK version of United website will sometimes give fares at the cheapest possible price, even when all other sites are showing only expensive fares. Booking 2 weeks before Christmas, it still seems to be possible to get a return from LHR to Sydney for £710. Occasionally it comes down to only £600.
There is a well known problem with the United Booking Engine - if you price the itinary as Business (C) class, and then book seats, you can then log in as a guest, hit the back key to go back to price a new itinary, and then so long as it has the same routing on the same flights, with the same passengers, you can re-book the same flights in flexible economy (Y), which means you end up with Business seats reserved, but just pay an economy fare. Alas, when you check in, you'll find you are firmly seated at the back of the plane.
Double Miles
NEWS: This promotion has recently ended, however this information is retained for completeness.
There used to be a promotion so that Mileage Plus members could sign up for double tier level miles for a 3 month period. Registration costs US$100. However note that this doesn't increase your destination miles - just the number of miles as you work your way up the tiers, say from silver to gold. This promo is only offered at certain times of the year, and is not currently available: when it is, grab it quickly, as it equally rapidly vanishes.
The American Dance
One of the main reasons that United is suffering is because the airline is based in the US, which organises its airports like no other country in the world. Bizarely it is impossible to transit from one international flight to another without entering the US, which has passport delays like no other. It is a real pain.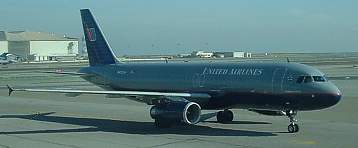 United Airbus A320 at San Francisco

This means on landing passengers have to queue to go through passport control, and fill in the green US form explaining why they want to enter the country. Many imigration officials refuse to accept this unless you put down an address you are staying at in the US, even though you will only be in the country for a few hours. You then have to collect your luggage, and go through customs. Finally you exit the airport, and then enter it again, check in again, and get back on a plane out of the country.
One of the worst airports to try and transit is San Francisco, where immigration seem to refuse to believe you don't actually want to enter the country, and queues are very bad. Allow 4 to 5 hours to transit planes. Note that there are no signs indicating where to go when you exit customs and want to check in again. Despite this being a brand new airport, noone seems to have planned for anyone wanting to do this. Bizarely in the other direction it is possible to leave an domestic flight here and then get on an international flight without going through customs or immigation at all.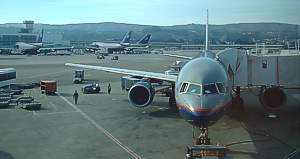 United 757 & three 747s at San Francisco

Another oddity for UK residents is Chicago airport, where domestic and international flights leave from the same terminal, often at parallel gates. Here domestic to international luggage will be transfered for you, and its possible to walk straight onto the international flight without anyone checking your passport. Don't do this, or you won't receive an exit stamp, and your green form won't be detached (which means the US will think you never left the country, and you'll have great trouble getting back into the country). Instead make sure you go to the trouble, even though it takes hours, of exiting the terminal and entering again.
All these hassles mean that going via the US takes a lot more time than taking any other route - it is rarely worth using a US airline for international travel which isn't to the US.
How to book US domestic flights as non US citizen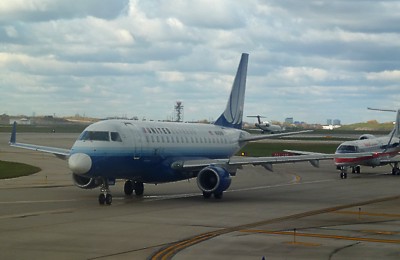 United Continental Airlines a Boeing 737 lines at Chicago O'Hare
Non-US Resident bookings on United.com are a nightmare: however there is a relatively easy get-around once you know the solution. The issue is that Britons or anyone else without a US credit card cannot easily book tickets on united.com because its interface does not accept non-US credit card details. United try to direct you to the UK site, and prices there are much higher, and many domestic flights are not available.
The website simply comes up with a bland error message to tell you that you can't book domestic US bookings through the United US website on a UK credit card. However if you simply insert your UK address, a US zipcode chosen at random (60601 for Chicago tends to work nicely) and leave the country set to "United States", the purchase will work. The eticket gets issued and that's that: it's a massive security loophole, but at least you can book the tickets.
The Continental website however has no problem with UK residents: but beware, there is a nasty conversion from US fares to GBP fares, at their ruinous exchange rate, which you can't turn off, as soon as it detects a UK credit card. Never use the Continental site if you have a non-US credit card.
United Airlines website
NEWS: United and Continental still continue to operate separate websites, despite their merger. They are expected to merge soon, and this information will shortly be out of date.
It may seem mad, but United and Continental still continue to operate separate websites, and they operate in totally different ways. You will sometimes get totally different prices, flights, and upgrade offers by going to each website - although they should in both offer the same seat on the same aircraft. The differences are much more marked when you try and book a ticket.
Continental will charge you a bad exchange rate if you don't have a US Credit Card: there is no way to turn this off, even though it is a legal requirement that they should. United.com on the other hand band non-US citizens from booking US domestic flights: there is a get around for this (see tips above) but it is a real pain.

United 777 at LHR on maintainance stand

Note that when booking a seat you have to put in the credit card date with a slash between the month and the year - it will fail with an "invalid credit card" message otherwise.
United's website is mostly ok, but it is slow loading and when booking seats sometimes fails with a "booking system is overloaded" message. Some of the pages, such as the ticket booking rules, don't seem to exist. It is quite hard extracting information about United on the site - there is no info on the lounges other than locations, and very little information on red carpet club.
A nice perk is that when booking your ticket, you can also select your seat for all parts of the journey.
One final quirk of booking on United is that when United.com gets to the final confirmation stage, it offers the option for premium seating. This may not sound a lot, but actually it is offering an A class fare, booking into a Y-UP category (see the tip section on Y-UPs). This is in effect a First Class seat. Of course there are issues with booking a Y-UP, and on some frequent flyer schemes such as United you get no extra miles. However on others - like bmi - you do. A Y-UP typically costs only US$150 more: This is a bargain, and should be taken at all costs. However the screen has a time-out of only a few minutes, and you have to take it there and then.
US version: www.united.com
UK version: http://www.unitedairlines.co.uk/qenglish/index.html
Buy on Board food
Entertainment
Seatmaps
Miles Earned on United Airlines
Miles Earned on partner airlines
United Hemisphere's magazine