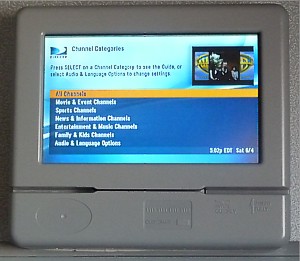 Live TV on domestic United Airlines (ex-Continental)
NEWS: United are adding video on demand for all classes, and giving personal video screens in all cabins. The new AVOD in-flight entertainment system is mainly for its latest 777s, with iPod connectivity, in-seat shopping and meal ordering as well as premium cabin touchscreen consoles. It is based on Panasonic's eX2 technology.
United Airlines's Inflight entertainment system (IFE) is very inconsistent; you need to research carefully to see which type of IFE you will get on your flights. In particular IFE on international flights vary between a state of the art AVOD system with seatback TV, to a few flickering overhead screens and two films on a loop. Alas, some of the oldest IFE is on some of the longest flights.
A feature unique to UA is a feed of the air-to-ground radio from the flight deck to audio channel 9 on most flights. However some captains switch this off. If they do, it's worth asking for it to be put back on.
The audio programmes are very bad, with lots of variation on country and western music, and very bad plugs for products you always knew you never wanted.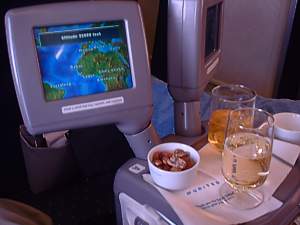 Business the nut service & personal video screen

On international flights you will also get a copy of the Entertainment Preview Magazine, which lists the films and TV Programmes available on the aircraft.
United Airlines International inflight entertainment
International, United Airlines have one of the worst systems on a mainstream airline, particularly trans-Pacific.
Economy on the Boeing 747 services the entertainment hasn't been updated since the mid 90s. At least United have avoided calling it a silly name, and there is no charge for films or headsets on United flights. The films here cycle through some of the options in the forward cabin - however it only starts two hours into the flight. Before that point you get to sit through dozens of infomercials". For this reason alone it's worth avoiding the 747 on flights where there is a choice. On ex-United Intercontinenal flights on the Boeing 767-300ER and 777-200/200ER there is at least a 5 inch personal television at the back of each seat showing videos on loop, but no AVOD. A very few Boeing 777-200/200ER's planes have been updated with Audio-Video-on-Demand (AVOD) with a 7 inch seatback TV Panasonic eFX touch screen LCD. The system is a delight, but it is rare to get these. Headphones are free.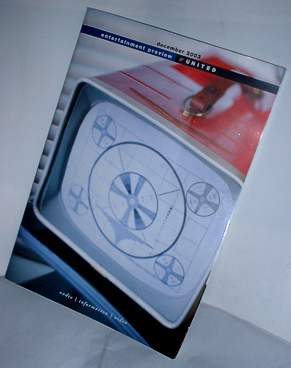 United Entertainment Preview Magazine

New Business & First Class. If the system is bad down the back, at least it is state up the front, where all Boeing 747-400s have AVOD, as do all internationally configured Boeing 767-300ER, and half of the Boeing 777-200ER fleet. There is a huge personal 15-inch screen personal LCD television with Audio-Video-on-Demand (AVOD).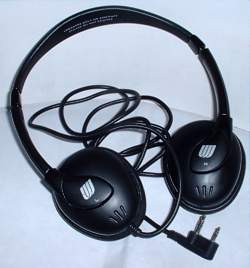 Business Old style Noise Reducing Headset

Old United First Class has a Personal Video, with 14 films in English and 4 films in a second language based on the itinerary, however beware: these use ancient video cassettes.
Old United Business class has a flip out screen, however at 5.5 inches, it's quite small. You get noise reducing headsets (mono only), which are small and pretty poor quality but quite comfortable (but it must be said, much smaller and cheaper than on other airlines like Singapore) with two pin jacks (Boeing's "David & Goliath" odd sized style). There is even a switch on the console to turn off the noise reducing feature.
Ex-Continental Aircraft. For the Boeing 777s: All classes have AVOD 150 movies and 300 TV shows, but BizFirst has a 10.6 inch screen while economy makes do with a 9 inch screen. For the Boeing 767s there is no AVOD: BizFirst gets 16 channels of video programming on a loop while economy gets only 8. For Boeing 757s: there is AVOD with 40 films and 60 TV shows for all classes.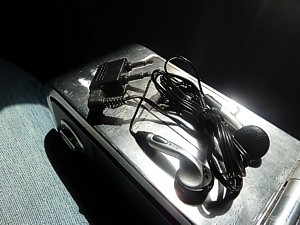 DirecTV Live TV headphones (ex-Continental)
Where the nine channel loop video system is implemented, the programme information is in United's Entertainment Preview magazine. Pretty decent, each country has a different page, with from and to the US listed as a different stripe. The film selection is very good, with 6 mainstream films, some of which aren't even in the cinema yet. There is also a documentary channel (mainly National Geographic), a cartoon channel (with lots of Disney) and what's called a "Global" channel, with a mix of programmes from the non-US country (From the UK or from Australia there are a selection of BBC World programmes. To Australia, with a lot of ABC programmes). It recycles 10 minutes after the duration of the longest film in the cycle, however there is no indication of what time you are in the programme.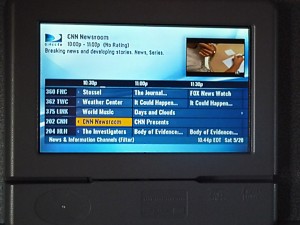 DirecTV Live TV on domestic United Airlines (ex-Continental)
Where there is an Audio-Video-on-Demand (AVOD) system, the system is really good, using the Panasonic eFX touch screen LCD system which is fast and responsive. There are a dozen or so box-office films on current release in the cinemas, however the back catalogue is pretty strange - called 'Classic Titles' they may be classics in the mid-west, but the 20 or so loaded are not normally known around the world. Alas, the system is pretty poor for TV programmes: many of them are obscure HBO (a US cable channel) releases, and there is virtually no international content.
The AVOD system allows you to connect an iPod to the screen, but you'll need to buy the cable on-board to do this, and it costs US$40! It also only works on Panasonic in-flight entertainment systems, which is a bit rich.
United Airlines domestic inflight entertainment
On Domestic flights United is comfortably in the middle as far as IFE goes, unless you get an ex-Continental aircraft, in which case it is miles ahead of the competition.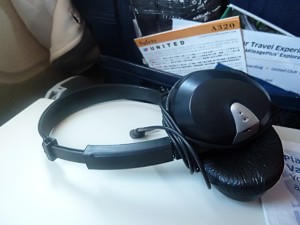 United Headphones in Domestic First (ex-Continental)

Ex-United aeroplanes have an overhead video screen. If the flight is over 3 hours, there is a film. After the film or on flights too short for a film, there is assortment of television programming, such as NBC, Adverts for Discovery Channel programs, and a few mainstream comedies. Headphones are oddly better than ex-CO planes, and feature large ear-enclosing headphones with a single plug. They are in the seat pockets.
The only exception is United Domestic PS services in Business where there are individual handheld DVD players with 10 entertainment choices and noise-reduction headsets.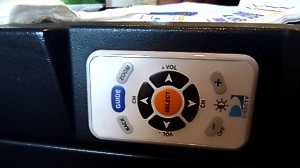 DirecTV Live TV controller on domestic United (ex-Continental)
Ex-Continental aeroplanes have live TV and are the ones to choose at all costs. The service is (was) called DirecTV and you get all the main live TV stations from the US. It is free in First Class, and costs US$6 in economy. There are 95 channels of live DirecTV television to all passengers on Boeing 737s (models 700 and above) and a few Boeing 757s. The TV lineup is pretty good, with CBS, NBC, Fox News, CNN Headline News, ESPN, Discovery, Disney and movie channels. The service became available immediately after a credit card is swiped and confirmed, and can be activated at any point during the flight. Movies start at a set time and cannot be paused, rewound or fast-forwarded. Alas, headphones on these planes are the worst of the bunch, with only tiny-sit-in-the-ear walkman style headphones, which plug into an adaptor for the large-and-small twin prong plugs.
United Inflight Magazine - Hemispheres
United's magazine,
Hemispheres
is ok, and fairly representative of the US genre, in that it is plastered with advertising material and rather too many serif fonts.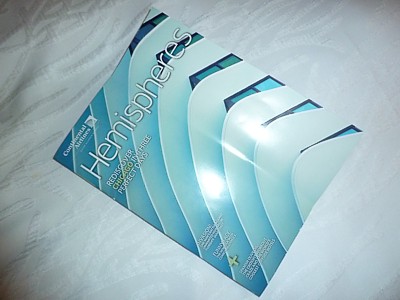 Hemispheres United Airlines Inflight Magazine
However it is better than many, and a good read for an hour or so. Produced by
ink-global
it sells itself as designed for the curious and intrepid world traveller. Which doesn't really explain why so many articles about pheonminally expensive short breaks: most intrepid world travellers have packpacker budgets in the Amazon, not sampling haute cuisine at Fortnum & Mason. And if you were to do so, you wouldn't fly on United.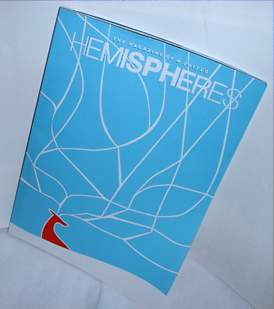 United Hemispheres Magazine

One of the best bits of the magazine is Three Perfect Days, with a short guide to a United Destination: it's written in an effusive verbose style, but does at least give the impression that the author has been there. There is a long guide to a United destination (often in the US). A short story. Updated on United's photo competition (this ends in December each year, and some of the photos are very good). The Travel News section has some good updates on events around the globe. At the back is a crossword puzzle.
The Entertainment and Information section has details of just what films you can look forward to if you're stuck on a domestic flight, or on the 747s with overhead screens. At the rear of this section there is the wine and cocktail list, and then maps of United's terminals, showing where the lounges are.