Wine, beer spirits and cocktails, are no longer free on United international flights.
On domestic flights you will be charged US$5 for wine & beer, US$6 for spirits. The first drink of the flight is accompanied by the nut service. In economy these come in a small packet. In business you'll get them in a small china bowl.
All beer is served in cans and opened before you get it. In economy wine is served in 187ml bottles, while cocktails are served by handing you a plastic glass, the spirit miniture, and a can of the mixer. Unusually the mixer comes in a large, full sized cans, not the usual airline baby cans.
In Business & First wine is poured for you into a glass glass from large bottles kept on the trolley during the usual service. Each trolley has two whites, two reds, and one Sparkling Wine. All cocktails are mixed in the galley and brought to you complete at your seat.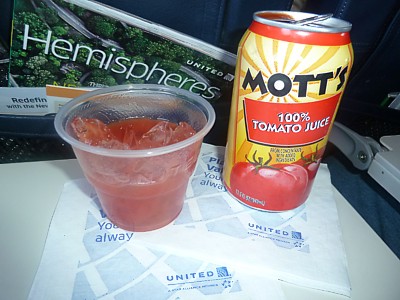 Business also gets a wine list on the inside cover of the spartan menu. Here 4 red, 4 whites, and 2 Sparkling Wine are listed - however they are not normally all carried, with each plane normally carrying only half this number. The selection can be a bit random - sometimes you'll just end up with two bottles of the same type. The cocktail list is limited, with Business and Economy offered the same two coctails. There is a list towards the rear of the inflight hemispheres magazine.
Note that United will not serve alcohol to under 21, even on international flights where the age limit is 17 or 18 at the origin or destination. The cabin crew regularly check passports of anyone who looks under 30 to ensure this regulation is adhered to.
Although a drink trolleys with circulate through the economy cabin before the first meal service, United are rather puritanical when it comes to opening the bar during the flight, and getting a drink can become a problem. United's ageing cabin crew seem to hate it if you press the crew call button, but don't mind if you walk up to the galley so long as you stay outside the rear economy galley on the 747s.
Economy drinks on United Airlines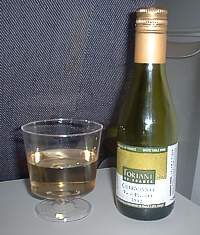 Fortant de France Chardonnay

On United in economy there is always a choice - one white and one red.
White - Fortant de France Chardonnay
Vin de Pays d'Oc
United's cabin crew are very proud of this white. "Its French" they say... well, that much is true, but it doesn't make it any better. It's an ok, but little more can be said about it. Its pleasant, and easily quaffable.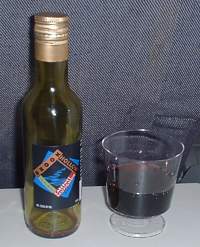 Brook Hollow Cabernet Savignon

12.5%.
Red - Brook Hollow Cabernet Savignon
Californian Red A Heavyweight full bodied red with little in the way of initial taste. Watch out for the after-taste which will have you preying for landing.
11.5%.
Economy Cocktails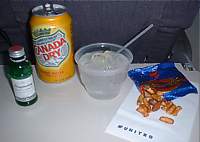 United Gin & Tonic

Gin & Tonic
A lovely gin & tonic with Tanqueray Gin and a large giant sized can of Canada Dry tonic.
Screwdriver
Not really a good choice, particularly for an early morning flight. The crew make it very strong and you'll soon loose consciousness.
Bloody Mary
The Bloody Mary mix comes in a giant sized can, and the vodka (normally Absolut on International flights - Finlandia on Domestic) comes in a small bottle. I love this. It's one of my favourites on the plane.
Business class drinks on United Airlines
There is normally a choice of two white wines, two reds, Sparkling Wine, and port. However the menu in business will list a lot more wines, of which only a subsection is available.
Sparkling Wine - Pommery Brut Royal NV
Lovely bubbly
A relatively decent Sparkling Wine, although not in the first class bracket. The cabin crew are notoriously releuctant to pour this one out, and will always wheel out the trolley with it closed. It will be opened for you on request.
12%
White - Chablis Chardonnay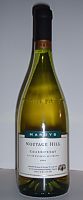 Chablis Chardonnay

Chateau de Chemilly
Decent and fresh French Chardonnay, its got a fascinating character, with gooseberry richness and a light undertone.
12%


French Red

Red - Cotes-du-Rhone
Paul Beaudet Rhone Blend In France this is cheap french table wine. Served out of a cariffe in small unremarkable cafes, where you can buy it for €4 a litre. So it seems weird that United are highlighting this as a winemaking success, and showing it off as the best the vineyards can offer. It seems as if this should only be served, at a pinch, in economy. And yet theres no getting away from the fact that although its cheap, it is quite good.
11%

Beer (all classes)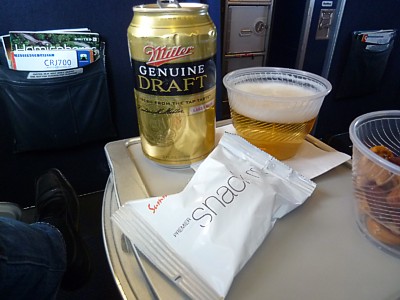 Miller
Very dull and bland
United's standard beer of choice unless you ask for something different is Miller Genuine Draft. As bland as most American beers, theres little to recomend it and not much taste, but at least on a long 14 hour flight you can drink it like water.
3.2%.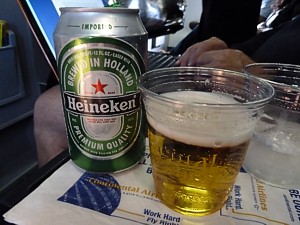 Heineken
Dutch beer
The famous Dutch export
Heineken
, made of purified water, malted barley, hops, and yeast.
It is the usual tame stuff you get on the ground, in a 275ml tin, brewed in the Heineken brewery in Zoeterwoude in the Netherlands.
4%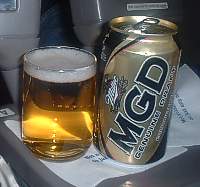 MGD - Miller Genuine Draft
Bland beer
United's standard beer of choice unless you ask for something different is Miller Genuine Draft. As bland as most American beers, theres little to recomend it and not much taste, but at least on a long 14 hour flight you can drink it like water.
3.2%.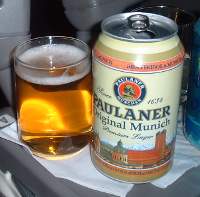 Paulaner Munich beer
Wheat beer
Served only on the flights to Frankfurt, Paulaner is a very good Munich clear wheat beer. I love this, and occasionally it can be loaded onto 777s which do both the German and the UK sectors.
4.0%.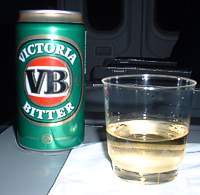 VB
Terrible beer
Beer comes in just one variety on some flights to Australian on United - VB. The Victoria Bitter is foul, with a terrible aftertaste, and should only be used as de-icing fluid. Pretty strong though. Yuk.
4.9%.
Spirits
Whisky
Glenfiddich Malt Whisky
Gelnfiddich does just the job - although getting any ice for it to go with can be a struggle.
40.0%. 5cl bottle. $5
Gin and Tonic
Gordon's Gin with tonic. It could be worse, far worse.
40.0%. 5cl bottle. $5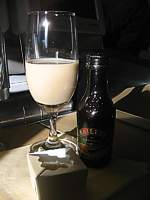 Baileys
Great after a long dinner, before getting some kip at 38,000 feet.
40.0%. 5cl bottle. $5