NEWS: United are to award additional elite-qualifying miles for customers buying first-class or full-fare economy tickets. Some argue that such a change was long overdue, as many other programs already do this.

MileagePlus is United's frequent flier programme, and is part of the
Star Alliance
. It now also incorporates all parts of onePass - the frequent flyer program for Continental Airlines.
United Airlines's Frequent Flyer Mileage Plus program was retained after the merger, but United has changed the program's name from Mileage Plus to MileagePlus. It is a huge change (no, really - many earning levels are also being reduced). OnePass - the frequent flyer program for Continental Airlines - has been merged into Mileage Plus. It has a combined membership of about 85 million. Members of OnePass have been moved over to the Mileage Plus programme, with miles converted at a rate of 1:1, and qualifying activity for elite status recognised.
Joining is easy; it's possible to do it online. What is harder is getting any information about the programme. With all the changes to the program since the merger there is little information online, and the handbook sent to new members is woeful.
MileagePlus is OK, but only so-so, mainly because of recent changes which means that you get miles according to how much you spend on the ticket: unlike most programs, Mileage Plus didn't do that before, which was a boon for cash-strapped travellers who would find the cheapest fares with the most miles. Now, United's mileage program has become more attractive to business travelers who log the most miles and to those who pay the highest fares, not for those on cheapies. If you just fly on ultra-cheap economy fares, or just want elite status, there are better programmes out there.
There are other changes to watch for that means that the programme isn't nearly as attractive as it once was. Miles now expire after 18 months of non-flying (not 3 years as it was). Plus you'll need four paid flight segments (which means a takeoff and landing) on United, Continental or Copa to earn any status. Thankfully Melbourne to Sydney flights (which are only bookable only as part of a trans-Pacific flight) do still count as separate segments.
United are notoriously slow in responding to post, and letters & statements can take months to arrive from the US to the UK or Australia. Allow a good six weeks for any response, and new memberships cards, such as for a new tier level, can take ten weeks. If your miles are not properly credited, United will check with the relevant airline that you did indeed travel when your Boarding Cards say you did, and mark your booking to indicate that the miles have gone on United. This can take up to 3 months.
Earning Miles
Mileage Plus, is just like most of the rest in the Star Alliance; you get the miles you flew, plus a multiplier according to how much you spent on the ticket, which normally just applies to status.
Discount economy (M, E, U, H, Q, V, W, S, T, L, K, G) earns 100% of miles, as does Full economy (Y, B), and discount Business (Z). However Business (Z, plus J, C, D) and Full economy earn 150% of Elite Status Miles. First (F, A, P) gets 150% on both.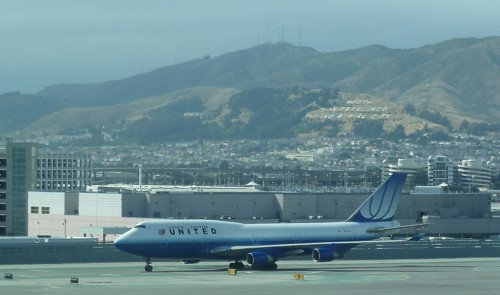 United Airlines Boeing 747 just arrived from Sydney, at San Francisco
Sometime you get more miles than you would if you put the miles from a Star Alliance carrier onto their own Frequent Flyer card. For example on Lufthansa you earn 100% of the actual miles flown in Economy Class for all flights (except for L or T class fares within Europe, unless connecting to international). You no longer earn 100% miles on cheap O or E class fares - this is the same as LH or BD's cards where you earn nothing.
You can earn miles on all Star Alliance airlines, and some other weird ones as well, such as Jet Airways, Hawaiian Airlines, Aer Lingus and Qatar Airways. Alas, the partnership is no longer there with Emirates (a good thing, say many on Emirates, as the redemption seats on EK were often packed with United passengers flying for free).
You can also buy miles, although the prices have recently increased by over double, at US$67 for 1000, or US$357 for 10000, and US$1970 for 25000.
One downside of the scheme is that if you don't have any activity on your account in 18 months, then the miles will expire. However with activity, there individual miles do not themselves expire. The simplest way of extending miles is to ensure you fly on a Star Alliance airline at least once every 18 months. However if you get right down to the wire, there are some other ways of extending miles. Residents in the US can join the dining programmes, sign up to one of United's grocery partners, or even just buy a track on iTunes. In desperation you can buy miles, or if you are in the last couple of days before expiring, donate the minimum 1000 miles to charity via United's website. This deduction posts within minutes, and counts as activity on your account, so will extend miles by 18 months. You can keep on repeating this method for years to keep miles alive.
United use the concept of Elite Qualifying Miles (EQMs) which are miles that count towards elite qualification (IE: Status) and are not redeemable for travel. United also keep track of your Lifetime United Flight Miles which are miles just flown on United since you joined the programme.
Spending Miles
Within the US a return domestic flight is 25000 miles (40000 business class). London to the US is 50000 (80000 business) while to Asia is 90000 (135000) and Australia a wopping 100000 (140000 business).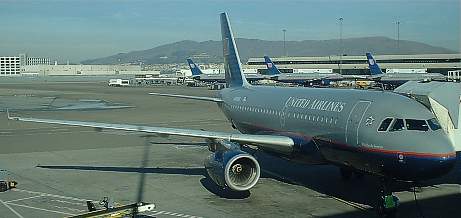 United 320 at San Francisco

Mileage Plus Upgrades
If United are stingy with mileage redemption, the company is quite good with upgrades. What can cause ear-bleeds is trying to work out the different levels, and see which ones you can apply for: even staff working for the company frequently get confused.
There are 4 types of ways to upgrade on United, 500 milers (e500's), Confirmed Regional (CR-1, or HK-49), System Wide Upgrades and regular miles. UA allows one class upgrades only, although the elusive double-upgrade has been found by some 1K members.
500-Mile E-Upgrades. For every 10,000 paid miles you fly on United and United Express in a calendar year, you will receive four complimentary 500-Mile E-Upgrades to the next class of travel. These upgrades are valid for Region 1 which includes North America, Hawaii, the Caribbean and Central America, but there is no guarantee that there are spare seats. They are not confirmed at booking time and are cleared on a standby basis depending on status.
Every member with status earns 4 for every 10000 miles flown on UA metal. Non-status members can purchase these in packs of 4 for US$325 each. Elites get a discount if they want to buy them 4 cost $200. These upgrades expire, but at least expired 500-mile E-Upgrades will automatically be converted into miles in your account upon expiration.
Confirmed Regional North America Upgrades. Two CR1's are awarded to 1K's who fly 10,000 miles in a quarter, each quarter, making the maximum be 8 per year. These are different, in that you can book up and confirm an upgrade at the time of booking. It is possible to buy these E-Upgrade vouchers, but they are relatively expensive. Four 500-mile E-upgrades cost US$325 (with a promo at some times of the year for US$200).
When you can request and confirm an upgrade (if there is space) depends on your tier level. 1K members can request an upgrade on booking. Then Premier Executive members (72 hours - 3 days in advance), Premier members (48 hours), and finally General members (24 hours).
System Wide Upgrades. Abbreviated to SWU and awarded to 1K members at the rate of 6 per year, and recently it was announced that you can earn 2 extra for every 50,000 Elite Qualifying Miles (EGM) you fly over the 100,000 needed for 1K membership. Typically used to upgrade internationally, on as many segments as you are booked on in one day. The definition of a day is pretty lax however. Pretty much anything one way trip is OK, so if you are playing the miles game and fly SYD-LAX-SFO-SEA-ORD-JFK-LHR it would only be one SWU assuming you do not stop in one city for more than 24 hours. SWU's are transferrable to other people.
These are really great value, but they can only be used in W class or higher for economy to business class. This excludes the cheapest of the cheap classes, S and T, but these are the e-fares to international destinations which many passengers will travel on. There is a neat get-around for this though; You can however use them on Q fares which many travel agents sell.
SWU's can also be used on Lufthansa flights. You have to call united and ask them to print out a hard copy. They are only on a standby basis, so you hand it to the check-in agent and they will clear you right then and there if the flight isn't full. Otherwise the gate agent will take it, if you make the upgrade.
If upgrades are not available when you call, 1K members will be placed ahead of Premier Executive and Premier members for upgrades when you stand by at the gate for an upgrade.
Miles for Upgrades You can use your miles for upgrades - a single one way upgrade from the UK to the US or from the US to Australia is 30,000 if you bought an M or H class ticket, or 15,000 with a Y or B class.
These are good value, and are available to members of any status with enough points and are confirmed at booking, pending availability. If there is no availability, then you go on a waitlist which clears based on status. Alas the bad news is they are only available to those on fares in Y,B,M,H class in economy, or C and D in Business Class. The upgradeable economy classes is fairly restrictive, but that is a reason why they are cheap. Note that a Star Alliance RTW ticket is booked in either B or H class, depending on the total mileage.
You can also use your miles for upgrades on Lufthansa again for 30k miles, you must call UA and ask them to print a voucher for you which will be on a standby basis just like a SWU.
Operational Upgrades. United is very good at moving forward it's own Elite members if economy is full. However, it will rate Mileage Plus Premier above Star Alliance Gold members. At some locations it will also move forward Mileage Plus Premier Executive even if there is no commercial reason to. A neat way around this is to bug at the gate really hard.
Mileage Plus Member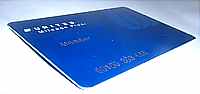 Mileage Plus member Card

Anyone can join Mileage Plus online.
About 3 months after joining Mileage Plus online you will receive a pack (reguardless of whether you have travelled anywhere) containing your Base level membership card and a small leaflet explaining that all details of the programme are available online.
MileagePlus Premier Silver (Star Alliance Silver)
NEWS: The rock bottom level of elite membership, Premier Silver, can no longer check more than one bag for free and cannot choose seats with more legroom until check-in.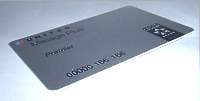 Mileage Plus Silver Card

Premier Silver is equivalent to Star Alliance
Silver
Level. It can be achieved at
25,000
paid miles or 30 paid segments on United, Continental or Copa in a calendar year. Other Star Alliance flights don't count for this.
There really are very few perks left at this level, however Premier Silver members can check in at the business class check-in, and can board earlier. There is Premier bonus award miles for United flights of 25%. At least you get 500 minimum award miles.
There are instant upgrades on Y- or B-class full-fare economy tickets
There is one bag checked in for free with a complimentary checked baggage allowance of one bag at 23 kg (50 lbs), and you can still get access to preferred seating in economy class (Economy Plus) but you've got wait until check in to ask for it.
MileagePlus Premier Gold
NEWS: MileagePlus Premier Executive level has been split into two, if Premier Gold and Premier Platinum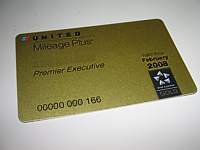 Mileage Plus Gold Card

Premier Gold is equivalent to Star Alliance
Gold
Level. It can be achieved at
50,000
paid miles or 60 paid segments on United, Continental or Copa in a calendar year.
The biggest perk of this level comes if you are flying outside the US. You get automatic access to all Star Alliance lounges around the world. Everywhere infact, except in the US, where you still have to buy access to the Red Carpet Club.
Premier members can check in at the business class check-in, and can board earlier. There is Premier bonus award miles for United flights of 50%.
There is a complimentary checked baggage allowance of three bags at 70 lbs (32 kg) each.
As a Gold member you can also request the Premier Economy seats, and United will try (but not guarantee) that the seat next to you is kept empty.
Lifetime Gold status comes after flying one million paid flight miles on United, Continental or Copa Airlines.
MileagePlus Premier Platinum
NEWS: MileagePlus Premier Platinum was introduced in 2012
Premier Platinum is equivalent to Star Alliance Gold Level. It can be achieved at 75,000 paid miles or 90 paid segments on United, Continental or Copa in a calendar year.
Extra perks at this level include better availability for Saver Awards in all cabins, and errr... Regional Premier Upgrades. Plus Premier bonus award miles for United flights of 75%. Yes, that's it.
MileagePlus Premier 1K
Premier Executive 1K has no equivalent in the Star Alliance, but has Star Alliance Gold perks. It can be achieved at
100,000
paid miles or 120 paid segments on United, Continental or Copa in a calendar year.
In addition to the benefits of Premier Executive, you will be guaranteed a seat if you buy a full fare ticket. You will also be Emailed a list of which flights still have saver award seats free. There are also instant upgrades on M-class economy tickets. The Premier bonus award miles for United flights is 100%.
MileagePlus Global Services
This is a super-elite tier, which comes by invitation only.