United serves free meals on international flights between the US, South America, Europe, the South Pacific and Asia. Shortly after takeoff, passengers are served cocktail snacks and free non-alcoholic drinks. On flights with meals, the main meal consists of a salad, an appetizer, a choice of hot entrées and dessert. On longer flights, United also offers a light pre-arrival meal.
Plastic knives & forks have now been replaced with metal ones on most flights.
United Airlines Domestic First Class meals are only offered on flights longer than two hours that depart between 0500 and 2100. At breakfast, there are hot eggs and sausages. The rest of the day there are sandwiches, or a tiny pasta salad. The only exception is lunch when there is soup and a sandwich, or dinner when there are slightly better options, plus a warm cookie. On United Express flights longer than 760 miles, you get a snackbox for free.
United Airlines Domestic Economy Class meals are no longer free; instead United offer Buy on Board with snackboxes for sale, or if the flight is longer than 3 hours, sandwiches for sale.
Domestic First Class - United Airlines inflight food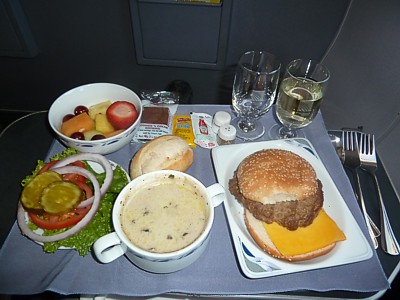 First Class Cheeseburger
Beef burger in a seeded bun with a slice of cheese. A slice of lettuce, tomato, onions & gerkin.
Mushroom soup. Cold roll. Bowl of fruit salad. Chocolate brownie.
Oh my life. And this passes for food. Ok, in the 1960s style United cabins, it's good to see they also serve fod that should have been passed over years ago. And so they do.
It is quite bizare to think that a few years back you used to get steak in economy. Now, flying First Class, instead of the luxurious dinner of old, you'll get - a cheese burger. In fact, the cabin crew are delighted to offer you a choice: you can either have a plain burger, a cheese burger, or a burger also with salad: you have to put the various bits on top yourself.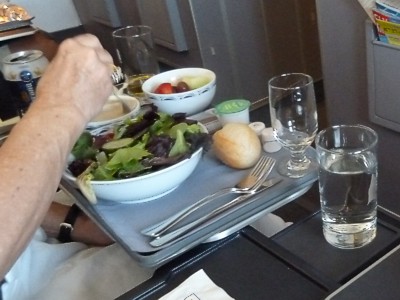 Ceaser Salad
A bowl with rocket leaves, a few tiny bits of bacon, and some cheese.
Mushroom soup. Cold roll. Bowl of fruit salad. Chocolate brownie.
Dear oh dear, it gets worse if you want the veggie option. There really was very little to this at all: just a few leaves in a bowl.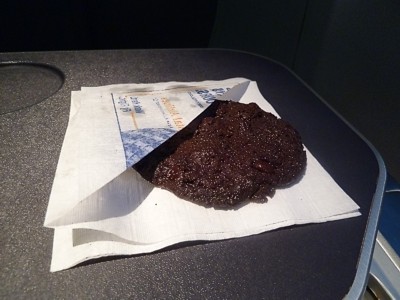 Chocolate Brownie
One Chocolate brownie.
There is at least something that United get right: after a long trans-continental flight in First Class, you'll at least get a chocolate brownie.

Domestic Economy Class - United inflight food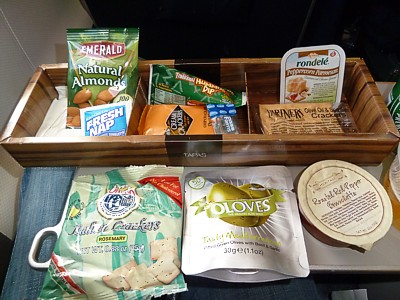 United Airlines Tapas snack box
A box containing Oloves Marinated Olives, Roasted Red Pepper Bruschetta, Wild GardenTM Hummus, Rondele Peppercorn Parmesan Cheese Spread.
Fratelli Laurieri Spread Al Rosmarino Crackers, Jacobs® Cream Crackers, Partners® Olive Oil and Sea Salt Crackers, Emerald® Natural Almonds, Fantis® Ouzo Candy Mint.
Alas, the bad news is that in economy, you have to pay for your food now. The good news is that it really isn't all that bad. The Tapas Snackbox is the best of the ones on board, and it's got more than enough to keep you busy, occupied, and munching for a good hour or so.
Some of the content are a trifle unusual thogh. Fancy an Ouzo flavoured sweet? Yup - United serve them up. $8.49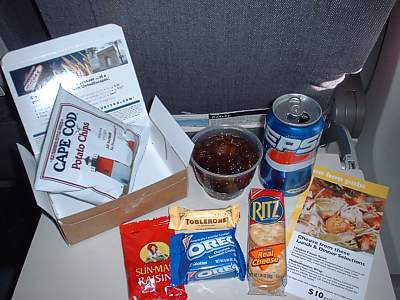 Snack - Flight over 3½ hours
A box with a packet of Cape Cod crisps, a packet of Sun Maid raisins, and Orec chocolate biscuit, a packet of six Ritz cheese biscuits, a miniature toblerone.
The snackbox is better than you may expect, with quite a few things to eat. The crisps are very good, and biscuits are good for taking off the flight and eating later.
However its unusual to get so many things in the box - at lunchtime many passengers would have preferred a sandwich... however this of course would eat into United's "Buy on Board" profits from people forced to buy one.
International Economy Class - United Airlines inflight food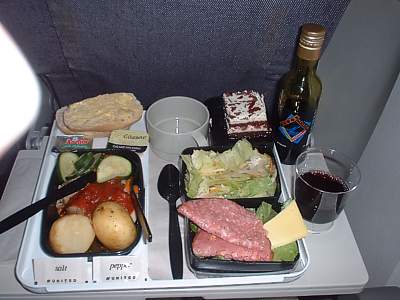 Dinner - Chicken and potatoes
A slice of chicken breast with two potatoes, and courgettes with tomato sauce.
A salad bowl with iceberg lettuce and strips of carrot. A bowl with two slices of salami and a sliver of "tasty" cheese. One roll (hot), and one packet of butter. Chocolate cake desert.
A great start to the long flight from Sydney, this looks and tastes good. The chicken is soft and tender, although the tomato sauce is a bit fierce. The first salad is very bland, but the salami in the second makes up for it.
The best bit is the desert, the chocolate cake which is very good indeed. Its good to see that United, unlike most airlines, sticks with serving a good desert in economy.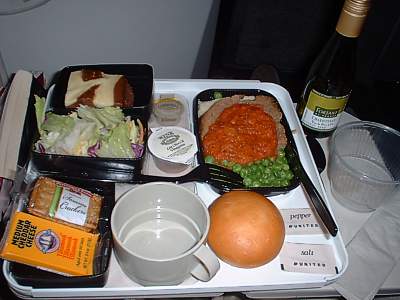 Dinner - Meatloaf and peas
Two slices of meatloaf with a bed of peas (frozen) and tomato sauce.
A salad bowl with iceberg lettuce and strips of carrot and ranch dressing. Chocolate cake desert. A packet of processed cheddar, and two biscuits. A hot roll and a packet of butter.
The meatloaf is rather grim, and the pea bed is something John Major would love. If you add in the harsh tomato sauce, it becomes a dinner you really wouldn't be happy with. Then with the salad United's infamous Ranch Dressing makes an appearance.
The cheese, despite it's plastic appearance, is ok. The best, as always, is the desert, the chocolate cake which is very good indeed.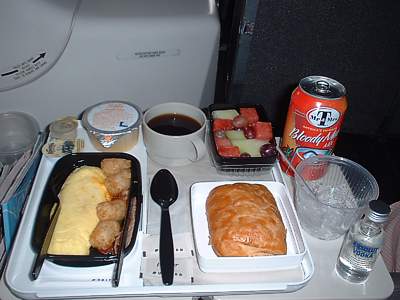 Breakfast - Chicken Patty & Omilette
A chicken and mushroom patty.
An egg omelette with four potato croutons and one sliver of bacon. A fruit salad bowl with two types of melons and four grapes. A tub or orange juice.
A totally foul chicken patty which wouldn't be out of place at a roadside stall in Asia. The omelette is incredibly bland, and comes with just one tiny sliver of bacon.
The saving grace is the bowl of melons, which is light and refreshing.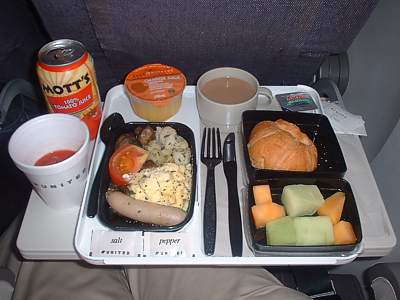 Breakfast - Cooked English
A traditional English cooked breakfast with one sausage, scrambled egg, mushrooms, a tomato, and onions.
A fruit salad bowl with two types of melons. A croissant with butter. A tub or orange juice.
A fantastic cooked breakfast, one of the best on any plane. The Scrambled egg is done just right and reconstituted in the galley nicely. Good pork sausage. Even the mushrooms are done just right.
The bowl of melons is light and refreshing. One thing missing is some jam with the croissant... however I can forgive United this as the rest is so good.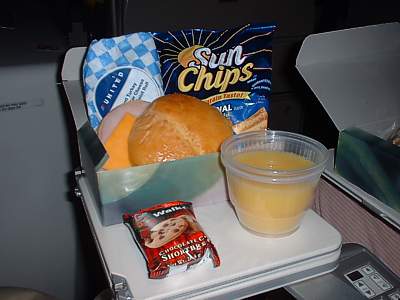 Snack - flights over 12 hours
A cheese (processed) and ham roll.
A packet of crisps, and a packet of Walkers chocolate chip biscuits.
Pretty bland, this roll will never win any awards, but 8 hours into a flight it will at least combat the boredom.
Rather naff crisps too, but at least the biscuits are decent with a cup of tea.
International business class flights
Business class meals come in three courses. A tablecloth is laid on your table, then a tray comes with the starter. This plate is removed and replaced with the main. The tray is removed (remember to save your knife and spoon!) and the desert is brought to you.
There is usually a menu with three choices of main course, and two of desert.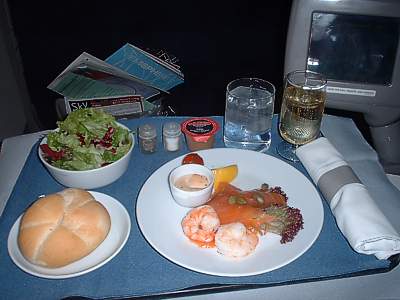 Dinner - Starter - Shrimp
Smoked salmon and sautéed shrimp with Louis sauce, a slice of lemon and a tomato.
A iceberg lettuce salad with asian sesame ginger dressing. A hot roll.
A great start to the dinner, with lovely salmon, and some of the oldest shrimps in the market.
The salad is no better than that offered in economy, however at least there is a choice of rolls.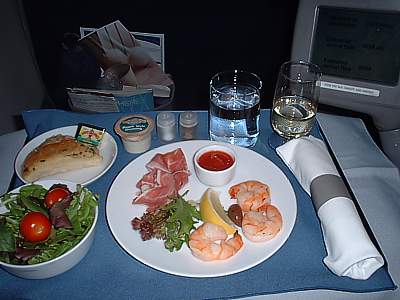 Dinner - Starter - Shrimp
Spiced shrimp with Parma ham, one olive, a slice of lemon and a tub of tomato ketchup.
A rocket lettuce salad, and two baby tomatoes, with ranch dressing. Garlic bread. A packet of butter.
This starter brings to mind something designed by committee. The Parma ham is lovely, but the shrimp terrible. And ketchup with it? Unusual. Terrible.
The salad is great, and the baby tomatoes just right. Although they don't seem to go with the shrimp, and the ranch style salad is listed as Ceasar in the menu. Garlic bread is an unusual choice - it seems to go with neither. And as for a packet of butter with it... unusual.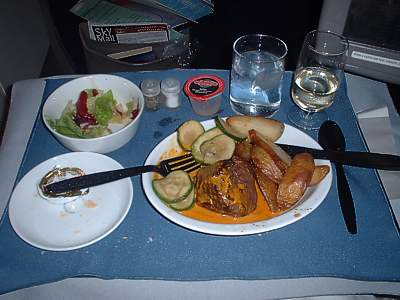 Dinner - Beef
Filet mignon with white wine pepper sauce (South American beef).
Potato wedges and sautéed zucchini slices.
A lovely piece of beef with lots of flavour. Alas there's no control over how its done, so all the beef comes out medium, but as its quite soft and tender that isn't really a problem.
Good pepper sauce with it, and nice potato wedges. All in all a great choice.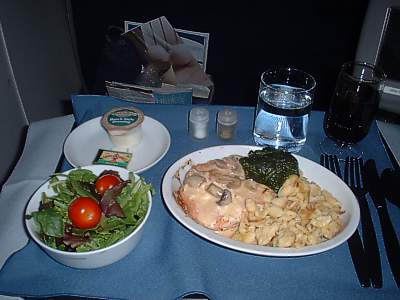 Dinner - Chicken
Chicken in Moselwein white wine.
Mushroom cream sauce, buttered spaetzle and sautéed spinach.
Shockingly bad for a business class meal. This really give United a bad name, and will leave you crying to get back to economy.
The buttered spaetzle is in effect macaroni cheese, and one of the most revolting creations ever known in the invention of Airline Catering. The spinach comes in the same square shape in which it was boiled. Avoid.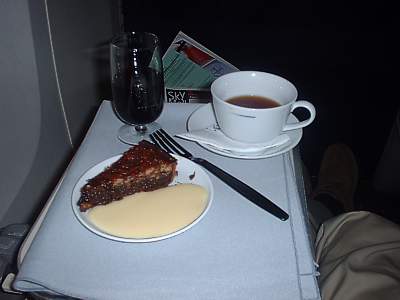 Desert - Peacan pie
Chocolate pecan slice with vanilla sauce.
A great desert with lots of flavour.
Port is occasionally offered with this, although its not on the menu or offered by the crew. You have to ask for it.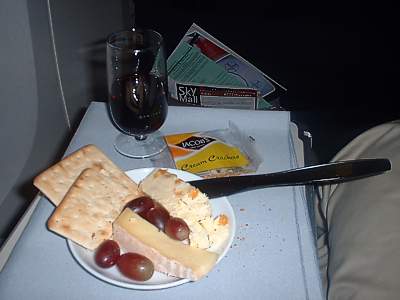 Desert - Cheese plate
A plate with a slice of Apricot Stilton and a slice of Taurus cheese. Two Jacob's Cheese biscuits. 5 grapes.
Lovely cheese with great flavour in the Apricot Stilton.
Alas, only two biscuits - and getting any more from the crew is a problem.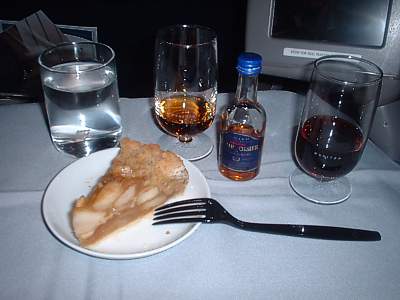 Desert - Apple pie
Apple crunch pie.
This is pretty good - certainly something that shouldn't be turned down.
Alas, no ice cream, or even cream. Only liqueurs. Oh the hardship.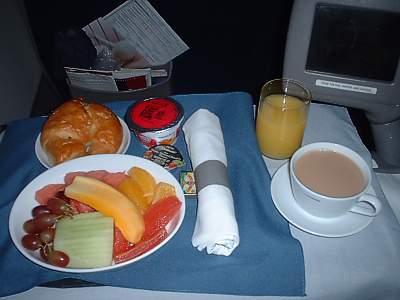 Breakfast
Continental breakfast with a fruit plate of four slices of melon, three slices of pink grapefruit, and three orange slivers.
A croissant with a packet of butter, and a tub of strawberry jam. A peach yoghurt.
This is ok, but there isn't much here. The fruit plate is refreshing after a long flight.
United seem to be the only airline which is capable of serving decent croissants, and they even serve them with a huge fingerprint in the middle.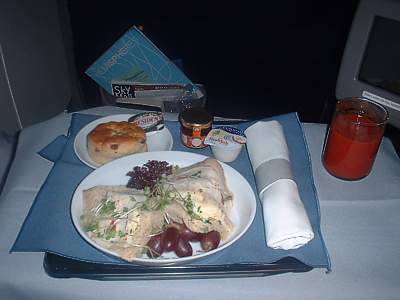 Second Sitting
A plate of sandwiches, with two each of tuna, chicken and tomato, and egg with cress.
A scone (American style) with clotted cream and strawberry jam.
This is offered as the second meal serving on Transatlantic flights going westwards as an economy measure. And it is refreshing after a long flight not to have a huge meal service.
Alas, the sandwiches are manky. Truly bad, on bad bread and badly chilled. The scone makes up for it, but only just.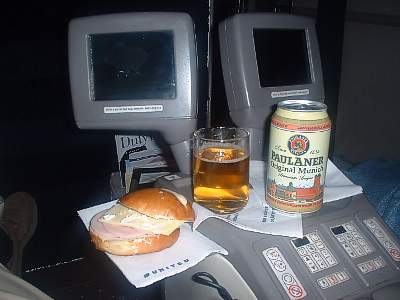 Business Snack - flights over 8 hours
A ham and cheese (half cheddar, half cream) roll.
Totally bland, this roll will never win any awards, but 6 hours into a flight it will at least combat the boredom.
Its unusual that in economy at this point you'll get a snack in a nice box with lots of goodies... however for business the same roll is taken out of the wrapper and handed to you on a plate - without the goodies.