For convenience, the separate history lines of United Airlines, and Continental Airlines are in two separate sections.
United Airlines claims to be the oldest continually operating commercial airline in the United States, although this claim is a bit tenuous. The basis of it is Varney Air Lines an air mail service launched in 1925 by Walter Varney, who ironically also founded Continental Airlines, although he could never have imagined that the two would once again link up nearly ninety years later. Varney Air Lines flew main from a railway hub to the tiny hamlet of Boise in Idaho. In 1926 the company began operating on fixed routes and with defined schedule. It was merged with Boeing Air Transport who registered the name United Aircraft and Transport Corporation in 1929 after a merger with Pratt & Whitney National Air Transport, Varney Airlines and Pacific Air Transport combine. As United Air Lines it had a coast-to-coast passenger and mail service, taking 27 hours to fly the route, one way.
In 1930, United claims it was the first airline to appoint a stewardess, with a registered nurse, Ellen Church, assisting passengers. Also on 1930, United bought out National Air Transport, a large carrier based in Chicago.
United gained a major boost from what was called the Air Mail scandal of 1930, whereby governemt subsidies for carrying letters and parcels exceeded the cost of the mail itself. Some carriers abused their position by flooding the system or hauling heavy freight as air mail. The airforce attempted to take some of the post, but after a dozen undertrained pilots were killed (the newspapers called it legalised murder) contracts were once again handed out to United, and the air mail routes to only three companies, forcing out their competitors. These three carriers were United Airlines (to the north), TWA (Transcontinental and Western Air, which had the mid-west) and American Airlines (who dealt with the south). Furthermore there was a ban on the common ownership of aeroplane manufacturers and airlines. United broke up, with manufacturing east of the Mississippi becoming United Aircraft, and west of the Mississippi becoming Boeing. The airline itself was once again United Air Lines.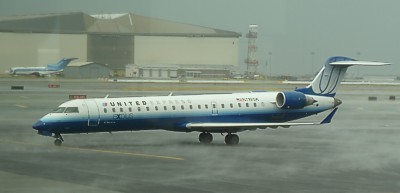 United Airlines ERJ in the swirling sea mist at San Francisco
In the late 1930s United's route system had a transcontinental route from New York City via Chicago and Salt Lake City to San Francisco, plus north to south along the West Coast. As a result United started hubs in Chicago and San Francisco, and later in Denver and Washington. These four cities remain United's principal hubs to this day.
The introduction of the long range Boeing 247 in 1933 was a revolution. For the first time passengers could fly across the US without an overnight stop, although of course the plane called in at airfields along the way to refuel. Less celebrated was a United Boeing 247 which exploded in mid-air, due to the first ever bomb placed in a baggage hold. All aboard were killed.
United airlines supported the war effort during World War II, transporting mail, material, and passengers. From 1945 onwards a huge amount of war-surplus aircraft, plus well-trained crews, flooded onto the market, and United used these to gain a huge market share. The war had created many new aeroplane technologies such as radio navigation aids, the UK developed radar system, and pressurised cabins. United took them all on board, and in doing so created a boom in customer demand for air travel.
In 1961 United merged with Capital Airlines, creating the world's second largest airline, just behind the Russian giant Aeroflot, and just ahead of British Airways. The company structure was still unusual though: in 1968 United was actually being formed of UAL Corporation, with United Airlines as a wholly owned subsidiary.
In 1973 the airline commissioned designer Saul Bass to develop a new logo and colour scheme. He came up with what was called the tulip logo of coloured stripes representing overlapping letter Us, with a white fuselage, & red, orange, and blue stripes along the aircraft cheatline. These colours remained in use for 20 years. The airline also adopted the slogan of Fly the Friendly Skies.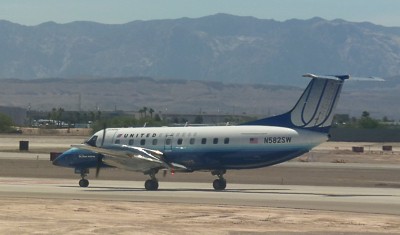 United Airlines Small prop planes operate out of Las Vegas
United was however purely a domestic operator, with no overseas routes. Indeed, the only US airlines permitted to fly transpacific routes were Pan Am and Northwest Orient. It had high hopes of launching many long-haul routes as a result of the Transpacific Route Case, which reviewed the allocation of areas of the world to various airlines. However even though American Airlines gained Australia, and New Zealand, Continental Airlines got Guam, and TWA had Japan, and Taiwan, United were denied any expansion. The result of which was a fast turnaround at United, who previously supported regulation, and then became a leading proponent of deregulation.
United celebrated the 1978 Airline Deregulation Act. It was to become a pyrrhic victory that United didn't want to win. A poor economic climate, coupled with labour unrest, meant that tough new competition was a headache United didn't need. It incurred huge losses.
United launched its Mileage Plus frequent flyer scheme in 1981, just one week after rival American Airlines launched AAdvantage. Both are held to be the first true modern frequent flyer programmes.
In 1982, United became the first carrier to operate the Boeing 767, taking its first delivery of 767-200. Many of these aeroplanes still fly with the airline.
In 1985 there was a long 29 day strike by United's pilots. They disagreed with United's plan to have a pilot costs no higher than American's; ructions from this dispute rumbled on for many years.
United did not gain an overseas route until 1983, when it began flights to Tokyo from Portland and Seattle, and this was still an anomaly for a couple of years: a strange long route sticking out into the Pacific. However United gained a boost from the long, terminal decline of troubled Pan American World Airways. Pan Am had had financial problems for a decade, but it was close to the wire in 1985 when United agreed to by PanAm's Pacific Division, and its Boeing 747s, for $750 million. At last, United could operate the Pacific destinations it always wanted to, and within a year United operated flights to 13 Pacific destinations. Many of these routes were started by Pan Am in the 1960s, and are still important routes for United today, such as Hong Kong, Singapore and Australia. All of the aircraft purchased from Pan Am in 1985 were repainted in United's Rainbow livery which remained until 1993.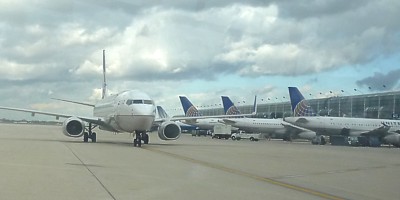 United Continental Airlines Planes line at Chicago O'Hare
The long laboured death of Pan American World Airways continued to offer rich, cheap, pickings for United. In 1991 the company expanded dramatically, purchasing Pan Am's routes to London Heathrow. Working around the Bermuda II agreement, United also obtained rights to fly to Heathrow from Chicago. By 1992 Pan Am had collapsed, and United purchased the now-defunct Pan Am's Latin American and Caribbean routes and even gates at Miami airport (most US Airports operate a system whereby airlines 'own' gates). However United had expanded too far, too fast, and it had to wait months before it was ready to launch its own service to South America.
In 1993 the "Battleship Grey" colour livery was launched. It was used until 2004 and was still very common on elderly aircraft until well into 2012, a year after the Continental merger and the latest new livery. The colour was heavily criticised for blending in with a dark night sky, but the "Battleship" livery was introduced to portray a more global business orientated image for the airline, which was undergoing huge expansion. The words "Worldwide Service" are visible near the front of the aircraft, reflecting the takeover of many of Pan-Am's routes that circled the globe.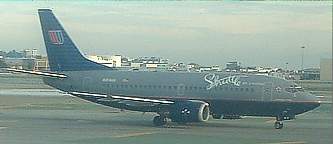 United one of the rare 'Shuttle' Boeing 737 at San Francisco

In 1994 to try and turn losses around, United in effect gave itself to itself. United's pilots, machinists, bag handlers and non-contract employees acquired 55% of company stock in exchange for salary concessions of up to one quarter. The Employee Stock Ownership Plan (ESOP) made United the largest employee-owned corporation in the world. It also launched a short-lived low-cost subsidiary, Shuttle by United, to compete with low-cost carriers. Unions for staff working at United – who now owned much of the company - successfully bargained for huge pay increases, but it was another pyrrhic victory of which United became renown: United workers lost almost all the value they had in United shares – which they couldn't sell – in United eventual bankruptcy.
1997 was a hugely significant year for United. It opened a major hub at Los Angeles, with a few long-haul routes over the Pacific, and many domestic locations. United was also the launch customer of the Boeing 777. It also co-founded the Star Alliance with Air Canada, Lufthansa, Scandinavian Airlines and Thai Airways.
The Star Alliance being a success, but 1998 it was looking for another domestic partner, and it initially settled on Delta. There was an agreement between SkyMiles and Mileage Plus programs allowing members of either frequent flier program to earn miles on both carriers and use both lounges. The partnership ended in acrimony in 2003, and United then followed it with a similar alliance with US Airways followed failed takeover talks that were blocked by regulators.
There was yet another bitter dispute between the pilots' union and United in 2000. The pilots wanted their pay restored to the levels that existed prior to the pay cuts that were taken to fund the Employee Stock Ownership Plan. In the busy summer season most pilots refused to fly extra hours, and the pilots were quickly offered a 48% increase over four years with up to 28% upfront. Initially United could afford it thanks to the dot-com boom and a strong presence on the West coast, however when the bubble finally burst, United was left with rampant costs that were totally out of control.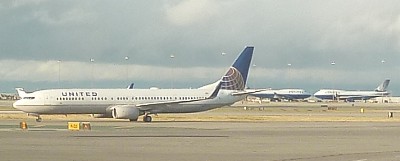 United Continental a Boeing 737 rests at San Francisco
In September 2001 the terrorist attacks caused United to lose two aircraft, a Boeing 757 and 767. That, the closure of airspace, and rocketing fuel costs meant the airline lost US$2.1 billion in 2001. United tried hard to obtain a loan to cover losses from the federal Air Transportation Stabilisation Board, but unions refused to agree, and United lapsed into bankruptcy protection in December 2002. All its shares become virtually worthless. The airline cancelled many routes, such as the flagship run from London to JFK, and eliminated the entire Latin American gateway from Miami. With the rise of the internet all city ticket offices in the US closed. The mainline fleet was cut from 557 to 460 aeroplanes.
United took advantage of its Chapter 11 status to reorganise. The embryo low-cost 'Shuttle by United' operation had shown promise, and to beat off the competition, in 2003 United launched a much larger low-cost carrier, called Ted. The name came from being 'half a UniTed', with the planes but not the service.
A second subsidiary came with the launch in 2004 of the luxury PS (for "premium service") service on re-configured three class 757s from New York JFK to Los Angeles and San Francisco, aimed at business customers and high-end leisure customers. Meanwhile free meals and drinks were axed on board, and replaced with a buy on board menu. The only routes were free alcoholic drinks were still served for a while was on long haul routes over the Pacific. These routes went dry-or-buy in 2008.
In 2004 there was yet another new livery –with blue and white colours and a Blue Tulip on the tail – and the launch of a few new routes, including Vietnam. The scheduled flight from San Francisco via Hong Kong to Ho Chi Minh City (formerly Saigon), was the first by a US airline since the Vietnam War, when Pan Am axed flights in 1975.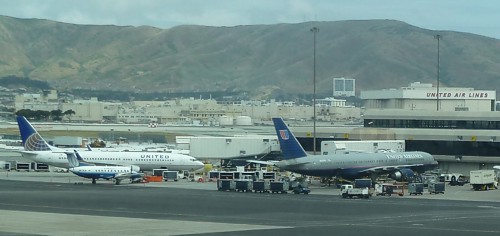 United Airlines Three planes, in three liveries, at San Francisco
United finally exited bankruptcy in 2006, after slashing the pension rights of many of its staff, and implementing route cuts of 17%. It was the largest and longest airline bankruptcy case in the history of the industry.
Consolidation was the name of the game in the industry in 2006 onwards, and United was on the hunt for a partner. It almost took over the UK airline bmi, which was mooted as a good match with shorthaul routes out of Heathrow, however Lufthansa took over bmi, before selling it to British Airways. Continental Airlines also started merger discussions with United, but they weren't expect to come to anything. Delta was another suitor, but in the end Delta wedded Northwest. By 2008 there was strong support of a marriage of star alliance partner carriers United and US Airways.
By 2008 United was trying to cut costs again, and further reduced it's on board service, and also announced it would follow American Airlines by charging $15 for a checked bag. That year it was clear that the embryo low-cost carrier Ted was also a non-starter, and the brand was axed. All routes folded back into the mainline operations, and all the elderly Boeing 737s were scrapped: this marked the end of United 737 operations, until ironically the later Continental merger brought many of them back. The mainline fleet was also cut from 460 to 359 aeroplanes, and there was a further cut of 15% to routes.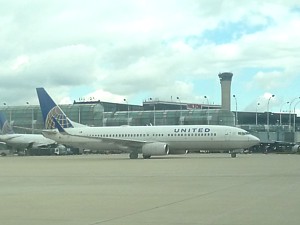 United ex Continetal Boeing 737 at Chicago
United was however flying a very old fleet, and needed new aircraft to reduce fuel burn on flights. It announced orders for 25 Boeing 787–8 aircraft and 25 Airbus A350-900 XWB aircraft in 2009. The orders are worth US$10 billion together. The 787 will replace the 767; the larger variant of the A350 will replace the 747. Ultimately, United intends to fly only three types of widebody aircraft: The 777, 787, and the A350.
In 2009 United was still hunting for partners, and finally managed a link up with the old oneworld carrier Aer Lingus, who were to fly between Washington and Madrid. United also announced a small codeshare agreement with Continental airlines, along with a frequent flyer agreement: it was a harbinger of what was to come.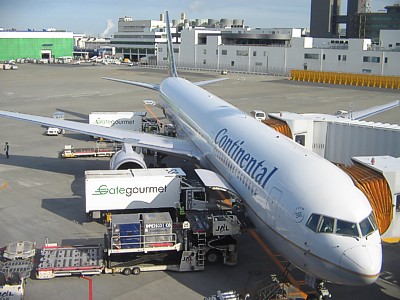 Continental a Boeing 757 rests at Tokyo, pre-merger
Continental departed the SkyTeam alliance and its partnership with Delta to join the Star Alliance, and in 2010 merger talks were on again in earnest. It only took two weeks to hammer out a merger between Continental Airlines and United Airlines. The combined carrier would be based in Chicago, and has taken United Airlines name but used Continental's Lippincott update of the Bass 1991 globe logo and livery as a classic compromise to keep both camps happy: in this it failed, however it has been held up as a classic case of two companies not wasting money on marketing: Continental CEO Jeff Smisek and former United CEO Glenn Tilton admitted they devised the new branding over a quick chat, as they didn't want to waste million on a consultants or either company's marketing departments.
The merger went ahead after the US Justice Department OKed it, after United and Continental agreed to lease 18 take-off and 18 landing slots at New York Newark Airport. United's old theme song of George Gershwin's Rhapsody in Blue from 1924 remains the company's theme song following the merger with Continental.