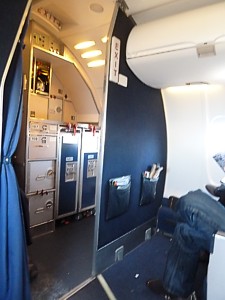 Domestic First Class You get served free wine
NEWS: Following the United Continental merger Boarding and check-in processes have been aligned. All of Continental's planes will have United's Economy Plus seating: however you won't be able to book it unless you are a United MileagePlus member.
United Airlines is undergoing a massive state of flux when it comes to what you get on board, partly because the two old halves of United – the old United and the old Continental – had such totally different onboard products. One had free meals and drinks – the other did not. One had two classes of service on board – the other had four.
Following the United Continental merger, the merged airline United is slowly aligning service on board. Boarding and check-in processes have been aligned, however the two airlines still have totally different sales and websites. In its economy cabin, United boards its window passengers first, followed by those in the middle seat and aisle. Continental loads back-to-front. The combined carrier will switch to United's procedure next spring.
Indeed, the one think that is clear is that the so called merger of equals appears to be nothing less than a thinly disguised takeover when it comes to the passenger experience. All of Continental's old quality and perk are slowly being downgraded to the level of United: which means they get worse, and more expensive.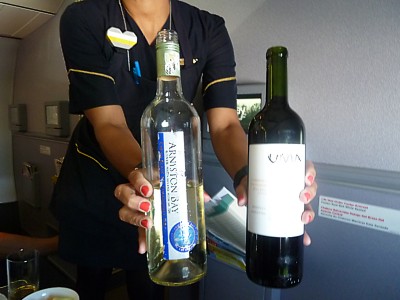 Wine selection Ask to see the bottles on United Airlines domestic First
Continental planes will continue to fly as Continental aircraft until the reservation systems sales and websites are merged. Continental's international two-cabin structure will remain – at least for the time being.
All of Continental's planes will have United's Economy Plus seating: however you won't be able to book it unless you are a United MileagePlus member: there are no perks if you are an elite member within the Star Alliance.
Indeed, before the merger a strange quirk of United was the way that United attempted to distance itself from the Star Alliance. Logos are small, and there are few indications of what perks Star Alliance Gold members have. Be assured you can use the business checkin, the lounges, and request upgrades (see Hints and Tips). Part of this may the domestic-USA centric nature of United's operations, where if United see another Star Alliance card, it tends to be from US Airways, and the answer then is often 'no'.
United International Onboard Experience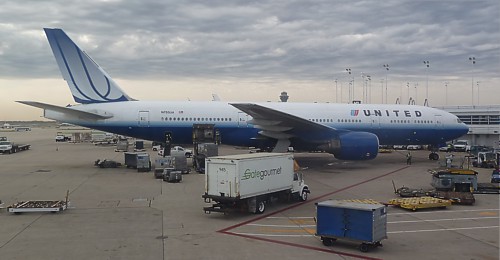 United Continetal Boeing 777 at Chicago
What is United Airlines like as an airline? Well, it certainly gets mixed reviews, with many passengers comparing it unfavourably with Asian or even European airlines. The lack of free drinks and seatback entertainment on 747 services is definately second rate. However up the front things are better, although service can be hurried and poor even in business.
In economy, United boards its window passengers first, followed by those in the middle seat and then the aisle. While efficient, this leads to total confusion at the gate, with family members separated into boarding zones.
First Class passengers are greeted at the door by the Purser and directed to their seat, however Business Class passengers have to make their own way Once you get to your seat, coat collection and pre-flight drinks happen rapidly, with offers of water, orange juice, or Sparkling Wine in a plastic glass. It's not uncommon to get a re-fill of your drink if you are onboard soon enough.
In Business it's rare to be greeted at the door: you'll be left to find your own seat, and then you are subject to almost continual PA announcements. Now, all airlines do these, but not in the quantity that United manage. As soon as you hit cruising altitude a trolley comes along with a selection of papers. From the US the trolley has two of each of the main US papers, but no international ones regardless of the destination. The trolley starts from the forward left, so by the time it gets to the rear right, most will have gone. From the UK you are offered the Guardian, FT, or the Express. From Australia it's the SMH, Financial Review, or the Australian.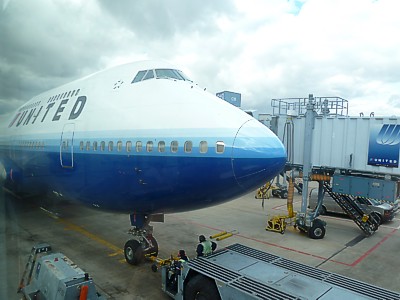 Boeing 747 in pre-merger livery at Chicago
Menus come next (even in business they are rather naff. A folded sheet of A4 printed in colour). Then there is a drinks trolley with 2 reds, 2 whites, and Sparkling Wine. With your drink you get a small bowl of mixed nuts, which are warmed. This is a famous part of the Business service on United, and many regular passengers objected when it was suggested that they be axed. At this point you will also be asked for your meal choice, and this is the only time in the flight when you will be addressed by name - with the cabin crew obviously reading from a list. In business meal preferences are always taken from front to back, but are then sorted in the galley in order of Frequent Flier status and then the fare paid - this can cause problems because for most flights there are 30 business class seats - and that's the same number of meals that are loaded. With United giving away free upgrades like sweets, you can pretty much be sure every Business Class seat will be full – and someone's got to be low on the pecking order.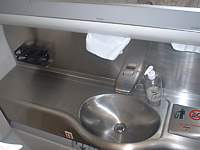 United the spartan loos

About an hour into the flight your tray-tables are laid with white linen tablecloths, and a tray is brought with your tableware and appetiser. United have finally replaced the often strange (sometimes heavy) second meals on Transatlantic routes with a lighter snack meal, however on trans-Pacific flights there are two full meals (one being breakfast) and a light snack mid-flight. Finally, at the end of the flight just before landing you get a hot towel.
Economy is a lot more basic, with no menus, but there are two meal options, and they are still free. In economy cabin service can be decidedly ropey, with the crew making it clear sometimes that they just want to get home. You now have to pay for alcoholic drinks. These come around on trolleys from the front, and you will then asked if you want to buy alcoholic drinks, at $7 a go. Never use a credit card for this (unless you are an American) as you will also be charged a 'foreign transaction charge' of up to US$13, because the charge is processed in the US, making it $20 a beer! Amazingly expensive, and to rub in salt into the wound, you can only buy one beer at a time, so you can't stack up and save on multiple fees. Thankfully United Airlines take cash for transatlantic flights, but they will only take US dollars: hence, take a stack on board, and always pay in cash.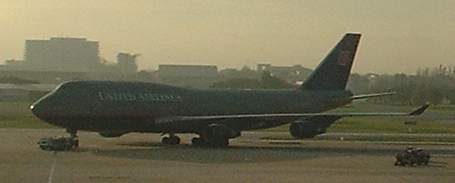 United 747-400 at Bangkok

In both classes there is a magazine rack just by the galley, however the magazines are nothing to write home about, being mainly e commerce or business magazines, with the odd travel mag. In both classes again the loos are very Spartan without any frills at all, although in business it's clear from the racks that there used to be extra mags here. Again, removed due to cutbacks.
In economy food preferences on even numbered flights are taken from front to back, while on odd flights, preferences are taken from the back of the aircraft to the front.
United Airlines domestic shorthaul experience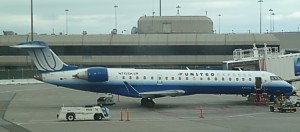 United Airlines Embraer ERJ-145 at San Francisco
In the country that invented airline industry deregulation, it is astonishing to find just how low airline service has sunk. It is often claimed that the USA just can't do airlines – and it certainly can't do premium airlines – and the United Continental merger proved to a large extent that it is true.
And it has got worse: United Airlines reviews show it had a reputation for treating everyone like cattle, but Continental Airlines at least attempted to have some service. Now, the combined airline is moving everything to the United model, and everyone is treated the same. Just be thankful though: United is no US Air. Things could be worse.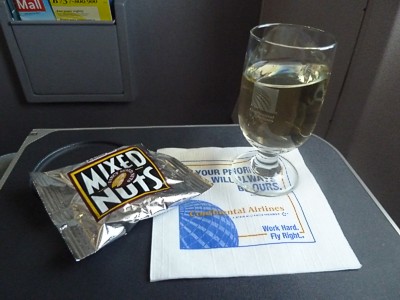 First Class Wine and nuts on United - it's all you get for paying three times the price
In First Class you should not expect any food, even if you pay for it, on flights of less than 2 hours, between 0500 and 2100. This may sound tight, but at least it's better than the 2.5 or 3 hours on US Airways or Delta. The only exception to the starvation diet is on a few of the longest flights which are over three and a half hours long. Here there is breakfast from 5am to 9am, lunch from 9am to 3pm, and dinner 3pm to 8pm. Otherwise, what you are paying for is the seat, and nothing more. You do however get free alcoholic drinks, including a pre-flight drink of whatever you like: this is brought to you as you sit down. In effect this means three type of beer that are sold in economy, spirits, or wine; you'll generally be offered three refills on the flight, but the crew are pretty good about coming around the wine bottles and topping you up whenever you request it.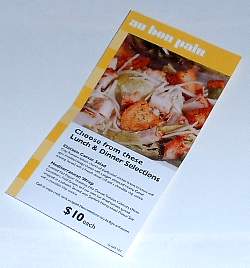 United Buy on Board Menu

In Economy Class (called coach class in the United States, except on United where it remains Economy) there is nothing. On flights up to 1.5 hours, there isn't even a trolley service, however above this a trolley, starting at the front, which offers free soft drinks or coffee.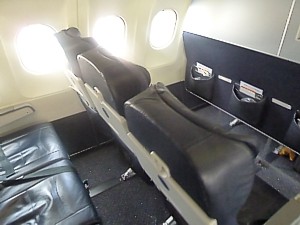 United Continetal Airbus A320 First Class seats
A few years ago United started what it called "A new and exciting meal option for customers in United Economy® on select flights". Basically it means you pay for your food. United have Buy On Board. It features food from mainstream US fast-food joints including TGI Friday's, Bennigan's and the Hard Rock Café. Breakfast comes in at about US$7, while lunch and dinner is US$10. There are always two choices on each flight. Buy on board is available on all flights over 2½ hours in length. That's Chicago eastbound (to Orlando/Oakland/Portland/ Seattle/San Francisco/San Jose) and Denver westbound (to Atlanta/Boston/Newark/Washington/Orlando/Oakland/ Portland/Seattle/San Francisco/San Jose).
You have to buy alcohol regardless of flight length in United domestic economy. Beware that this is astounding expensive, and you cannot pay by cash. If you are not from the US credit cards have a 'foreign transaction charge' of up to $13 added, and you will also pay in your 'home' currency, at a ruinous exchange rate. You cannot buy more than one beer at a time to avoid the charge. Hence, for overseas tourists to the USA, United has therefore become a dry airline.
United Airlines Amenity Kit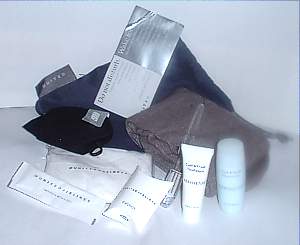 Business Seatback Amenity kit

Economy
gets nothing any longer, since United entered bankrupcy protection. Not a thing.
Business gets United's amenity kit in a cloth sachet, with a very good pair of socks, a pretty decent eyeshade, moisturiser and toothpaste from the airline amenity manufacturer Aerosense, United branded ear plugs, a clear plastic toothbrush, a packet containing a tooth pick and dental floss. A packet of tissues, and a sheet of two stickers saying either "Do not Disturb" or "Wake for Meals".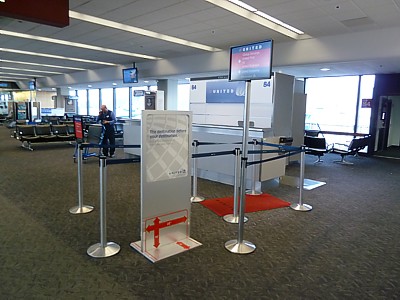 Luggage Check for UA carry on baggage