Turkish Airlines passenger reviews
NEWS: Turkish Airlines is delaying delivery of it's Boeing 787s, Boeing 737 MAX 8, and Airbus A321neos, due to a sharp downturn in traffic.
Things have radically changed at Turkish Airlines over the past few years. Now a large, full service airline, operating to most of the globe it is based at of Atatürk Airport in Istanbul.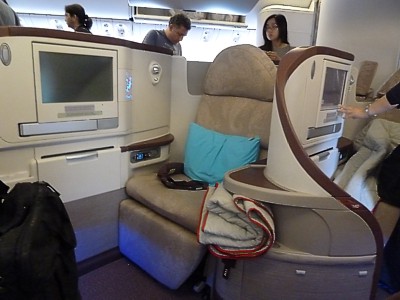 Turkish Airlines Business Class Seat
Turkish Airlines have invested heavily in a large modern fleet, with up to date equipment. Long haul is on the Boeing 777 or the Airbus A330. It has over three hundred aircraft, making it the fourth largest carrier in the world, and it has now overtaken British Airways to serve more destinations non-stop from a single airport than any other airline in Europe (even though Turkey isn't really in Europe).
A member of the Star Alliance, you can earn miles and spend them as you would on any of the other Star Alliance airlines, and use them to access the really very good Turkish Airlines lounges at the Istanbul hub.
Turkish Airlines Business Class reviews are generally pretty good. It gets flat beds, while the in flight catering has just been contracted to Do&Co of Vienna, and is now seriously good, offering a kind of fusion between Europe and the East (or if not that, at least some good lamb options). Even on the ground the new Ataturk airport is bright and clean, and the business class lounge there has just had a radical revamp, tripling in size and it has definitely moved into the world class.
That's not to say all is good at Turkish Airlines. It's had problems, most notably the launch of Turkish Airlines Premium Economy failled, and the airline has now abandoned this class. The airline is also running at a loss, and the financial results are 'not grreat. Attacks at it's Istanbul hub put many passengers off travelling, and the ban on flights to the US in 2016 following the failled Turkish Coup, and the subsequent ban on taking laptops on board Turkish Airlines didn't help matters either. Faced with this hassle, it's not surprising many passengers decided not to bother.
Turkish Airlines Business Class lounge
And that's a shame because Turkish Airlines do offer a genuinely good products some of the time, and the route map offers a good stepping stone between Asia, Europe and the US. Now that the airline is part of the Star Alliance, it's become even more of a bridge around the globe. There are even free stopover hotels offered if you route via Istanbul. Fares are generally a bit cheaper than you'd expect, and there are good reasons for trying Turkish Airlines - and equally good reasons for avoiding them like the plague.
Is Turkish Airlines a good airline?
Things were once very different. It was once a state monolith offering an inflight product that was badly dated, and which really should have been axed many years ago, surviving on flying those in the north of Europe down south for cheap bucket and spade holidays, using ancient planes and offering worse food.
Türk Hava Yollari Anonim Ortakligi, to give it its full name, is often shortened to THY, and has invested heavily in new equipment in the air and on the ground. The planes are often straight out of the factory, and offer a distinctly new generation service in all three (once, four) cabins, with Turkish Airlines Premium Economy reviews particularly favourable. Read more about Turkish Airlines's seats and fleet.
Turkish Airlines Airlines | Fleet | Seats | Lounges | Food
So, with so much new, quality, hard product, why is a Turkish Airlines review so negative? The biggest problem for Turkish Airlines is often said to be the staff who work for them. Turkish Airlines should properly be known by its initials, THY. Many residents of Istanbul joke that these stand for "They Hate You" And this is oh so true. Airreview must note, in it's personal oppinion, its hard to find a more miserable bunch of workers either on a plane or on the ground than at Turkish Airlines. They will never offer help, advice, or anything really, and will try hard to find reasons to not give you something they advertise such as a hotel for a long layover, or access to the lounge as a Star Alliance Gold.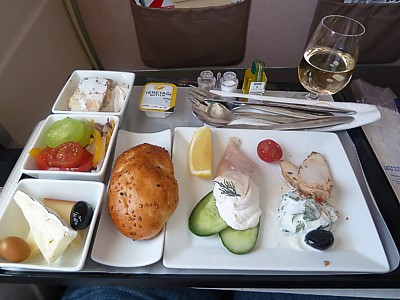 Turkish Airlines Business Class Food
Woe betide you if miss a flight, and getting Turkish Airlines to respond to complaints is a joke. Even in the air you get the impression that passengers get in the way of them, well, not doing much. Opinions show simple requests for drinks on long haul flights tend to be ignored. This attitude to passengers leaves many people to comment they're 'a funny bunch, aren't they'? Having said that, you may get lucky and not have a problem if you just want to get from A to B and not interacts with the THY crowd. While it is always a good idea to work out what you're going to get before you set foot on a plane, on Turkish Airlines it's vital to not only know your rights, but print them out, and show them to the staff who love to say no. Turkish Airlines inflight experience.
One thing is for sure; if you've never been on Turkish Airlines before, one flight will leave you with a memorable trip, but any Turkish Airlines review must mention a trip has a habit of leaving memories that some passengers would rather avoid, and with opinions that are unprintable.
Next page: Turkish Airlines seat reviews >>>
REVIEW
All images and content copyright airreview.com