Food on Turkish Airlines is pretty good, and is now provided by Do&Co of Vienna. In business class it really is noticably a cut above the rest, with lots of quantity and quality, a rare breed in the airline industry. Even in economy, there are still two hot meals on longhaul flights. Generally for the main meal, you'll get three choices, with a Turkish variant, a vege and a meat or fish version, although this can't be relied upon, and on some flights there may be two Turkish meals (generally a spin on lamb in a kebab).
Plastic clear see-through knives & forks are used on all flights to LHR. Elsewhere they are metal.
In business class you will always get a menu, with Turkish on the Left, and English on the right hand side of the page. Shorthaul the menus are on a thin piece of card, however long haul they come on a printed piece of paper stuck in a thick wallet. Oddly, the crew will always very determendly take your menu from you, and you have to hide it to ensure they can't take it from you. The menus are always written in US English, and if you are travelling to the UK it may take some interpretation to turn this into food you know (yes, really).
Shorthaul Business Class - Turkish Airlines inflight food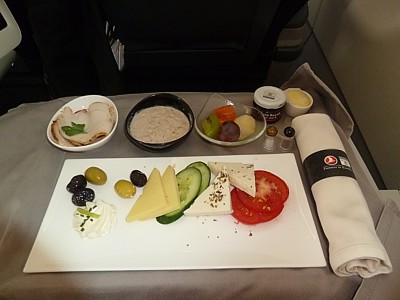 Turkish Cheese Meze Breakfast
Turkish cheese, chicken and turkey slices.
Fresh fruit, homemade yoghurt.
The early morning - 5am - flight from Heathrow to Istanbul in Business Class starts with - a plate of cheese. It is perhaps not the best way to start the day.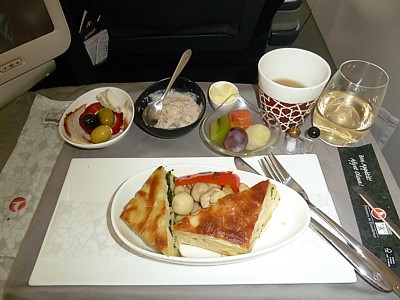 Turkish Borek potpourri cheese pastries
Sauteed mushrooms with two cheese and spinach pastries.
A dozen boiled mushrooms. This passes for a full cooked breakfast on Turkish Airlines flights.
It really isn't very impressive.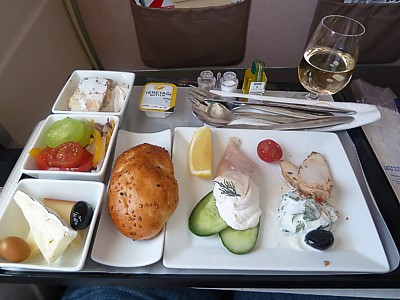 Assorted Turkish Meze
A plate with turkey, ham, cucumber, half a baby tomato, an olive, a lemon slice, haydari, and labneh. A turkish poppy seed roll. A pat of butter, and a small bottle of oil.
Three bowls with mediterranean salad (three types of peppers), two types of cheese (Brie and Smoked) with an olive and Apple Stroudel.
You may think that you don't get a lot for your money, but this is actually the starter, and what a starter. This really is very good, and the Haydari (the thick strained yoghurt) and the Labneh (strained youghurt with herbs) is top notch. Alas there isn't much quantity: the two slices of cucumber seem a bit mean, and the tiny tomato is downright cheap.
Incidentally, the plan Turkish airlines has is that you eat the Meze, and then you move onto the salad, while the Meze tray is removed, and your main course if brought along. In Turkey meze is served with raki, an anise-flavored apéritif, and you can ask for this to be brought with the Meze. If you are brave, and you don't want to walk or talk too much after your flight.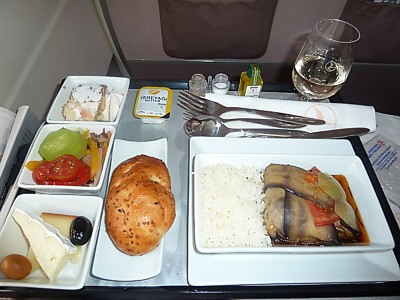 Islim kebab lamb coated with aubergine
Hunks of lamb wrapped in two folded squares of aubergine with tomato juice. Buttered Rice.
Three bowls with Apple Stroudel, mediterranean salad (three types of peppers), two types of cheese (Brie and Smoked) with an olive.
This is a very traditional Turkish dish, and if it comes up on your inflight menu roulet, it's time to give it a try, and it's definately a taste sensation. The lamb to be honest was any old dead sheep, but the flavours in the aubergine were great, helped by a great sauce and fine flakey rice.
No biscuits for the cheese, which was a bit odd, but then again this seemed to be an afterthought. The Apple Stroudel is a nice touch, particularly on flights from Turkey to Germany where many Turkish imigrants live, and which is one of Turkish Airlines most popular destinations.
Incidentally, the menu caused some confusion, as Turkish Airlines generally use US English, even on flights to the UK. You may like to know some of our American cousins may be used to refering to aubergine as eggplant, and peppers as capsicum. It took a while to work out what the menu was refering to.

Longhaul Business Class - Turkish Airlines inflight food
Longhaul on Turkish Airlines it is vital to sit up the front if you want to be sure of getting your prefered order: menus are handed out and orders taken front to back. There are generally three main course options longhaul, but there are only a few spares of each.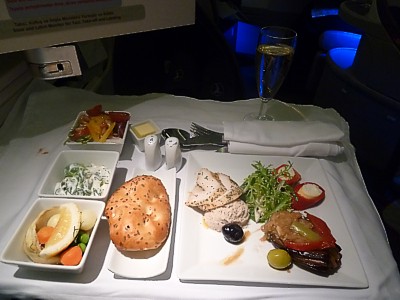 Potpourri of Turkish Meze
Stuffed aubergine in olive oil, grilled chicken breast, Cerkez chicken, grilled red pepper stuffed with goats cheese.
Three bowls with seasonal salad with peppers, purslane with yoghurt, marinated fresh artichoke. A pot of butter.
In Turkey, rather than being a meal in its own right, Meze is generally served at the beginning of dinner, as a starter. It is a selection of small dishes, and in this case it just the right quantity to prepare you for what is to come.
It is actually very similar to what is served short haul, but with slightly more quantity. There are for example three turkey slices. The aubergine is done just right, with a lot of tenderness. Beware of the peppers though, they are very hot an spicey, but in general this was a very good starter.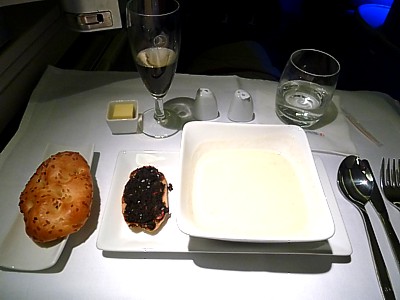 Jerusalem Artichoke soup
Carrot and Artichoke Soup with a light dash of cream.
Olive and pepper toast.
This is one of my most favourite soups, but on Turkish Airlines it was a sad disapointment.
The colour should have given the game away. It should have been an extremely rich, deep cream colour from the Jerusalem artichokes. but maybe in Turkey they don't like them - whatever, Do&Co made a bit of a mess of this, and it was pretty tasteless.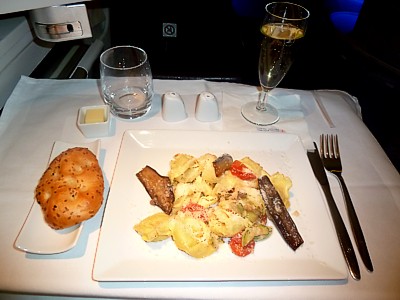 Cheese Tortellini
Tortellini filled with Ricotta, Romano and Parmesan cheeses.
Sauteed leeks, fried eggplants and cherry tomatoes on the side.
Do&Co are back on track with this classic Italian Dish. It is served up as the vege option on the menu, and always tends to be the one left behind for 'those at the back' but there's no good reason to avoid it.
It is however very very filling. The content of the tortellini settles heavily in your tummy: don't go to sleep though, as Turkish Airlines have three more courses to come.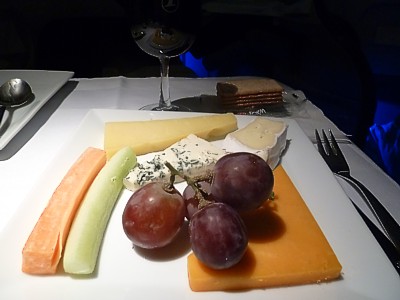 Cheese plate
Brie, Goats cheese with basil, edam, red leicester.
A carrot stick, celery, four grapes. Crackers.
I'm not crackers about the cheese plate on Turkish Airlines, as the cheese is just starting to curl at the edges, but it'll do.
You only get four biscuits from the crew as they rush past with the trolley, and trying to get any more is a real pain.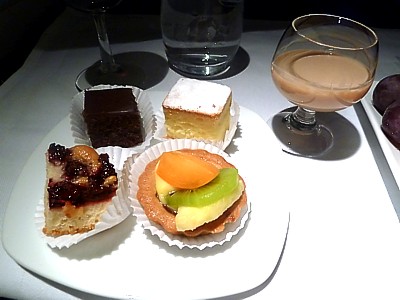 Turkish Desserts
Fistikli Kadayif, Kalbura Basti, lemon torte, fruit tart.
A glass of Baileys.
Just when you are feeling really full, out wizzes the desert trolley, with yet more delights from Do&Co of Vienna. These are really good.
If you ask, the crew will explain that Kalbura Basti, sometimes called Hurma, are Turkish syrup-drenched pastries that have a riddled appearance and peel the enamel off your teeth.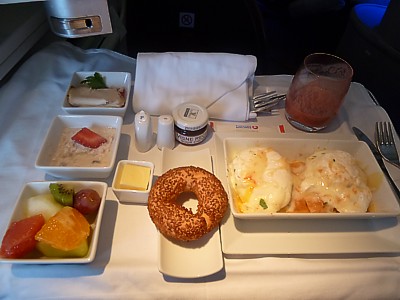 Fried Egg breakfast
Poached eggs with light sauce over mornay turkey ham.
Three bowls with Chicken and Turkey breasts, fruit yoghut, fruit salad.
Wow, these are good. Really good. They are worth taking the flight for, as some of the best eggs I've ever had on a plane. They are good tenderly by the crew (or rather, reheated) and the sauce is a delights.
Shame about the really odd shaped Turkish roll. Still, with a bit of the really rather decent Cherry jam even that is more than OK.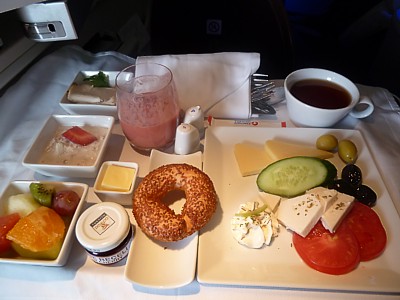 Fruit breakfast
Seasonal fresh fruit plate with feta and cheddar cheese, tomatoes and olives.
Cherry jam. Three bowls with Chicken and Turkey breasts, fruit yoghut, fruit salad.
Looking quite remarkably like these were recycled from the Meze plate of the night before, this is what you get if you ask for the vege breakfast.
Light and healthy, it is true, but somehow, not really filling.