Wine, beer and spirits, are free on Turkish Airlines. All wine in economy comes in 187ml bottles, while you get the proper stuff from full sized ones in business, except for Sake which always comes in airline minitures.
The Turkish Airlines cabin crew are pretty puritanical when it comes to booze. You can ask for refils, but you look decidedly out of place.
Business Class Sparkling Wine - Turkish Airlines inflight drinks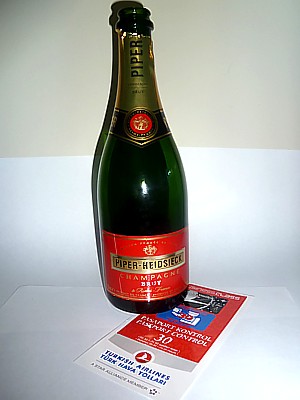 Sparkling Wine Piper-Heidsieck Brut
Longhaul - Great Sparkling Wine
A really good Sparkling Wine, its pricey on the ground... so you might as well get the benefits of paying a fortune for your ticket, and enjoy this proper French stuff from Reimes.
The Piper-Heidsieck Brut is only available long-haul.
12%
Piper-Heidsieck Monopole Bluetop Sparkling Wine
Shorthaul - So So bubbles
Piper-Heidsieck Monopole Bluetop Sparkling Wine is still a good Sparkling Wine, but not as good as the true mix above. Still, if you've paid several hundred quid for your ticket, you might as well enjoy more of this stuff from Reimes.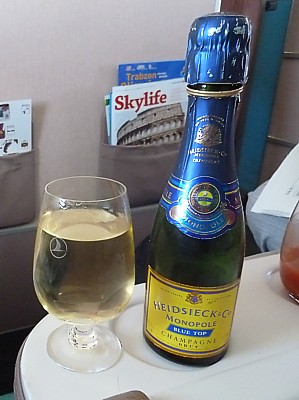 The Piper-Heidsieck Monopole is also available in economy, if you pay for it.
12%
Business Class Wine - Turkish Airlines inflight drinks
Kavaklidere Narince
Turkish White
Don't be scared of Turkish wine. Much of it is muck pedaled out for tourists, but there is some genuinely good stuff too.
Prestige Narince is made solely out of 2008 harvest Narince grapes grown in Kavaklidere's Cotes d'Avanos vineyards in Kapadokya. Narince, a grape variety indigenous to Turkey, is usually grown around the central Anatolian city Tokat, by these guys have gone way up the mountain to grow it in a region where summers are hot and dry, and winters cold and snowy.
As a result of this change, this Turkish White has a less oaky taste, fresh and alive acidity and a slightly creamy touch.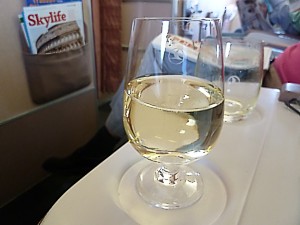 If you like Chardonnay, you will like Narince 2008, which is a welcome introduction to the Turkish Wine scene.
13%
Doluca Karma Merlot Bogzkere
Turkish Red
Perhaps not quite such a good choice, the Turkish Merlot has a decidely brick colour at the rim, perhaps due to the twelve months it spent in French oak. There is plummy black fruit behind, with a good palate, but it is very strong on the nose, serious and big.
If you like your Merlots to be acidic, rustic and not mellow at all, this is the one for you, but for a wine claiming to be 'premium' in business class, there are better options.
12%
Economy Class Wine - Turkish Airlines inflight drinks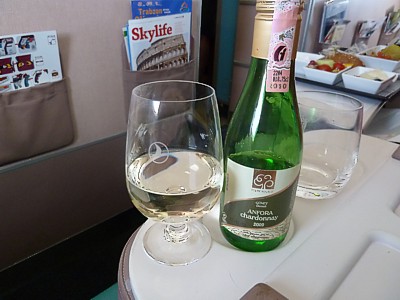 Pamukkale Anfora Chardonnay
Turkish Chardonnay
This is a white wine made from Chardonnay grown in Denizli city, which is about 300 miles south of Istanbul.
The grapes suit the climate, because it has intense fruity flavours like pineapple and grapefruit, with tastes fresh and well made. Indeed, it's good enough that you'll be surprised to have this in economy.
It goes very well with the Turkish Mezze plates.
13%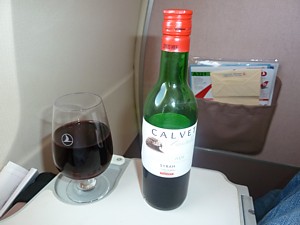 Calvet Varietals Syrah
Full bodied red wine
A full-bodied wine with a Ruby red colour and intense aromas of red berry fruits like cherry and wild strawberry. It is an acid, fresh, round, lightly tannic and structured wine.
The only problem with this is that it is made with Syrah grapes. That may sound good - until you wake up 8 hours into a long haul flight with the most amazing hangover. Don't touch more than one bottle of this stuff, and don't mix it with grain based spirits unless you want your brain to be stuck to the inflight pillow for the rest of the flight.
12%
Beer - Turkish Airlines inflight drinks
If you ask for a beer you'll also get a packet of Turkish Airlines nuts with it in Business Class, but without in economy.
Efes Pilsen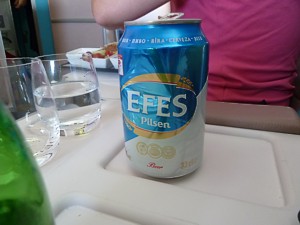 This is a fairly standard European Pilsner style lager beer. It tastes rather like Fosters, with a slight twist. That's because it gets its unique taste from rice added into the ingredients at brewing stage. It is very malty with a sweet finish that becomes dry and hoppy. Unusual, to say the least.
It is amazing popular in Turkey, with a tumping 82% market share, although it is very new, being first brewed in the 1980s. Indeed, Turkey wasn't much of a beer producing nation until a few years ago, but recent the Efes Beer Group (which was only created in 1969) has become the 8th largest European brewer.
5%.
Carlsberg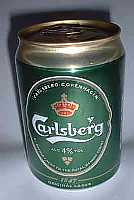 A tame and dull beer
The classic pale lager with a global distribution,
Carlsberg
has a refined and satisfying taste. Brewed to the original Danish recipe, it has deep malty notes and a distinct bitterness that generate a full flavoured beer. It is easy drinking at 38,000 feet.
Incidentally, this is the brand marketed as Carlsberg Export in the UK, and is stronger (at 5%) than the normal UK Carlsberg lager which is brewed at 3.8% abv.
5%


Spirits & Cocktails - Business Class - Turkish Airlines inflight drinks
These are only served in business and first class.
Aperitives
Chivas Regal, Johnnie Walker Black label, Jim Beam, Smirnoff Black vodka, Gordon's dry gin, Efe Yas, Uzum Rakisi.
Digestives
Grand Marnier, Baileys, Frapin Cognac VSOP, Glenlivet.
Tekel Ozel Uretim Turk Likoru (Visne). This is Turkish Liqueur with a sour cherry flavour, and very good.
Gin and Tonic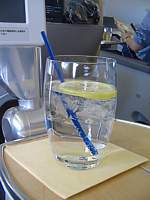 Gordon's Gin with tonic. It could be worse, far worse.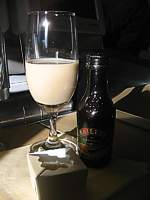 Baileys
Great after a long dinner over the Urals on your way to Istanbul, before getting some kip at 38,000 feet.