As you'd expect, Turkish Airlines main base is at the main
Istanbul Atatürk Airport
(Airport code IST), named in honour of Mustafa Kemal Atatürk, the founder and the first president of the Republic of Turkey. From here domestic flights fan out around Turkey, including 16 flights a day to the Turkish capital of Ankara. As a hub, it is amazingly busy, and the eighth busiest in Europe.
The mainline route to London Heathrow is very much a core route, and run rather like a long haul one: then again the flight can be up to three hours long (and make no mistake, it is certainly no inter-EU route) so THY provide some widebodies on this route. The problem is, none of the flights is particularly ideal for the late night flights out of IST, with a serious risk of a misconnect on the evening flight (and then the enduring battle to get onto the flight the following day), while the lunchtime flight leaves you hanging around all day. Still, seven days a week flights leave London Heathrow at 0655 (arrives 1245), 1125 (arrives 1715) 1630 (arrives 2220) and 2230 (arrives at 0420 the next day – this is a truly awful semi-overnight flight). The return is much better, as you are following the sun, with seven flights a week at 0805, 1315, 1900 and 2030 (arrives 2230 – one of the last flights of the day into Heathrow).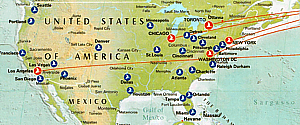 Turkish Airlines USA Routes
From Istanbul, Turkish Airlines looks to Asia, with flights to Bangkok daily at 2335 (arrives 1305), Beijing every day (except Wed & Sat) at 2345 (Arrives 1400), Delhi at 1845 (arrival at 0310 – thankfully in the cool of night), Mumbai (Bombay) at 1845 (arrives 0335), Riyadh daily, Singapore at 2325 (arrives 1530). There is also a Singapore Airlines code share that stops off at Dubai en-route, meanwhile every day (except Wednesday and Saturday) the Singapore flight (TK66) carries on to Jakarta (CGK), landing at 1725, the furthest flung outpost of Turkish Airlines.
Hong Kong gets a flight on a Tuesday, Wednesday, Friday and Saturday at 2350 (arrives 1515). Turkish airlines will even sell you a ticket to Sydney, via Hong Kong, on Qantas, which works out cheaper than just buying the second leg yourself. Osaka (KIX) on Monday, Wednesday, Friday and Sunday at 2350 (arrives 1655), Seoul every day except Monday and Wednesday at 2340 (arrives 1550), and Tokyo daily (except Wednesday) at 1830 (arrives 1145)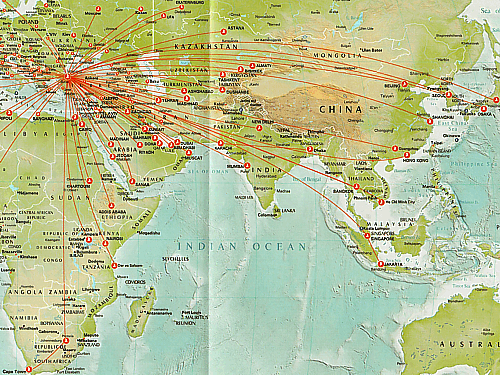 Turkish Airlines East of Turkey Routemap
There are some oddball flights around the middle east, including Baghdad which gets a daily flight at 0315 in the morning, Bahrain is also overnight daily at 2140 (arrives 0130), Kuwait overnight, and Dubai twice a day (although both in the middle of the night)
There are only a few flights into the US. New York JFK is daily at 1100 (arrives at 1445). This is the famous TK1 – the one all the crew want to be on. There is also a flight to JFK at 1630 (arrives 2100) on a Tuesday, Thursday and Sunday in the summer.
Chicago (ORD) gets a daily flight at 1120 (Arrives 1515). Occasionally in the summer this flight carries on to Washington, arriving at 2110, before coming back to Turkey in a circular motion, but most of the time you have to change in Chicago. Turkish Airlines has a flight at Toronto (YYZ) on a Monday, Thursday and Saturday at 1130 (arrives 1540). Los Angeles also has flights leaving Istanbul at 11:10, and landing at 1525. It only runs a few days a week, and the rest of the time is served via the JFK or the ORD flights.
Down south Johannesburg is on a Monday, Wednesday, Thursday and Saturday at 2325 (arrives 0810), and to South America there is Sao Paulo three times a week, on a Wednesday, Friday and Sunday at 1045 (lands 1900).
Around Europe there are 3 flights a day to Amsterdam, 3 to Athens, 2 to Barcelona, 3 to Berlin, 3 to Brussels, once daily to Dublin, 4 times a day to Dusseldorf, 4 a day to Frankfurt (plus 3 Lufthansa codeshares), 2 a day to Geneva, 2 a day to Hamburg, daily to Hannover, daily to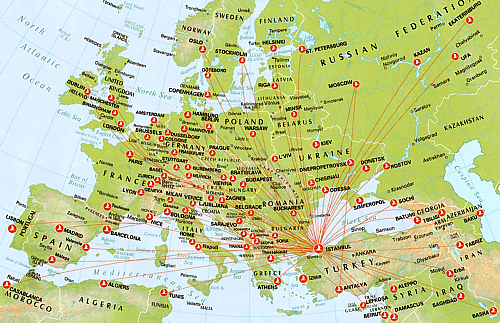 Turkish Airlines European Routemap
Helsinki, 4 times a week to Lisbon, 2 a day to Madrid, once a day to Manchester, 3 a day to Milan, 3 a day to Moscow, 3 a day to Munich (plus 3 a day as Lufthansa codeshares), daily to Nice, daily to Oslo, 4 a day to Paris, 2 a day to Prague, 2 a day to Rome, 2 a day to Stockholm, 2 a day to Stuttgart, daily to Venice, 2 a day to Zurich.
Airline schedules change regularly
This information is intended as a guide, but for up to the minute timetables, please consult Turkish Airlines at www.Turkishairlines.com
There are also a few flights from the other Istanbul airport, Sabiha Gokcen (SAW). There's nothing much longhaul, but you can get to Amsterdam, Cologne, London Stansted, Moscow, or Stuttgart from here: unwary travellers have been known to end up at the wrong end of Istanbul, and equally cab drivers have been known to take tourists to the 'wrong' airport, and secure the mileage to take them back, and then onto the correct airport. It does pay to double check (and, with an Istanbul cab driver, take your own GPS so you can see where they are taking you).