Turkish Airlines or Türk Hava Yollari A.O. (THY) has its roots deep in the military, back in 1933 when it was called the State Airlines Administration, which was part of the Turkish Ministry of Defence. It bumped along during the war, and by 1945 finally purchased its first proper plane, a Douglas DC-3, which was used for the first International service, from Ankara to Istanbul and then onto Athens
Turkey is a large country, and the airline remained mainly domestic, however it also had some short hops over the med to Nicosia, Cyprus; Beirut, Lebanon; and Cairo, Egypt. However the airline started to take on an American style, thanks to an early link up with Pan American who provided advice.
A change of tack in the 1960s saw part of the airline sold onto the UK government, and British Overseas Airways Corporation (BOAC) began giving technical support, and Viscount aircraft became the mainstay of operations. This 6% BOAC shareholding was only sold in the mid 1980s.
By 1967 Turkish Airlines started operating two jets: a leased Boeing 707 and a DC-9. However by this time the airline began to be plagued by a reputation for poor customer service and delays; a reputation it still struggles to shrug off.
Also at this time, Turkish Airlines gained a reputation for high profile crashes, starting with the then deadliest aircraft disaster in the world, in March 1974, when 346 passengers on a DC-10 were killed in France on a flight from Turkey to London. Just two months before this, 62 of the 68 passengers on board a Turkish Airlines flight were killed at Istanbul. The following year another flight to Istanbul claimed the lived of everyone on board, when it slammed into the Sea of Marmara. A year later in 1976 a Boeing 727 a flight from Istanbul attempted to land at the wrong airport due to pilot error, and killed another 146 passengers. THY really wasn't doing very well.
By the mid-1980s, THY had a small fleet of 30 aircraft, although many were second hand, and it had a brace of international routes, with London the main line operation as it is today, and for a while the airline was profitable, even becoming Turkey's largest source of foreign currency at one stage.
There was another dramatic crash when 38 of the 41 passengers on board were killed in December 1979 when a Turkish Airlines aircraft slammed into a hill, and then in January 1983 Turkish Airlines lost one of its Boeing 727s when it landed short of the runway in Ankara. 47 passengers died, although 13 passengers survived.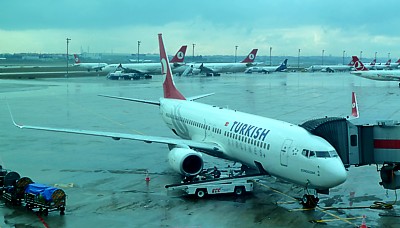 Boeing 737-800 Turkish Airlines at Istanbul
The airline bought twelve new wide body jets from Airbus in 1985, operating the Airbus 310s to Singapore, and allowing a leapfrog route to New York via Brussels: a route the airline had long cherished. Alas these new aircraft cost the airline dearly, and it slumped into a large loss from 1987 onwards, largely due to high payments on its new Airbus A310s. It was almost a decade before the airline made a profit again, and by 1994 it was able to afford to launch a non-stop route to New York, although the rampant inflation dominant in the unstable economy of Turkey at this time made investment difficult.
In December 1994 a Boeing 737 crashed during its final approach to land at Van Ferit Melen Airport. 52 of the 69 passengers died. Then in April 1999 a Boeing 737 crashed after taking off from Adana Sakirpasa Airport. All onboard were killed.
Turkish Airlines was handed a double blow by the Turkish Government in 1996, which deregulated the domestic market and permitted free competition with international carriers to Western Europe. To fight back Turkish Airlines moved into its new terminal in January 2000 at Istanbul's Atatürk International Airport; just in time for the Turkish Economic Crisis of 2001, which slashed traffic on domestic routes. The airline rapidly axed loss-making routes at home and overseas. The 2003 war in Iraq and the 2004 SARS epidemic caused yet more routes to be suspended.
A serious crash in January 2003 saw another 75 passengers onboard a Turkish Airlines flight to Diyarbakir Airport killed.
Turkish Airlines however needed to rapidly modernise its fleet, and in 2004 crossed its fingers, and placed a large order of 36 long range jets from Airbus, and 15 Boeing 737s. Alas, even this order later cursed the airline with a mixed fleet, and pilots who are not able to be easily transferred from short to long haul operations.
Turkish Airlines reaped the success of the newly opened up Turkish tourism market. In just two years from 2003 the number of people (mainly from Western Europe) coming to Turkey for cheap holiday doubled, taking advantage of a country that was outside the booming Euro zone. THY also built a large technical services operation, maintaining the aircraft of other airlines who took advantage of a very good exchange rate, making Turkey seem very cheap. A revamp of Turkey's currency in 2005 (making one New Turkish Lira (YTL) equivalent to one million of the former Turkish Lira) did little to change this.
Turkish Airlines has now been privatised, although the Republic of Turkey still owns 49% of the shares in the company.
In the latest high profile crash of a Turkish Airlines jet, in February 2009 a Boeing 737crashed on approach to Schiphol Airport at Amsterdam, after the crew failed to react quickly enough to a stall caused by a faulty altimeter. Nine people were killed.