Turkish Airlines has some unusual ways of operating, and it pays to check up on these before you fly, or you could miss out on perks like the free hotel for an overnight stop.
Turkish Airlines - Boarding Cards
One of the oddities about Turkish Airlines is that the boarding cards always state the boarding time will start 30 minutes before it does. At most airports this shouldn't matter, but at Istanbul the flight departure screens always flick from Wait In Lounge to Last Call in one jump. As you'll probably be bussed to the gate after an additional security check for a long-haul flight, it therefore makes sense if you actually calculate your own boarding time. It can be consistently relied upon that all flights will board 30 minutes after the posted time.
Another oddity of Turkish Airlines is that the airline always allows a fair buffer in terms of its arrival time, and will often give an arrival time of an hour later than the flight will generally make it. This can't be depended on - except to make Turkish look good in its stats for punctuality.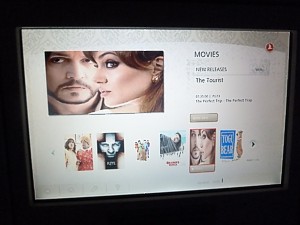 Turkish Airlines inflight entertainment
How to make a complaint to Turkish Airlines
In a word - don't bother.
After many years of making Turkish Airline complaints, I've finally come to a conclusion that Turkish Airlines will listen carefully if you make a complaint in person, and then suggest that you write in. This is their way of getting rid of you. If you write in, don't bother with email: that way your complaint can be safely deleted. Instead write a real letter, on paper. Send it to them, and they will ignore it. If you finally send three letters, you will get a reply, however it will always be a standard form letter, and no matter what your complaint is (from lost luggage, to refused lounge access, to being downgraded so a friend of a pilot could sit up front) you will get a page of waffle about how THY care about you, and then down the bottom will be one sentence that is pasted in relating to what you really want to know: what Turkish Airlines will do about it. The answer is always the same: the incident was a one off due to service issues, but they hope to see you onboard again. Forget trying to get compensation from Turkish Airlines Complaints. Turkey is not in the EU, and it is a pointless and thankless task to try and get money out of them even if they never find your luggage again.
Free Hotel or Tour for transfer passengers
If you are transferring at Istanbul, Turkish Airlines shout from the rooftops on the website about their free tour of Istanbul, or their free hotel if you have a long connection. Sadly, many people miss out on this, as no one at checkin, on the flights, or even at Istanbul will tell you about it. Worse, even if you do know about it, and ask at Istanbul, the ground staff will try as hard as possible to avoid giving this to you, or deny it exists. Sand your ground, it does, however you have to try really really hard to satisfy the conditions for it.
The first issue is that you can only get a voucher for this at the International Transfer desk. You then have to take the voucher to the Hotel desk - don't try asking at the hotel. This desk is on the arrivals concourse before passport control, before you take the escalator up to the main departure concourse. There are no signs telling you how to get back down again if you miss it on the way past, however there is a small staff stairwell next to the burger bar under the HSBC lounge at Istanbul Airport. Take this, and then argue with the guard at the bottom, that you need to speak to the transfer desk that is right opposite him. You generally have to do this in Turkish.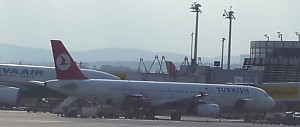 Turkish Airlines Airbus A321 at Vienna
Arriving and departing flights must be on Turkish Airlines, but not on codeshares.
Then you have to satisfy the time conditions. There must be 10 hours between your arriving flight and your departing flight (7 hours in business class), with no other options that you could take. The transfer desk will at this point look up the connections and argue that you could have taken code share flights (with a TK flight number) to reduce your time at Istanbul. Again, argue, because the flights have to be on Turkish Airlines metal.
The hotel desk will insist that you take the tour, not the hotel room, however you have the option of either.
Finally, just when you think you are getting somewhere, all tours leave the airport at 0900 promptly, so unless your flight arrives in the 0730-0830 window, again, it's pointless. However this won't stop the hotel from giving you a tour voucher when you can't use it to try and stop you using the hotel, and then when you get back to them arguing that you chose the tour.
Which is a shame, as the tours are quite good. They knock off most of the major sights, although you should avoid the tour on Tuesday and Wednesday, unless you are heavily into Islamic art, as it includes the Turkish Islam Works Museum. Beware that on Monday you have an hour and a half for lunch, at a place decided by the tour guide, which generally means his cousin's restaurant. Oh, and you have to pay for this.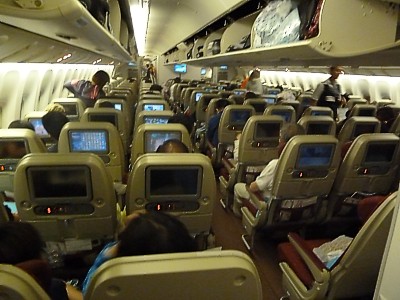 Economy Class Turkish Airlines Boeing 777
Operational Upgrades
One of the common questions is "How do I get an upgrade on Turkish Airlines to Business or Club class?". Alas, Turkish Airlines has the friends and family upgrade scheme you've often heard about, but rarely seen in action. What this means is that if you are family of the pilot, the crew, or the man who loads the bags - or even just a casual friend having met them in a bar years ago - you'll get to sit in the comfy seats. Everyone else is firmly in the seats they paid for.
This can be amazing to watch in practice, where on a long haul flight you can see the person driving the plane welcoming their family into their seats, and explaining how everything works, while around them people wonder why they paid so much for their seats. Turkish Airlines cabin crew are particularly hot on self upgraders - those who sit in a seat different from the one they are assigned. Occasionally you can see people try it on, particularly from economy to comfort class, and they are always firmly escorted to the back. The only exception is if you have a definite problem with your seat in economy, such as with your seatback TV not working, where you can sometimes complain to the crew and if you specifically asked to be moved (slightly) further forward to Premium Economy (Comfort Class) and ask for this class by name, you may get lucky. If you plan to do this, make sure you do it before the meal service: when the trolleys are out, there's no moving about.
In reality, getting upgraded to business class on Turkish Airlines is nowhere as easy as even on European airlines. The airline has the Western, rather than American, model for upgrades longhaul. Which is to say you'll only get an upgrade if your paid for class is full, and then upgrades are processed accordingly to a pecking order of elite frequent flyer status. You are very unlikely to ever get an upgrade unless you are at least a Gold Star Alliance member.
To start with, make sure you are a frequent flyer, and you do fly frequently: after all, if Turkish Airlines are going to upgrade anyone, they will upgrade those passengers who fly with them pretty regularly, and hence will enjoy the upgrade enough to put more business Turkish Airlines's way. Then if the flight is full in economy, and someone needs to be moved up, the check in staff will first look at Diamond Turkish Airlines members, and then Plantinum level, and then at other Star Alliance members at the equivalent levels (Gold, and then Silver. Another thing that Turkish Airlines look at is how much you paid for your ticket: it's much more likely to happen with a full fare ticket (although occasionally you can get lucky with a discounted economy ticket).
As always, my advice on dressing properly in the pages on how to get an upgrade applies.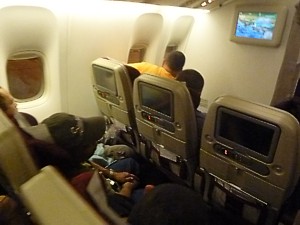 Economy Class Turkish Airlines Boeing 777
Turkish Airlines online Seat Selection
Never let Turkish Airlines select your seat for you - always do it yourself online.
The reason for this is simple: Turkish Airline staff are trained to fill up the aircraft from front to the back. The front can be rammed, with only a few down the back, and particularly in Comfort Class the back rows can be deserted, and if you sit in the middle you can get an set of three centre seats to yourself. However, this is where the inflight self-upgraders strike first, and there is no guarantee that you won't wake up with a stranger sitting beside you. If you try to block seats with bags and coats, these often are dumped on the floor by the upgraders: hence, you should lock in the bags with seatbelts.
It is very hard to book seats online at the Turkish Airlines website. Sometimes I've got lucky by phoning the call centre: sometimes they say no - so hang up and try another agent. A way around this is to feed the Lufthansa website your Turkish Airlines booking, which will trick Turkish Airlines into reserving seats. Just go to the Lufthansa manage my booking section. You may need to give it the separate Turkish PNR from Check my trip. Equally if your booking includes onward seats in Qantas or Singapore Airlines, when you bring up your booking on their website, you can then reserve seats on Turkish Airlines, something the airline which sold you the seat will try hard not to do.
Bargain Fares on Turkish Airlines
Oddly, the first week of February is the best time to book Business Class on Turkish Airlines, because at this time the airline offers 'Valentine Specials' for 2 people in Business, which can sometimes work out to the price of only one seat in comfort class. Two words of warning: you have to be quick, and you can only book them on Turkish Airline's website, originating from Istanbul.
Turkish Airlines website
Turkish Airline's website is pretty standard, however it seems to have been designed by a senior management committee who are used to producing corporate financial reports, because it is as dry as dust and with little, to say none, or any design flair. Some information is also notably lacking: lounge information for outstations for a start.
You can buy tickets online at Turkish Airlines website, although it uses the standard Amadeus GDS booking system with no frills from Turkish. There is a good week-long grid of weekly fares if you select the flexible with dates option.
Main internatinal website
Turkish Airline list of films onboard
Skylife magazine
Guide to comfort class and the PDF version
PDF version of timetable