The inflight entertainment system on Turkish Airlines should be a delight, with seatback TVs, AVOD, and vast library to watch. Alas, the implementation leaves a lot to be desired.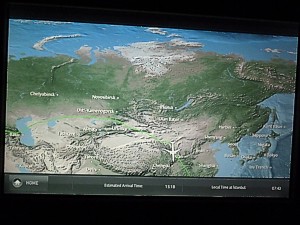 Turkish Airlines moving map
Shorthaul
Turkish Airlines is one of the few airlines left which still shows entertainment on shorthaul planes, although admittedly it is via the overhead screens. This doesn't however mean that it is any good, and they normally choose the cheapest possible American comedies of a decidedly acquired vintage, all of which are about 22 minutes long. Then, for the rest of the duration of the flight (sometimes of several hours), they turn it off, and leave you to your own devices.
Longhaul
The In flight entertainment is switched on while you are still on the ground. This would be a great innovation, and allow you to watch a lot more of it - sometimes an extra hour while in the taxi - however Turkish Airlines can be relied upon to pull defeat out of a marketing ploy, and only get around to handing out the headphones about 30 minutes into each flight. Excatly why is unclear: sometimes you get the impression they just can't be bothered.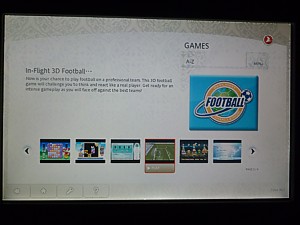 Turkish Airlines IFE game system
Turkish Airlines In Flight Entertainment system is a full AVOD system. You can stop, start and rewind films at your leisure, however it is infernally slow, and you have to scroll through pages and pages of films to see what's on: there isn't a full film list.
The soundtrack on all the films defaults to Turkish; as you might expect from an airline where you may not hear much English spoken. You have to specifically select English if that's what you want, by hitting the soundtrack button.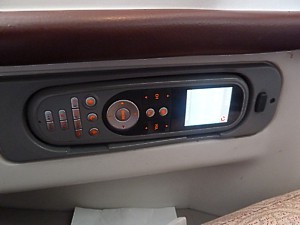 Turkish Airlines inflight entertainment remote
There are a lot of games loaded on the Turkish Airlines IFE system, and they are fairly good. The take ages to load, but there are the usual archade classics, and few with almost 3D type motion. A playstation they are not, but they make the hours go by, although it has to be said quite a few use the touchscreen, and if you are sitting in the seat ahead of the person playing, this is a total pain, as your chair bounces too and fro. Try not to sit infront a bored looking teenager who will play games all day.
There is a fairly basic system that loads the text for news headlines and weather forecasts, however it can go for hours without being updated in the air. You can also use the system to send short SMS text messages, and short emails, although at vast cost.
Headphones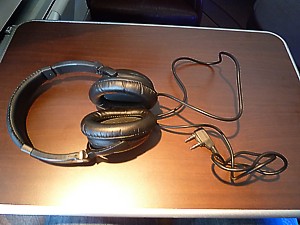 Turkish Airlines longhaul business class headphones
Turkish Airlines use three different types of headphones, depending on the length of the flight and the class.
In economy, you'll just get one type. It is of the sit in the ear type, with a short cable and a single 3.5mm jack plug.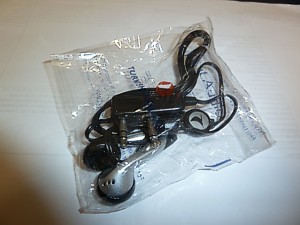 Turkish Airlines economy headphones
In business short haul, there are proper cover-the-ear type headphones, however they aren't noise reducing and are definitely mono.
In business long haul there are very good noise reducing headsets. They are handed out about 30 minutes into the flight, and are collected a good 30 minutes before you land.
Turkish Airlines Inflight Magazine - Skylife & Skylife Business
You'll find no less than three magazines in the seatbacks in business, and two in economy. The basic magazine is called Skylife, there is also The Turkish Perspective, which appears to be plain advertising, and Skylife Business, a heavily American-centric business related magazine.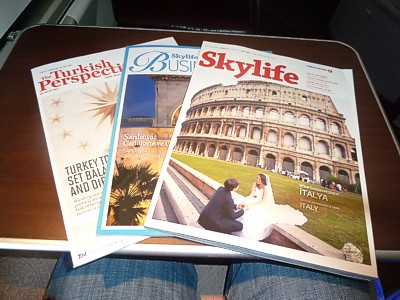 Turkish Airlines inflight magazine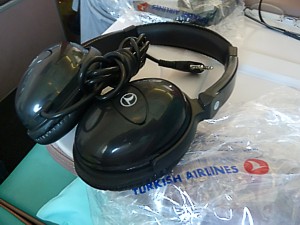 Turkish Airlines shorthaul business class headphones
The Turkish Airlines inflight magazine is typical of the airline: it looks big, fat, and glossy. However the actual soft product - the bit you read - can leave a decidedly flat feeling in your mouth. The problem is the content, and the translation. Every page is in Turkish and English, however translation seems to have been done by Google, while the content is full of the flatulent tourism speak of 40 years ago. An article about a Turkish destination on the Mediterranean coast for example will speak in flowery phrases about the sunsets and how food to suit all tastes is available - while consistently telling you nothing you need to know about the destination, other than how regularly Turkish Airlines flies there.
At the back of the magazine there is a useful section on Turkish Airlines, with a decent route map, fleet information, and of course lists of the inflight films. It can be far quicker to scroll through the mag, than looking up the films on the screen.