Turkish Airline cabin crew try so hard. They really do. Generally they try to ignore you.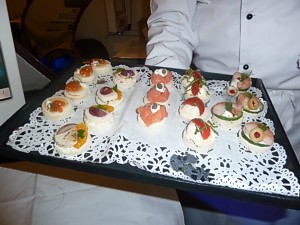 Canapés Turkish Airlines in Business Class
Yes, your experience on Turkish Airlines can sometimes be a misery thanks to inept, surly staff who give the impression that they hate the customers. No wonder then that Turkish Airlines initials of THY is often a true reflection of their attitude – They Hate You. However, occasionally you can come across a crew member who really go the extra distance.
Your experience with Turkish Airways will start at check in. With most airlines you can expect slightly inferior service at an outstation, however the opposite is true with Turkish, and the smiles at some outstations is in marked contrast to the grimace you'll get in Turkey itself. Never the less, Turkish airlines are quite good at check in over recognising elite passengers, and at Istanbul there is even an elite lane for security that feeds straight into the lounge.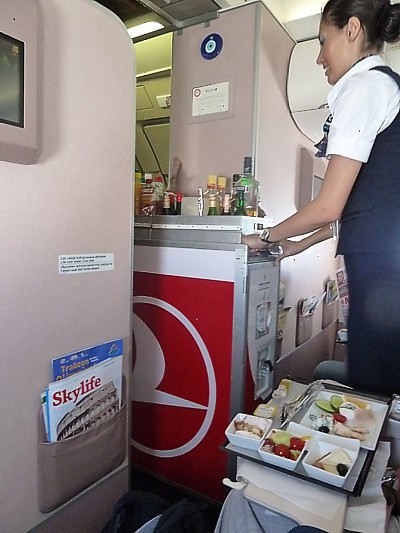 Business Class Turkish Airlines inflight service
One thing that Turkish Airlines are not good at is the chaos at the gate at Istanbul. Flight go from 'wait in lounge', to 'final call' instantly, and then there is a mad panic as hundred rush the gate and security (at IST it is at the gate for most flights). Beware that for flights leaving from a gate of 300 or above, you'll need to get on a bus too, which really delays things. There is one particular pinch point for the 300 to 310 gates, but with absolutely nothing beyond this point, and there is no point in going through early. Just keep calm and remember that Turkish Airline's latest trick is to print on boarding cards an absolute final boarding time of an hour before the plane departs (rather than the conventional 30 minutes) and if you know this trick you can keep calm and carry on boarding when you know you have to be in the plane, not when the airline says you have to be. However, your actual mileage on this score may vary (don't totally trust on it).
Longhaul inflight experience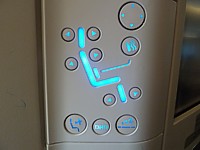 Boeing 777 Turkish seat controls
In
Business Class
there is generally a scrum at the gate, where technically there should be priority boarding for Business, but in reality the world and his wife tends to assume they can go through the priority lane. As a Star Alliance gold you can use this lane too, however be prepared for a fight, and have your card ready. Once in the cabin you're pretty much left to fend for yourself, with no greeting at the door, although your jacket will sometimes be hung by the crew. They will however offer you a welcome glass of Sparkling Wine, water or juice. A very heavily laden trolley of papers then slowly progresses down first the left then the right aisle. Alas, there are no international papers, only the Turkish Star and today's Zamat are in English. Just to complete the slightly Alice in Wonderland feeling, a chef in full uniform then walks down the aisle handing out chocolates, then slippers, and finally an amenity kit before takeoff.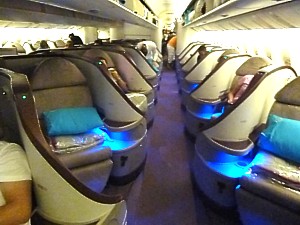 Business Class Turkish Airlines Boeing 777
The IFE is turned on before takeoff – but this is pointless, as in Business Class the noise reducing headsets are only handed out 30 minutes after takeoff: THY obviously hope you'll bring your own. Then hot towels and menus are brought around: if it's an overnight flight you can also tick off items on the breakfast menu for what you'd like for breakfast. Finally, an hour in, the service starts, with the canapé service, then cocktails, although it should be remembered that drink service on Turkish Airlines is annoyingly slow: sit up to the front for faster service. On the few Jet Airways Boeing 777s there is a full self service bar, but the Turkish Staff will never tell you about it and very few people know it is there.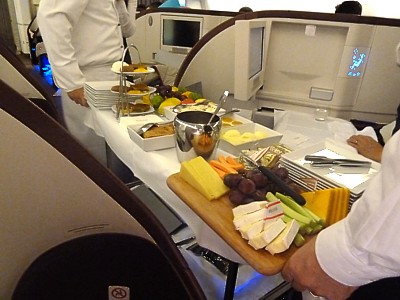 Desset Trolley Turkish Airlines longhaul Business Class
Food service is also agonisingly slow, with the full routine taking about 3 hours, including the mains, cheese and dessert plates which are all individually brought from the galley (rather than on a trolley). You will only ever get one glass of wine with your main course in Business Class unless you directly ask for it: sometimes you have to go to the galley to remind the cabin crew, who are often amazed that anyone will want more than one drink. This is just one of the aspects of a Turkish Airlines review which will leave you feeling distinctly annoyed. On a long flight you can also expect to be woken up for breakfast two and a half hours before you land – but sit there with the lights on for an hour before the crew bother to start serving, and when they do they'll initially serve fruit then your hot breakfast.
In Economy Class it really is a random lottery: what you should expect is consistent, but what is delivered is anything but. Sometimes there will be two trolleys with deserts, sometimes there will be rolls. Sometimes the crew will forget your request for a drink. Some crews are very attentive, others spend most of their time in the galley. Meal services are however the most consistent thing on the plane. Trolleys start at the front, and roll to the back. An oddity on Turkish Airlines is that the service carts will always remain parallel to each other at all times: it's impressive, but totally pointless and wastes a lot of time.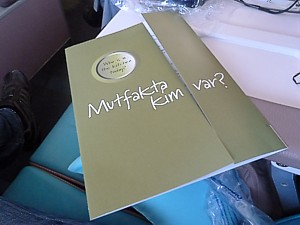 Menu Turkish Airlines shorthaul Business Class
In Premium Economy (Comfort Class), service is pretty much the same as economy, except that you will get bottles of water dropped off at your seat half way through the flight (although often the crew will forget). One thing to watch though is that economy passengers will always come up and try and sneak into premium: this is very consistent, and if you leave your seat, for example to go to the bathroom, chances are a stranger will be sitting in your seat when you get back.
In all classes, another strange Turkish Airlines habit is also noteworthy: the captain will normally leave the fasten seatbelts sign on permanently throughout the flight, even in the smoothest of conditions. And yet, oddly, most passengers are used to this, and just get up whenever they feel like it. A rigorous application of the rules is not Turkish Airlines' strong point.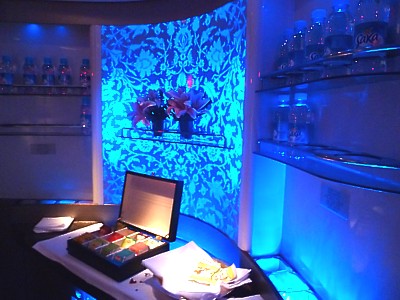 Inflight bar Turkish Airlines Business Class Boeing 777
One other thing about your inflight experience is also worthy of note. The flight arrival times are also padded out by precisely one hour, to allow for the late running of which Turkish Airlines is well known, however because of this padding flights are rarely 'officially' late.
Shorthaul inflight experience
In
Business Class
things are slightly better than you expect, particularly if you have a typically empty cabin on a single aisle aircraft. There is usually an offering of a pre-flight drink of Sparkling Wine (the real stuff, not sparkling wine) juice or water, and then, even on quite short flights, menus are passed around with three choices. There are hot towels too before the flight takes off, and a trolley of newspapers. These are mainly Turkish, however if you ask for an English newspaper you'll end up with a Herald Tribune (neatly wrapped in plastic). There are no real English papers, even on flights to the UK, but there are some on the return leg. The food service generally takes a while, with a starter, bread and main all brought out individually from the galley.
Turkish Airlines Longhaul amenity kit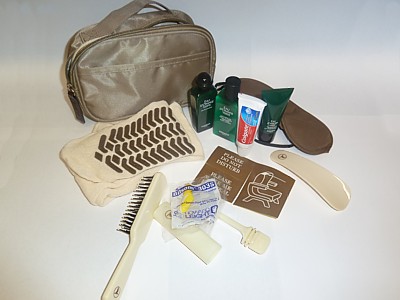 Amenity Kit The beige wash bag on Turkish Airlines in Business Class
In business class long haul, you will get a traditional amenity kit in a wash bag handed to you before the flight takes off. When I say traditional, I really mean that - generally, airlines don't make 'em like this any more, and that's not a compliment. The wash bag looks big and shiny, and comes sealed in plastic, with a couple of leather Turkish Airlines tags on the zips. Alas, that's as far the quality goes. It is very beige, and very old school.
The content is of a style suited to a cheap Istanbul market. Most distinctive is the small green jar optimistically labelled Eau d'parfum. It has a distinct paraffin type smell, but that doesn't stop most of the crew on board wearing excessive amounts of this stuff. It has a very recognisable odour, and that is of Turkish Airlines. From Jakarta to Los Angeles, if you get a whiff of this stuff, it will remind you of the airline where time forgot the amenity kit. There is also another small green jar of moisturiser, and a third with lip balm. This is actually quite decent.
There is a tube of Colgate toothpaste, and this is of decent size: it is one of the most useful bits in the bag, and Turkish Airlines haven't stinted on quantity here, unlike most airlines which just give you a tiny pea sized amount. The toothbrush is however woeful: it's one of those clip together style ones, with a large Turkish Airlines logoed handle.
There are the obligatory socks and eyeshade (quite good quality), ear plugs, a large hairbrush, a shoe horn and a Do Not Disturb sticker completes your trip back to the way flying was done in the 70s.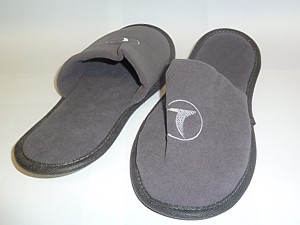 Slippers provided free on Turkish Airlines in Business Class
Longhaul in Business Class don't forget as well you get a pair of slippers which are very good good, in bluey grey with a sealed Turkish Airlines wrapper.
Turkish Airlines Baggage Allowance
Turkish Airlines has a pretty standard Luggage allowance.
Cabin Bags: The carry-on Baggage Allowance is the same for Economy and Comfort Class of one bag, to a maximum of 8kg, while Business and First Class are allowed 2 bags to 8kg each. The maximum size of each one is 23x40x55 cm.
Check in luggage: Economy class and Premium Economy (Comfort Class) can check in bags to 20kg, Business class to 30kg, and First class can check in a whopping 60kg. Star Alliance Silver gets another 10kg, while Miles and Smiles Elite and Star Alliance Gold get another 20kg. However flights to and from the United States of America, Canada, Nigeria and Ghana use the piece concept. Here, Economy and comfort class can check in 2 bags to 23kgs, while business and first class check in 2 bags to 32kgs.
Be warned that Turkish Airlines used to be very lax about what you could take on board, with the result that everyone took on board everything including the kitchen sink. Now, they're draconian, and check bags carefully – they insist that cabin baggage tags are used, and a baggage check is made during check in and at the gate. Of course the wily Turks have found a way around this, and it's usual to see economy passengers take virtually everything out of their bags before passing the checkpoints, having stuffed their pockets full of everything small and heavy, only to repack their bags once onboard. Another trick favoured by Turkish Airline passengers is to tie on and reuse their own 'Hand Bag OK' labels.
As always, these rules can change. Turkish Airlines's website has details of exactly what you can take onto a flight.