Swiss Air Lines passenger reviews
Swiss International Air Lines (or in it's conventional name, just Swiss) is a Lufthansa subsidiary and the principal grandfather airline of Switzerland operating scheduled services in Europe and to North America, South America, Africa and Asia.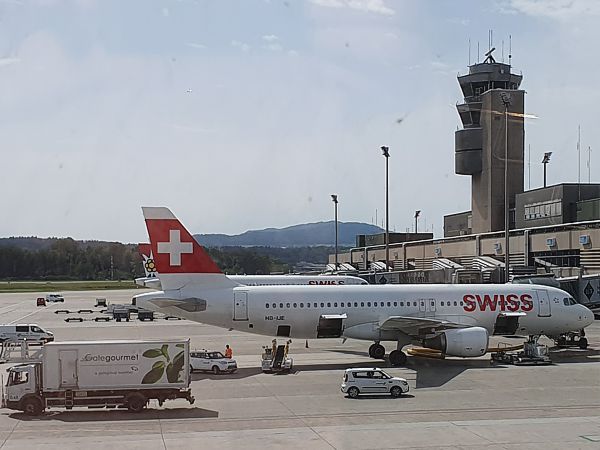 Swiss Air Lines A320 at Zurich
A full-service airline, the quality can bit a bit hit or miss: certainly in economy there are certainly better airlines. The soft product - such as the food and the service - can be better than you'd expect, but the hard product - the planes & seats - can be a bit random: often there is no way of knowing if you'll get a new plane with all the frills, or an older version with dodgy seats and entertainment. Swiss Air Lines seatback TV details.
Up at the pointy end things are much better, with Swissair reviews showing a lot of investment by Swiss in seat design: the lie-almost-level seat is roomier than most, with an unusual alternating pattern. ... read more about Swiss Air Lines's seats and fleet.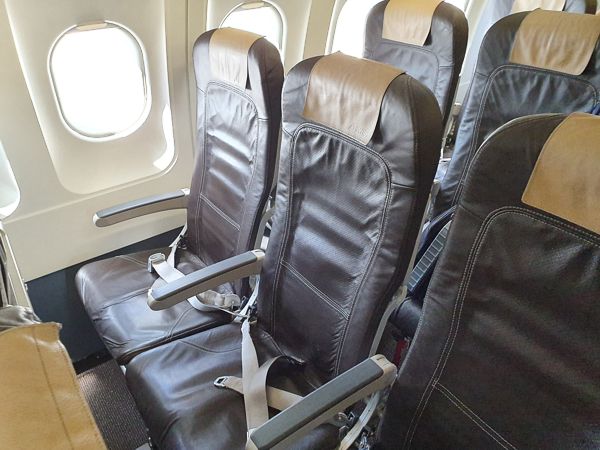 Swiss Air Lines A320 Seats
The airline had a disastrous press in the early part of the new millennium, thanks to a spectacular crash that led to it's bankruptcy. However the new version of Swiss continues to forge ahead, it still maintains a free food and bar policy even in economy, and - mainly due to its owner, Lufthansa - serves most major EU destinations at least once a day. It will never be at the forefront of service or quality longhaul, but does act as a flagbearer for Star Alliance operations at the heart of Europe. Or would do - if Switzerland would ever join (Europe, that is). Swiss Air Lines inflight experience.
Swiss Air Lines A320 at the Zurich hub
The airlines main international hub is at Zurich (at Zurich Kloten Airport), although it does have another much smaller hub at Geneva.
On board you can can very much feel as if you are flying on Lufthansa. There's a reason for that - the airline has very close links with its effective owner. Reviews and opinions are mixed about this takeover, and the loss of Swiss' own frequent flyer club was felt hard by loyal passengers who were forced into Lufthansa's Miles&More scheme (which Swiss flyers tend to call Miles&Less).
Swiss Air Lines Reviews
Although a new airline - it started flying in 2002, using the remains of the old Crossair when the original Swissair went bust - it has become more and more like it's old namesake, and in 2012 even revamped it's logo to look very much like the old Swiss one, adopted the new strapline "Our sign is a promise", and the new logo used the familiar Swiss-cross already used on the airline's existing logo, but now placed within a tailfin.
Swiss Air Lines Fleet | Seats | Lounges | Food
But all in all Swiss is certainly well worth trying, and Swissair reviews show a certain clean efficiency that is the envy of airlines in less fortunate parts of the world.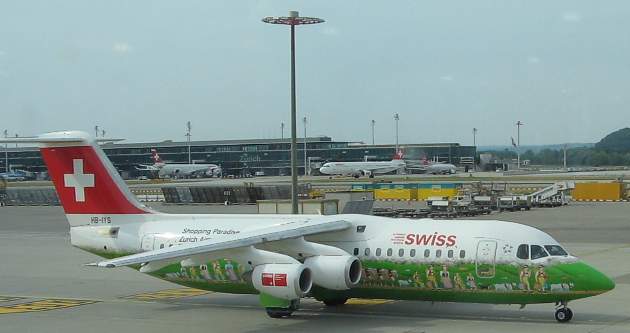 Swiss RJ100 at Zurich in special "Shopping" livery

Next page: Swiss Air Lines seat reviews >>>
REVIEW
All images and content copyright airreview.com