Swiss Air Lines Routes


Zurich Swiss planes line up

Zürich (ZRH) is the main hub. From Zurich there are intercontinental flights to New York daily to JFK at 1000 (arriving 1240) and every day except Saturday to Newark at 1655 (arriving 2000). In the summer there is a third daily flight, leaving at 1300, arriving 1540. You can also connect to JFK via Geneva, or on the Business Jet. There is a daily flight to Boston at 1300 (arrives 1520), daily to Chicago at 1240, Los Angeles daily except Tuesday and Sunday at 1250, Miami daily except Tuesday and Thursday at 1350, and Montreal daily at 1255. There is a codeshare on United Airlines to Washington.
Swiss also has a new all-business-class flight from Zurich to Newark. It leaves at 16:45, arriving at 20:15, turning around in an hour, and getting back the next day at 11:30. It has lie-flat seats with a 60" pitch with six weekly flights using an extended range version of the Boeing Business Jet B737-800, with seating for 56 passengers.
Longhaul from Zurich Swiss fly to Bangkok once a day at 2230 (arriving at 1410 - there is also a Thai codeshare at 1330) and then onto Singapore every day except Monday, arriving 1830. Tokyo daily except Wednesday at 1300, São Paulo then onto Santiago de Chile daily except Tuesday and Friday at 2230, Mumbai daily at 1000, Riyadh on a Tuesday, Thursday and Sunday at 1245, Jeddah on a Tuesday, Thursday and Sunday at 1245, Johannesburg daily except Tuesday at 2235, Hong Kong daily at 2235, Tel Aviv daily at 0945, Tripoli 3 days a week, Dubai, and Cairo 5 times a week.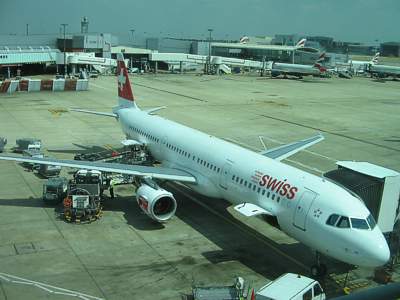 London Heathrow Swiss Airbus A320

From London Heathrow (LHR) there are flights to Zurich at 0620, 0840, 1350, 1715, 1835, 1945. Since BA axed their codeshare, there are no direct flights to Geneva.
From London City (LCY) there are flights to Zurich 0825, 1025, 1215, 1510, 1715, 1830, 1950. And flights to Geneva at 0825, 1300, 1730 and 1950 (all RJ85s except the 1950 which is an RJ100).
Airline schedules change regularly
This information is intended as a guide, but for up to the minute timetables, please consult Swiss Air at www.swissair.com
From Zurich (ZRH) there is a connection to Dusseldorf at 0745, 1230, 1745 & 2040 (plus codeshares operated by Lufthansa at 0700, 0955, 1950 in an RJ).
From Geneva there is a daily flight to JFK at 1215. There is just one direct flight a day to Dusseldorf at 1940 (A codeshare operated by Lufthansa, in an RJ).
Around Europe, Swiss fly from Zurich to Amsterdam, Alicante, Athens, Basel, Barcelona, Belgrade, Berlin, Brussels, Budapest, Bucharest, Birmingham, Copenhagen Düsseldorf, Dublin Frankfurt, Geneva, Hamburg, Hanover Istanbul, Lisbon, Lugano, Luxemburg, Milan, Munich, Nuremberg, Nice, Paris, Prague, Rome, Madrid, Malaga, Manchester, Palma de Mallorca, Stockholm, Stuttgart, Thessaloniki, Vienna, and Warsaw.
Next: Swiss Air Lines history >>>
All images and content copyright airreview.com