Swiss Air Lines History
There are two airlines called Swiss. The old Swissair - and the new Swiss, which is created out of the remains of Crossair when Swissair collapsed.


Crossair at Zurich

Swissair, short for "Swiss Air Transport Company Limited," was Switzerland's national airline for 71 years until 2002. It had IATA Code SR. For most of its lifetime, Swissair's financial stability made it renowned as a national symbol - until it collapsed. Its major hubs were at Zürich and Geneva Airports.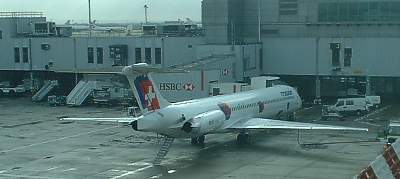 Crossair MD82 at London LHR

It had several serious crashes in it's lifetime, most notoriously in 1998 when Swissair Flight 111 (with an MD-11) on a scheduled airline flight from JFK to Geneva. All 229 people on board were killed, after an inflight fire due to faulty wiring in the cockpit, after the entertainment system in the plane started to overheat.
In the 1990s Swissair initiated a large expansion program known as the "Hunter Strategy" in which it aimed to grow by buying small airlines rather than forming alliances. It acquired 49% of Sabena, and stakes in other airlines like LOT, Air Europe, TAP Portugal, and German holiday carrier LTU. The strategy proved too costly the firm faced a cashflow crisis due to the slump in airline demand following the terrorist attacks in 2001. On October 2, 2001, Swissair's fleet was grounded. When flights resumed, captains had to carry large sums of cash to buy fuel at foreign airports. Finally, on March 2002, Crossair took over most of Swissair. Crossair was renamed Swiss International Air Lines.


A320 at Zurich

The new crossair - uses the IATA Code LX, which it inherited from Crossair. It was finally accepted in the oneworld alliance in 2004, after having been blocked by British Airways, with which Swiss competes on many long-haul routes. However, in 2005 Lufthansa confirmed its take over of Swiss, and as a result Swiss joined Star Alliance in April 2006, and transferred all it's members to Lufthansa's Miles & More frequent flyer program.
Swiss International Air Lines bought Edelweiss Air and Servair in 2008, and formed Swiss Private Aviation. It ran aircraft similar to Lufthansa Private Jet Services, but was never profitable, and closed down in 2011.
The new Swiss badly needed new aircraft, and in 2007 Swiss placed an order for 9 Airbus 330-300 aircraft to eventually replace the existing fleet of A330-200s. The A333 is more environmentally friendly and has three-class seating. From April 2009 as each A330-300 arrives, a A330-200 is retired from the fleet. The first A330-300 jet was put into service from Zurich to New York (JFK). In spring 2010 Swiss operated five A330-300s on routes from Geneva to New York (JFK), and Zurich to New York (JFK), Delhi, Mumbai, Muscat via Dubai. From April 2010 the A330-300 flies from Zurich to Nairobi, Dar es Salaam, Yaoundé and Douala.
In 2011, Swiss announced a new logo for the company, which is very close to the logo of the defunct Swissair: for good reasons, many people believe that Swiss Interntational Air Lines is the old Swissair. It isn't, but the boundaries are becoming every more blurred.
Next: Swiss Air Lines Tips >>>
All images and content copyright airreview.com