Swiss Air Lines IFE
You will always get a seatback TV on a long-haul flight with Swiss International Airlines. Long haul in business with the Airbus aircraft gives you a 9" video screen - in economy it is 6.5".

The A330s have poorer entertainment - but better business facilities. If you want to watch a film, it is worth hunting out an A340.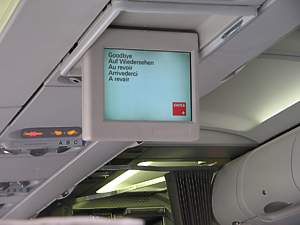 A320 inflight entertaiment - the goodbye

On the Airbus A330 there are 7 movie and TV channels, plus the latest financial news - provided by UBS.
On an Airbus A340 there is full AVOD (AV on demand) with 35 video channels, 16 audio channels, and 10 games. You can start, pause, rewind or fast-forward. Plus there are two onboard cameras show you how the world looks up ahead and directly below the aircraft.
All seats in all classes have a telephone. On the A330s you can compose a text on your screen and send it as an e-mail, SMS or fax. The A330s also have laptop power at all seats (also in Business & First in the A340s).
On the Boeing BBJ you also get a library of DVDs at your seat.
Shorthaul there is no entertainment, however on Airbus aircraft the TV screens play continually, with adverts for flights and new routes. At Zurich there is a nice "Goodbye from Swiss" message.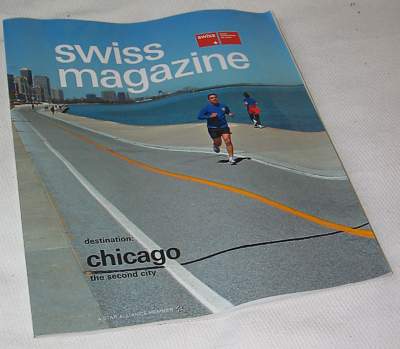 Swiss Airlines the inflight magazine

Swiss Air Lines Inflight Magazine - the Swiss Magazine
The Swiss Inflight Magazine is called, very blandly, the Swiss Magazine. It is rather thin, but very stylishly put together, with good content and some of the best photography of any inflight magazine in the world.

Content is in German, with English as the second language for all articles. The introduction is in English, with German, French, and Italian as secondary editorials. The front content page is purely in English. Further through the magazine, language tends to disintegrate: for example, on the page for charter holiday flights, it is purely in French & Spanish - but the bottom of the page with entertainment is just in German with English in a much smaller font. A bit of guesswork is needed to make sure you get what you want.

A very important page starts the information section at the back - a map of Zurich airport. You'll never find the VIP lounges without it.

The next page has radio channels, three pages of maps of destinations, and fleet statistics. Just before the final page is a charity article - which can make rather disturbing reading.

Next page: Swiss Air Lines inflight experience >>>
All images and content copyright airreview.com