Swiss Air Lines inflight meals
Food on Swiss airlines is still free in all classes.

Meals in economy are determined by the destination and the time of the flight. Basel, Geneva, Lugano, Stuttgart just get a chocolate bar.
To Frankfurt, Luxemburg, Milan, Munich, Nuremberg you get a chocolate bar and a tub of water. Amsterdam, Barcelona, Belgrade, Berlin, Brussels, Budapest, Düsseldorf, Hamburg, Hanover, London (city & Heathrow), Nice, Paris, Prague, Rome, Vienna Before 1045 you get a Muffin, between 1045 and 1400 and from 1700 a cheese sandwich, and otherwise an icecream in summer, and a Sweet or salted item in winter.
Alicante, Birmingham, Copenhagen, Dublin, Manchester, Palma de Mallorca, Warsaw adds a choice of sandwiches between 1045 and 1400 and from 1700. To Stockholm, Thessaloniki there is always a choice of sandwiches, and Athens, Bucharest, Istanbul, Lisbon, Madrid, Malaga gets a Hot snack like "calzone".
Business Class - European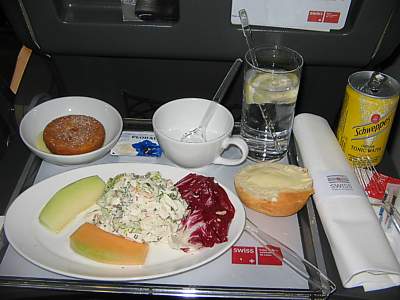 Diced Ham & Lard
A plate with a mix labeled as mixed lard and herbs, with slivers of ham and lettuce. Two slices of melons. A lettuce leaf.

A sugar donut with custard. A cold roll, and a pot of butter.

This is the typical offering for flights of more than 1 hour around Europe in Swiss Business, and looks great, has a terrible name, and is actually ok. It is very filling - but that's never a good thing, unless you're having a sess at 35,000 feet on the G&Ts.

What is weird is the mixture. You wonder if anyone has ever though about this in context? I mean... why the melon? Why the single, lonely, lettuce leaf. And why add in the custard to the donut.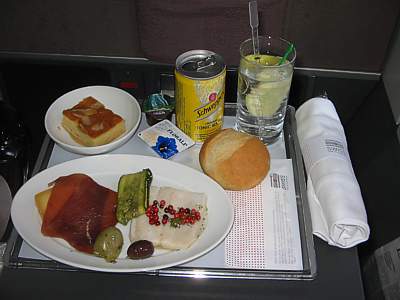 Cold Cod
A plate with half a slice of cod (cold) sprinkled with redcurrants. A slice of palma ham. A slice of edam. A gerkin, and two olives (one large & green, the other small and black (with pits))

A custard tart (with almonds). A cold roll, and a pot of butter.

This is so utterly dreadful, you will find yourself appealing to be let into the cheap seats behind you just so you get something that isn't still flapping, and attempting to swim off the plate. I mean, this looks like it has a still beating heart. Served cold, you do wonder why anyone who is Swiss (which is a landlocked country!) would want to eat cold cod. Avoid.

About the only good thing about this plate is that you can butter the roll, and then put the ham & cheese between it, to make a mini version of what is served in economy. Oh, and for entertainment you have two olives, and a custard tart to chuck at the people who serve this muck.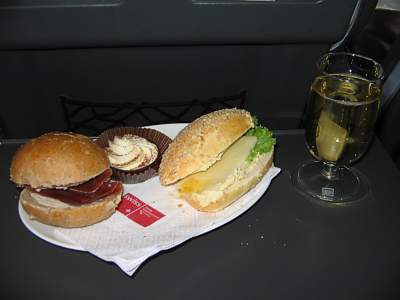 Roll plate (flights less than 1 hour)
A white roll (buttered) with cheese (edam) and a tiny sprig of lettuce.

A brown roll (buttered) with ham (palma) and mustard.

A tiny pasty filled with cream.

On short flights around business you are offered this strange assortment - which is actually quite good. Certainly enough for a 30 minute hop around central Europe.

For desert, you can ask for one of the ice creams economy get.
Economy Class: Swiss Air Lines shorthaul inflight meals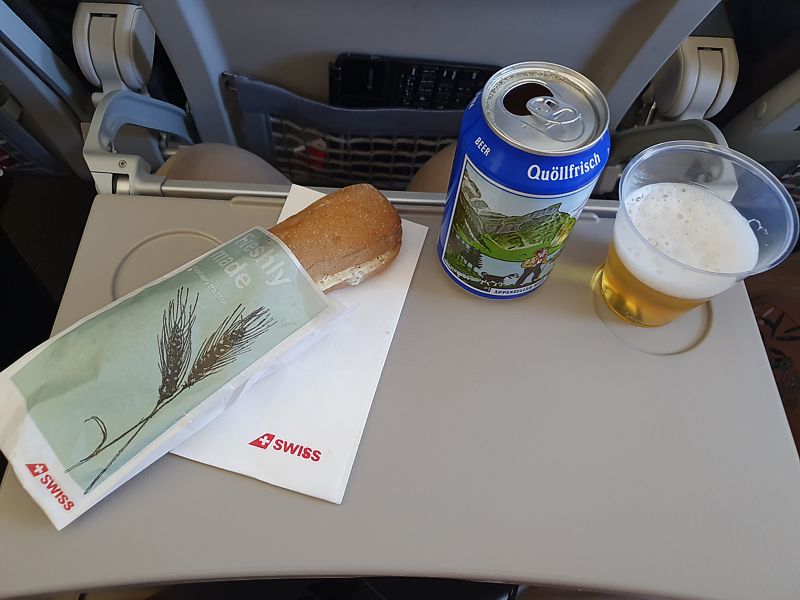 Swiss Air Lines Inflight Meal Economy Class
Three cheese baguette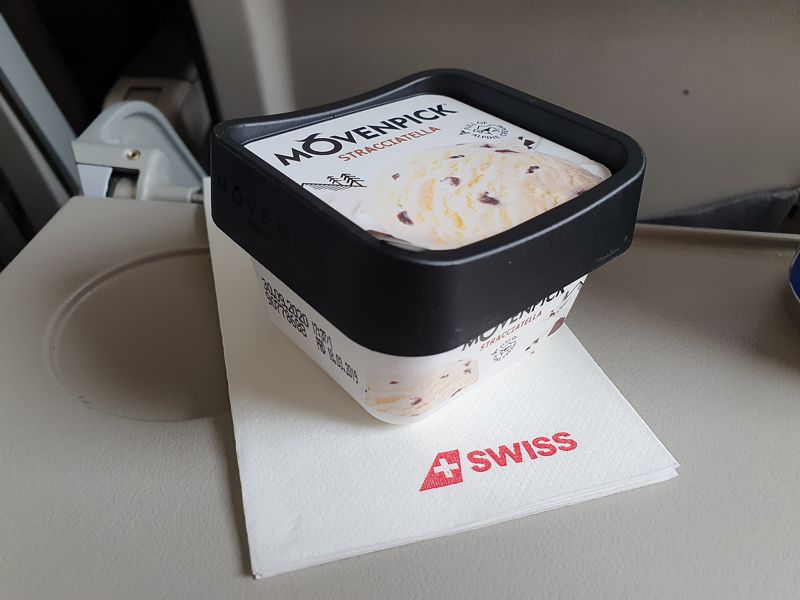 Swiss Air Lines Inflight Meal Economy Class
Movenpick Icecream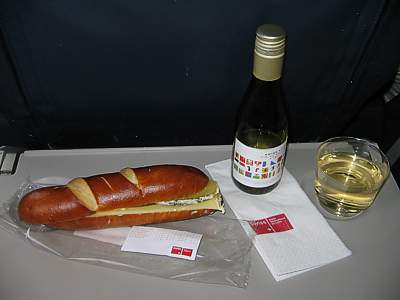 Cheese roll (flights more than 1 hour)
A small cheese torpedo, buttered, with two slices of Edam, an a very light skim of mayonayese.

There is a marginally larger offering if you get on a flight that is longer than an hour in economy around Europe.

Swiss is suffering from Lufthansa-ation since the merger, and this roll is typical of that, in exactly the same style as Lufthansa would offer on its flights.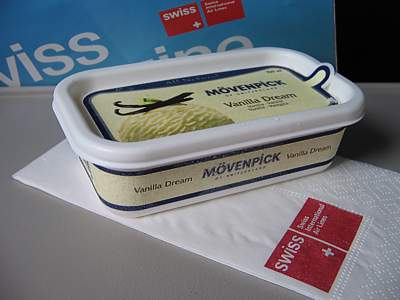 Icecream (flights less than 1 hour)
One tub of Movenpick "Vanilla Dream" icecream.

Spoon is under the lid.

This is the typical offering for short haul European economy flights in the middle of the day. It's nice that there is something - and yet, it is only an icecream.

Lovely Movenpick however.


Next: Swiss Air Lines Drinks on board >>>
All images and content copyright airreview.com