Swiss Air Lines Tips
Swiss upgrades at checkin
Swiss often sells upgrades at the airport for upgrades on flights from outside Europe to Switzerland on the day of the flight, however you need to buy these at the ticket offices before checkin Miami to Zurich costs about US$500, and from JFK for about US$666. It's not a particular bargain, but is worthwhile having .
Operational Upgrades
One of the common questions is "How do I get an upgrade on Swiss to Business or Club class?". Alas, getting upgraded to business class on Swiss really isn't that easy. The airline has the Western, rather than American, model for upgrades longhaul. Which is to say you'll only get an upgrade if your paid for class is full, and then upgrades are processed accordingly to a pecking order of elite frequent flyer status. You are very unlikely to ever get an upgrade unless you are at least a Gold Star Alliance member.

To start with, make sure you are a frequent flyer, and you do fly frequently: after all, if Swiss are going to upgrade anyone, they will upgrade those passengers who fly with them pretty regularly, and hence will enjoy the upgrade enough to put more business Swiss's way. Then if the flight is full in economy, and someone needs to be moved up, the check in staff will first look at Senator Miles & More members, and then Silver level, and then at other Star Alliance members at the equivalent levels (Gold, and then Silver). Another thing that Swiss look at is how much you paid for your ticket: it's much more likely to happen with a full fare ticket (although occasionally you can get lucky with a discounted economy ticket). On Swiss the airline has heard - probably hundreds of times a day - requests for an upgrade: the general consensus seems to be that if you ask for an upgrade, you're less likely to get it, although opinions differ on an upgrade strategy for Swiss.

As always, my advice on dressing properly in the pages on how to get an upgrade applies.
Swiss website
The website has a major bug in that it is virtually unuseable from a dial up connection or Internet cafes with poor connections (such as from Asia). Frequently you will get as far as being able to put in booking dates, but the website will freeze with a "Gateway Timeout" message. If you get to a screen with red and grey boxes (but, usefully, no "please wait" message, you've got past this stage).

Booking flights is pretty intuitive. You get the cost of each flight option, or pair of flight options if you route via Zurich, although the website annoyingly (but not illegally) will only add in tax at the last part of the bookng process.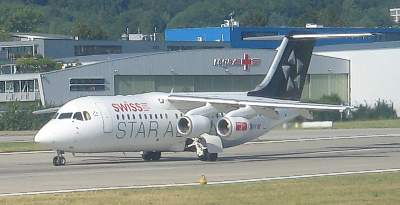 RJ100 at Zurich

If you select the Swiss+Lufthansa selection screen you will get many more options, but you loose the ability to see what each flight will cost. Instead you are offered the "cheapest option", which may include Lufthansa codeshares on Swiss flights - this may actually be cheaper (particularly for business class flights) than the option you had originally planned to take, on the same plane. If you do this, it will also show pairs of flights, and indicate how many economy (Y) and business class (C) seats are left on the plane.
You can't book out in economy, and back in business - to do this, find the base business class fare for the leg you want in business, then return to the economy booking, and select the flights at this price.
One way flights work out ridiculously expensive - to get a one way flight, book a dummy return flight - the flight will still work out just as cheaply.
If you are looking to maximise your frequent flyer miles, in Business, it costs the same to connect in Zurich, as it does to connect in Zurich to Geneva, and then get an onward flight from there. This give you 6 flights for a return flight to your destination.
You can check in online from pretty much every Swiss destination except from London.
Main website: www.swiss.com
Entertainment
Online checkin


Swiss two RJ100s at Zurich

Next page: Swiss Air Lines inflight meals & food >>>
All images and content copyright airreview.com