.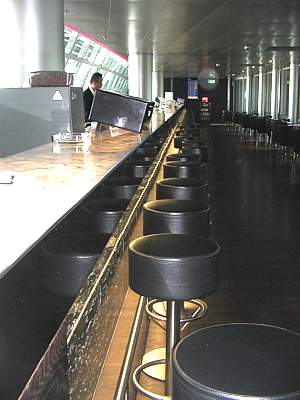 Zurich Swiss Business lounge - longest bar

Swiss maintains a big lounge at it's main hub of Zurich, and also at Basel, Chicago O'hare, New York JFK and Paris CDG. At Geneva there is access to the Lufthansa lounge, and indeed Swiss business passengers have access to all Lufthansa lounges throughout the network.
Zurich Swiss business Lounge
Terminal 1, A gates, near passport control, on upper floor, after security (pre-UK security)
Open 0530-2230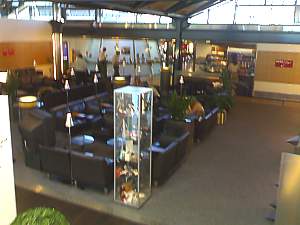 Zurich Swiss Business lounge - main lobby

The new SWISS lounge area groups together all the existing lounges (Swiss TravelClub Lounge, Swiss Business Lounge, Swiss First Lounge and VIP Lounge) under one roof to, as the airline says "enable optimum use of synergies". Basically it's a good place to decide it's time for a beer and check your Emails. It
is
calmer than the old lounges, but it's still a rambling group of rooms, with worn black leather seats, the poor if not non-existent food selection and the (once smoke filled) "longest airline lounge bar in the world".
Finding the lounge is a bit of a struggle if you are on flights to or from the UK - it's not in the strange EU-non-Schengen area through the separate security. Instead, you have to be in the main part of the A gates terminal, and then head up the escalators, and head into the airport style reception area. Past here you go up some stairs to the central lobby part of the lounge. Here there are lots of loungy - if tired - leather seats to veg out in.
From here you have 3 separate bar areas. You can either head to the small self service bar in the central lobby area, or walk through the arch, and here there is a bar - with barman - who will mix cocktails for you. Most people however prefer to turn around and head up another flight of stairs to the famous "longest airline lounge bar in the world". It's in a room of it's own, and does have a wow factor - particularly if you can get to it when there is noone else there, and appreciate its 28.6 meter length. It has a great view of the airport apron.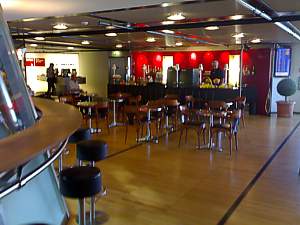 Zurich Swiss Business lounge - back cocktail bar

Around the back of the cocktail bar there are several work islands all equipped with PCs with Internet access (but quite a slow connection) and Wireless LAN.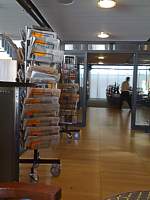 Zurich newspaper racks

On the top floor next to the longest bar there are newspaper racks, however all of these have a big orange sticker on them, instructing you not to remove them from the lounge.
If you are travelling in First you get a special shuttle service to Dock E, and in this class you also have access to special quite area with showers. However now that Swiss has joined the Star Alliance man First and Senator members take the ten minute walk to the Senator section of the LH lounge at pier B, and enjoy the better drinks.
Swiss Zurich arrivals lounge
Terminal 2, after customers, landside
Open 0530-1300
Access to First & Business class Swiss passengers, and Star Alliance Gold holders.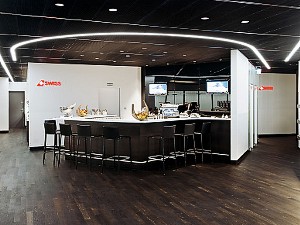 Swiss Arrivals Lounge Zurich The bistro
Swiss has opened a new arrivals lounge at its Zurich hub.
Unlike some heavily restricted arrivals lounges, it is open to Business and First Class passengers, as well as Gold members of the Star Alliance.
It is relatively small, occupying only 700 square metres, however the interior is luxurious, with strong elements of the Swiss design coming to the fore. The main centrepiece is a distinctive limestone wall, mined from the nearby Jura mountains in Switzerland.
The main perk of the lounge, is the one that for many passengers will be hardest to come by. There are three private hotel-style bedroom, and one comes with a private bathroom.
However for most passengers, they will use the lounge simply for a quick wash, brush-up, and some food. Unlike many other arrivals lounges, there shouldn't be too many queues, with 20 showers including an ironing service: this is available through the unique double-doored wardrobe: just hang up your clothes and press the button.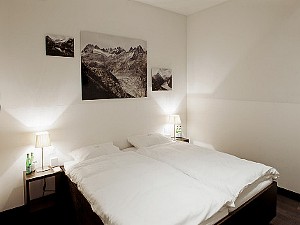 Swiss Arrivals Lounge Zurich The bedrooms
Food is pretty good at the bistro which has a typical Swiss breakfast buffet, with plenty of cold cuts of ham, sausages and cheese. There is also a hot counter, with the swiss version of a full English. There is naturally no bar, but there are four types of juice, and a coffee machine.
There is a large business centre too, with 10 desktop PCs and free WiFi, plus an old fashioned telephone cubicle for private phone calls.
The Swiss arrival lounge is located landside, just after customs.
London LHR Business Class lounge
Terminal 1, after security
Open 0500-2200
Access to Business class Swiss passengers, and Star Alliance Gold holders.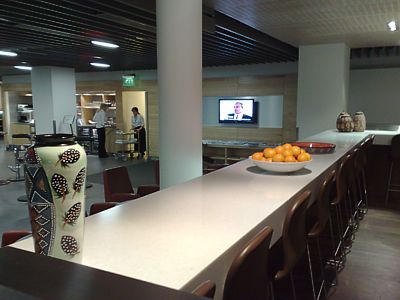 London LHR Star Alliance lounge used by Swiss

At London Heathrow, Asiana make use of the brand new Joint Star Alliance lounge in Terminal 1, to where Asiana has just moved its 4 weekly flights. It is after security, and then you walk right through the shops, and right again into the main square: the lounge is hidden in the corner, to the right of WHSmiths.
The lounge is very large, but rather dull. Food is pretty good, with a hot option available for the Swiss flights so you can eat in the lounge before getting on board. Food is often curry, with salads and sandwiches also available.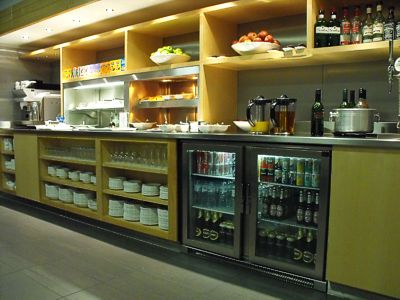 London LHR Star Alliance lounge used by Swiss

The bar is rather poor, with bottles of Gin, Vodka, VSOP, Bacardi Rum, and Whisky with Jack Daniels, Famous Grouse, and Jamesons. There is just one type of white, two types of red, and a rose wine. Most of these are pretty cheap and nasty versions. There is a beer pump for Grolsh, and - rare for a lounge - Magners cider in bottles in the fridge, along with bottles of Becks and cans of Guinness.
There are showers in the lounge, and free Wifi, but no computers.
Full details of this lounge are contained in the bmi pages, under the Joint Star Alliance LHR Lounge section.
Swiss Air Lines Frankfurt Lounges
Travelling on Swiss Air Lines in First Class means you can use the new Lufthansa lounge at the airlines hub in Frankfurt. The Senator lounge is the first on the Lufthansa network with a spa. ...read more here
For the regular Swiss Air Lines flights to Frankfurt, Swiss Air Lines use the Lufthansa lounges.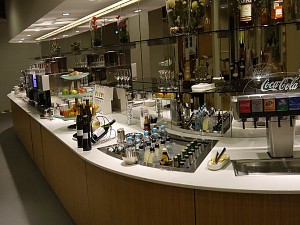 Frankfurt The new Lufthansa Senator Lounge in pier B
At Frankfurt, remote stands are used a lot by Swiss Air Lines, and this involves a sometimes lengthy bus ride once you're off the plane. The lounges can be quite a hike from the gates, and they don't always announce departures, so watch those monitors carefully and give yourself a little extra time to make your boarding.
Full details of both the Frankfurt Swiss Air Lines lounges are contained in the Lufthansa pages, under the Frankfurt Lounge section.
Frankfurt - FRA - Swiss Air Lines First Class lounge (Lufthansa Senator Lounge)
Terminal 1, Pier B (International, non-Schengen) by gate B43, top floor.
Open 0530-2230
Access for First Class, Swiss Air Lines Miles&More, and Star Alliance Gold
The large new lounge has only just opened, and is a vast improvement on what went before. There are the usual large armchairs, with small tables between (which also have power sockets). Oddly, you can access it either with a First Class ticket, or in Economy as a Gold Star Alliance, but not on a business class ticket.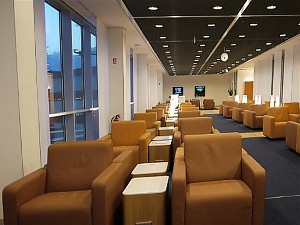 Frankfurt The new Lufthansa Senator Lounge in pier B
The bar is great: called the City Lights Bar, you can sit around the bar on high bar stools, looking at the lights behind it. There is a barman to mix cocktails. Service is slow, and a separate bar area has two beer taps, spirits on the glass shelf, beer in the cooler on the worktop, and 3 white and 2 red to the left of this. Food has the usual Lufthansa lounge offerings of cheese and lard, olives, rice, ham and salad. Alas the eating area is dull, with a curved wall with small tables.
There are showers and two spa rooms, offering massages for €50. There are a few computers in the business area, and free wifi, plus luggage lockers and a smoking room.
Full details of the Frankfurt Swiss Air Lines Airways First Class lounge is contained in the Lufthansa pages, under the Frankfurt Lounge section.
Frankfurt - FRA - Swiss Air Lines Business Class lounge (Lufthansa Lounge)
Pier B - International (left and right rotundra)
Open 0600-2200
Access for First & Business Class, Swiss Air Lines Miles&More, and Star Alliance Gold
The Swiss Air Lines Airways Business Class lounges in Frankfurt is in the central part of both rotundra in pier B, reached by the spiral staircase right next to the gates.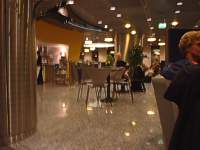 Frankfurt Business lounge Pier B

There are drinks and nibbles provided, showers, and free Internet. There is also a big sleeping room. Take a circuit of the lounge as you walk in to check out all the facilities - its on a circle, so you can walk all the way round.
The bar has an OK choice is good with excellent coffee, two types of wine, and Sparkling Wine (or rather "Lufthansa Brut").
Full details of the Frankfurt Swiss Air Lines Airways Business Class lounge is contained in the Lufthansa pages, under the Frankfurt Lounge section.
Closed & Abandoned Swiss lounges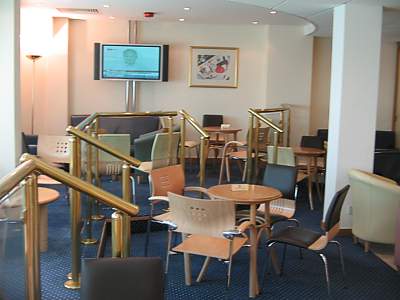 Heathrow Servisair Business lounge - right side

London LHR Servisair Lounge
Terminal 2, upper floor, behind pizza express
Open 0500-2130
NEWS: This lounge is now closed, and data is retained here for reference only.
This is an airline contracted lounge, which is used mainly by Swiss, Aeroflot and Olympic - although some of the other smaller eastern European airlines also use it from time to time. It is tucked away behind the restaurants on the upper floor of the complete mess that is Terminal 2. It really isn't great - and it is now possible to use the Lufthansa lounge, both of which are vieing for the title of the worst airport lounges I know. At least the LH lounge has a decent view of the planes, and in the Senator lounge, even decent sandwiches. Alas the same can't be said of the Servisair lounge.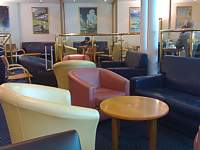 Heathrow Servisair Business lounge - left side

It is split into two sides - from the days when there was a first and business class section. Now there is nothing to stop you from choosing the side you prefer best, although as you enter the left hand side has more comfortable armchairs, while on the right there are stiff dining chairs. There is a flat screen TV with freeview on the right, and a small TV with a DVD player on the left. Both sides have the same bar.
And this lounge is all about the bar. It really puts other lounges to shame. In the fridge you have a rack of 6 different white wines, of most of the common grape denominations - and good ones too. Even a decent Rose. There is a Cava too, but you should ask for the Sparkling Wine. They are more than happy to serve you a glass - it's Piper Heidsieck Brut.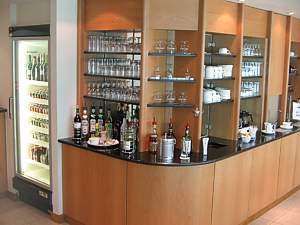 Heathrow Servisair Business lounge

Further down you have the beer selection with cans of Fosters, Stella, and J Smiths, then bottles of Becks, 1664, and Castle lager. There are also lots of mini cans of mixers. On the worktop are 10 spirits (with slightly more in the Right hand side) and four bottles of red.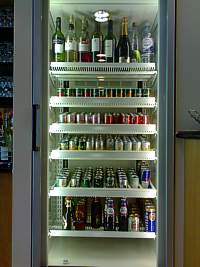 Heathrow Servisair bar fridge

Food
is however very poor. There are only some crisps, nuts, and small slices of fruit cake.
Newspapers are equally basic - there are just two racks by the door, and all are marked "for lounge use only". There are 2 internet Computers however they are paid for, with a coin in the slot - and a basic 50p initial charge.