Wherever you fly, it seems you'll trip over Delta Airlines. A huge airline with mid-range quality, mediocre service, modern aircraft and a vast global reach it is one of the oldest airlines in the world, and following its takeover of Northwest Airlines it is technically the third largest airline for scheduled passengers carried (United Continental is bigger in the US) and the second largest airline in terms of fleet side (after British Airways / IAG). ... read more about Delta's seats and fleet.
Delta Air Lines, to give the airline its correct title (the space is very important for head office – but no one else uses it) is vast: it has 88 million passengers per year, 4,000 flights a day, flies to all inhabited continents (indeed, once again it makes it to Australia) and has a fleet of more than 700 aircraft. And yet quite a few passengers actively avoid flying Delta now. This is curious as for many years Delta maintained a reputation for delivering high-quality service. No longer - Internationally Delta Airlines economy reviews are generally poor: the lack of seatback TVs on some flights, and the absence of a free bar can turn long haul into a real trawl. Some Asian carriers do the job much better. Delta Airlines domestic reviews are even more scathing: here the airline is little more than a low-cost carrier, with few in-flight perks. Delta Airlines business class reviews are more of a mixed bag: the seats are good on revamped aircraft, but food is so-so. Lounges are pretty poor (although it must be said, better than other US airlines, but that isn't saying much). Delta seatback TV details.

Delta Air Lines preflight drinks in First Class. Classy, it isn't.
From Delta's hub in Atlanta (a large city, and former railway junction town, at the lower right-hand side of the US) routes fan out across the US. Hartsfield–Jackson Atlanta Airport is also the site of Delta's HQ. Detroit is the second largest hub, acquired after the merger with Northwest. Detroit Wayne County (DTW) is the primary Asian gateway for the East Coast. The third largest hub is Northwest's former HQ, Minneapolis-Saint Paul (MSP). There are other much smaller hubs in Salt Lake City (Western Airlines old hub, which Delta took over in 1987), New York (both JFK and LaGuardia), Cincinnati, and Memphis. All of the airports have large, if not very well equipped, lounges. Delta Lounge details.
A major exception to Delta's worldwide predominance is the UK, where the airline has a very small part of the trans-Atlantic passenger traffic. For years it was stuck with just a couple of flights a day to Gatwick, and even now it is a virtual unknown in a country where Skyteam has a small presence.
Delta is still suffering from its recent takeover of Northwest Airlines. It was never going to be a marriage of equals when the two airlines also had totally different ideas when it came to seats, cabins, service and lounges. Northwest also loved Airbus, but with a soft spot for the Boeing 747 and DC-9s. Delta however preferred all the Boeing models, except for smaller regional routes where McDonnell Douglas came to the fore. Mixed bag is one of the more generous ways of describing it.
Delta has an OK frequent flyer scheme, although it has recently suffered several devaluations and is no longer the great deal it once was. Delta is a founding member of the SkyTeam alliance, but it doesn't seem to want to go to much effort to attract passengers from other airlines in the alliance: Delta makes it clear it loves its own passengers – for example by handing out upgrades like its Christmas every day to those in the elite tiers. Indeed, this upgrades-for-all policy might explain why so few people buy a First Class ticket, and hence why domestic Delta Airlines First Class reviews moan about the lack of food and facilities: if it's free, why should the airline bother?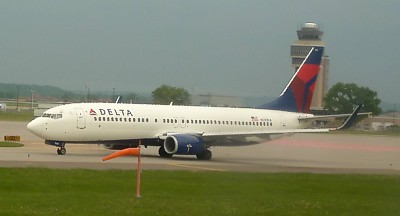 Delta Boeing 737 at Minneapolis
Delta also has a few offshoots and brand names.
Delta is of course the mainline component of Delta Air Lines, Inc. It serves primarily high-volume domestic flights and long-haul international services.
Delta Shuttle operates ultra-high frequency short-hop services between New York (LaGuardia), Boston (Logan), Washington (Ronald Regan) and Chicago (O'Hare). In effect it's pretty mainline, with either A319 or Embraer 175 (operated by Shuttle America), but with normal Delta branding.
Delta Connection does have a separate branding, on tiny low-volume routes, some of which can be surprisingly long, connecting hubs to small airports, or point-to-point offbeat domestic locations. These 'long-thin' routes use sub-fleets flown by contracted regional airlines.
Comair operates the 'medium-thin' routes too, but this time it is owned by Delta, as a regional component.
Delta Mesaba and Compass Airlines, small, offbeat, offshoots which were part of Northwest, and which are now owned by Pinnacle and Trans States airlines.
Song neé Delta Express. A defunct low cost experiment by Delta, which has now been eradicated. Just like United's Ted operation, Delta Express began in 1996 as an attempt to compete with low cost airlines on bucket-and-spade routes using single-class ancient 737-200s. It turned into Song in 2003 , moving the hub from Orlando to JFK, and adding equally old Boeing 757s. It carried high loads from the Northeast to Florida, but at low fares, and could never really compete with JetBlue. Song sung it's last flight in 2006, and all the routes are Delta again.
The name Delta refers to its origins as a carrier in the Mississippi Delta. The logo was based on the swept-back wing design of the first jets – the DC-8s. The current four-colour livery has the tagline "Upward & Onward": regular passengers call this the "Onboard and under-awed" slogan: it neatly sums up what you can expect in flight. Delta inflight experience.
So is Delta any good? If you are looking for quality, probably not, particularly in the back of the plane. Asian and some European carriers are much better in economy. From the UK, they should certainly be avoided. Things are a little less even if you are up front, where Delta can offer cheaper fares, but also a cheaper service on the plane. In all, it's a mixed bag, however for many routes in the US, you won't have a lot of choice.
Note that all reviews and opinions on Delta food, service, seats, planes, upgrades, lounges, and the Frequent Flyer scheme is soley at my judgement. No legal liability is accepted if you take my advice.