In economy, there are still complementary drinks (tea, coffee and soft drinks) on domestic flights, however you have to buy beer (US$6). wine, spirits and cocktails (US$7).
Delta is one of the few American carriers that still offers free beer in economy on Transatlantic flights, and other international flights above six hours. On flights to Asia, you can also get free sake (rice-wine).
In First Class on domestic flights, there are not only pre-flight drinks (including beer) but also free beer, wine and spirits. These are quite free-flowing: you won't go dry on Delta, and the crew tend to pop around the cabin every half hour or so offering top-ups. .
Spirits (G+T/Vodka/Whisky/Rum) $7.00
Cocktails $7.00
Beer $6.00
Spirits £3.30
Wine $6.00
Delta inflight Drinks
However forget the delights of a free bar in the sky; drinking on Delta can be ruinously expensive on domestic flights. Accordinly you might want to scan some of the special deals that Delta offer - occasionally there is a good '2 for 1' or similar deal.
Business Class drinks on Delta Airlines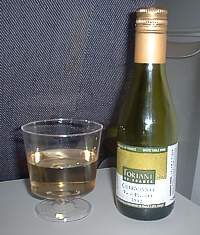 Fortant de France Chardonnay

On Delta in business class there is always a choice of wine - one white and one red.
White - Fortant de France Chardonnay
Vin de Pays d'Oc
Delta's cabin crew are very proud of this white. "Its French" they say... well, that much is true, but it doesn't make it any better. It's an ok, but little more can be said about it. Its pleasant, and easily quaffable.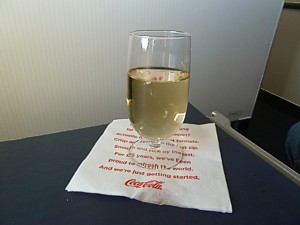 Brook Hollow Cabernet Savignon

12.5%.
Red - Brook Hollow Cabernet Savignon
Californian Red
A Heavyweight full bodied red with little in the way of initial taste. Watch out for the after-taste which will have you preying for landing.
11.5%.

Delta inflight Beer (all classes)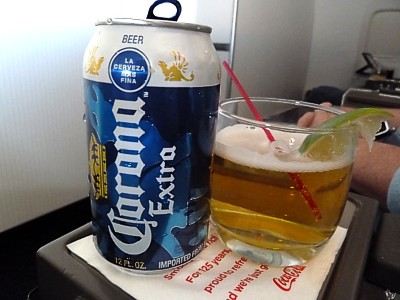 Corona
Very dull and bland
Delta's standard beer of choice unless you ask for something different is Corona. Pretty bland, there's little to recomend it and not much taste, but at least on a long 14 hour flight you can drink it like water.
3.2%.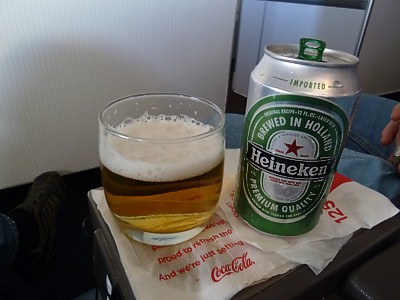 Heineken
Dutch beer
The famous Dutch export
Heineken
, made of purified water, malted barley, hops, and yeast.
It is the usual tame stuff you get on the ground, in a 275ml tin, brewed in the Heineken brewery in Zoeterwoude in the Netherlands.
4%
Spirits
Whisky
Glenfiddich Malt Whisky
On some of the routes you'll be hunting for some of the good stuff from north of the border to make the flight go by. Gelnfiddich does just the job - although getting any ice for it to go with can be a struggle.
40.0%. 5cl bottle. $7
Gin and Tonic
Gordon's Gin with tonic. It could be worse, far worse.
40.0%. 5cl bottle.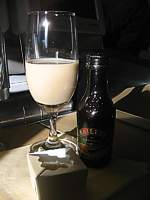 Baileys
Great after a long dinner over the Urals on your way to Istanbul, before getting some kip at 38,000 feet.
40.0%. 5cl bottle.