News: Delta are introducing what they call their "EATS Menu" on domestic flights. In effect this mean you pay for all your food and drinks on board, with sandwiches available for purchase on all flights 1,500 miles or more (flights to Hawaii and Alaska continue to receive a free meal service).
Delta longhaul experience
Check in at Delta is slightly more refined than at it's more downmarket cousins, such as US Airways. Mind you, it is still a complete zoo at some outstations. However, there is always priority check in for those in BusinessElite class (or First, on Domestics).
In BusinessElite Class on Delta, its generally a fairly smooth operation. You are greeted at the door, although not shown to your seat, and there are normal pre-flight drinks, along with blankets and (free) headphones. If you are on the Airbus A330-200 or Boeing 747 you'll also be asked if you'd like to be shown how the new Cirrus Flat-Bed seat works. AVOD is switched on after takeoff, and then the service comes around. It's pretty quick: there are two trolleys down each aisle, preceded by drink orders, and then the dessert trolley. The business class experience on Delta is better than on many other airlines based in the USA.
But when asking 'what is Delta like?', many people find Economy (Coach) on Delta on a longhaul flight is a very different ballgame. There are free meals, with two different options, and there is also (still!) a free bar, with free beer, wine and spirits.

Delta Inflight Menu
Delta domestic shorthaul experience
Delta nowadays is a really low cost operation in the back of the bus, but at least there is still a free non-alchoholic drinks run, and on flights over 1.5 hours, you also get free peanuts.
In First Class you should not expect any food, even if you pay for it, on flights of less than 1.5 hours, however at certain times of day you'll get a mug of tea or coffee, and one of the famous Delta First Class biscuits. These are actually pretty good.
In Economy Class (called coach class on Delta) there is nothing. On flights up to 1.5 hours, there isn't even a trolley service, however above this a trolley, starting at the front, which offers free soft drinks or coffee. Above 1.5 hours you can also buy food from the EATS menus, which is in the seatback pocket. Here, you should make sure you read the menu before the trolley comes around: it won't wait, and you can be left starving as it won't come back either. You will be forced to use a credit card to pay on board, and (unless you are an American) you will also be charged a 'foreign transaction charge' of up to $13 if using a UK or Australian credit card, because the charge is processed in the US, making it $20 a beer! This is amazingly expensive, and to rub in salt into the wound, you can only buy one beer at a time, so you can't stack up and save on multiple fees.
Delta Baggage Allowance
Delta Air Lines has a pretty standard luggage allowance for a US airline – which is to say, nothing is free at the back of the plane.
Cabin Bags: The carry-on Baggage Allowance is the same for Economy, Business and First Class of one bag, with no finite weight limit (although you must be able to lift it). It must be no larger than 56 x 36 x 23 cm (22" x 14" x 9 inches) which is just ever so slightly larger than many European Airlines.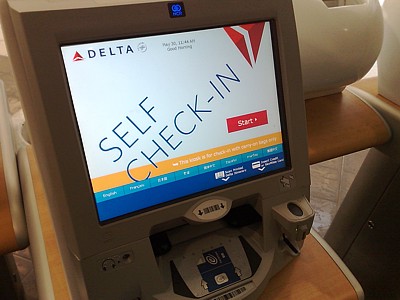 Delta Checkin machine
Check in luggage: Delta's free baggage allowance is no longer: you'll be charged if you check a bag in on domestic flights within the US in economy. It is US$25 for the first bag, and US$35 for the second. There is one free bag of up to 23kg on intentional flights in economy, and then secondary bags costs more on a sliding scale according to distance: to Europe bags are US$80 or 56EUR if checked in online, or US$100 USD at airport check in. In Business & First it is better, with three free bags of up to 32kg on domestic flights, or two free bags international.
Diamond, Platinum, & Gold Medallion members plus SkyTeam Elite Plus get two free bags on domestic economy. These, plus Silver Medallion also get one additional free bag over standard allowance on international economy.
As always, these rules can change. Delta's website has details of exactly what you can take onto a flight.