Delta Air Lines started life in 1924 as the curiously named Huff Daland Dusters, a tiny crop dusting operation, in north eastern Louisiana. Four years later it was sold to Collett Woolman, renamed Delta Air Service, and it began carrying passengers.
Surviving the war years in good shape, the airline bought many war-surplus aircraft, and riding the boom in post-war aviation it bought out Chicago and Southern Airlines in 1953. The takeover that was almost a merger saw Delta flying under the carrier name of Delta-C&S for the next two years.
Delta Air Lines loved jets – as soon as it could it replaced its then almost-new fleet of propeller planes with the latest jets. The triangle logo, known internally as "the Widget", was introduced on in 1959: the logo which is still used is reminiscent of the swept-wing design of the DC-8 aeroplanes.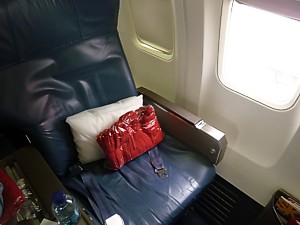 Delta Airlines Domestic First Class on an Airbus A320
These jets allowed Delta to start flying to Europe in the 1970s and across the Pacific to Australia in the 1980s. There was a further expansion when Northeast Airlines was acquired in August 1972, allowing it to expand firmly along the eastern seaboard of the United States.
It was time to buy another airline by 1986, and the target this time was Western Airlines. Unions tried to stop the workforce integration, and held it up until April 1987. Western's former Salt Lake City hub has become a major Delta hub, and Delta uses Los Angeles International Airport as a major gateway to Mexico's many vacation destinations, along with Hawaii, and Australia.
Always an innovator, Delta Air Lines introduced inflight entertainment in the 1960s, where audio programming was introduced using headphones consisting of hollow tubes piping in music.: these were still in use on some Delta aircraft in 2001. Delta also adopted inflight movies, with projection equipment introduced into the L-1011 fleet where films were played on the cabin bulkhead. The film projection system on the L-1011s was replaced by CRT-based projectors in the early 1990s. Also during the same time period, CRT monitors over the aisles were added to the 757 fleet.
Delta was one of the first airlines to introduce an at-seat video system in 1999, with a blaze of publicity of the first early Boeing 777 aircraft.
By the mid 1990s Delta was profitable long-haul, but suffering increasing competition on short-haul routes. To combat this it launched Delta Express in October 1996 in an attempt to compete with low cost airlines on leisure-oriented routes. Its main base of operations was Orlando. It turned into Song in 2003 , moving the hub from Orlando to JFK, and adding equally old Boeing 757s. It carried high loads from the Northeast to Florida, but at low fares, and could never really compete with JetBlue. Song sung it's last flight in 2006, and all the routes are Delta again.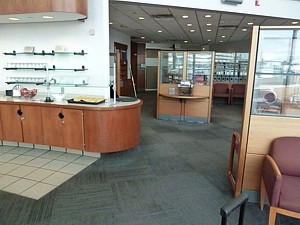 Seattle Delta Skyclub before renovations
Operating for some considerable time in bankruptcy protection, in 2007 finally exitied chapter 11. To publicise its new stability, the airline adopted the tagline of the Change is Delta: a play on the use of the Greek letter delta to denote the difference operator in mathematics. Delta also introduced a new livery, called "Upward & Onward", using four colours. It features a triangle on each aircraft's vertical stabiliser, to refer to Delta's origins as a carrier in the Mississippi Delta.
Much more fundamental was the purchase of yet another airline – and a biggie this time. Northwest Airlines was taken over by Delta in October 2008, to form what at the time was the world's largest airline. It took over two years to formally merge the two operations, schedules and reservation systems, but Delta completed the acquisition of Northwest in January 2010, when the Northwest Airlines name and brand were formally retired.
In 2011 Delta sold on two subsidiaries, Mesaba and Compass, for US$82million. It also started a renovation programme for it's oldest skyclubs, including all 8 in Atlanta, and new clubs in locations like Seattle.