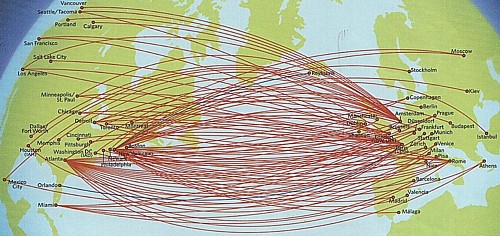 Delta Route Map TransAtlantic Routes
Delta is to add a second daily flight between Heathrow and Atlanta from April 2012, and as a result will drop its only remaining service from Gatwick, which has lost flights to New York JFK in 2008 and Cincinnati in 2009. Also Delta's Heathrow-Miami route will also face the axe, due to low demand, and the desire for the slot to be made available for Atlanta.
Delta loves its hub-and-spoke network, and most of Delta's flights are arranged around these seven large hubs. The biggest is Atlanta, which is also the headquarters site. Second is the rather more obscure Detroit (Wayne County) Airport, which was acquired in the merger with Northwest Airlines. DTW is Delta's second-largest hub and also serves as the airline's primary Asian gateway for the East Coast of the United States.
The third largest hub is Northwest's former HQ, Minneapolis-Saint Paul (MSP). There are other much smaller hubs in Salt Lake City (Western Airlines old hub, which Delta took over in 1987), New York (both JFK and LaGuardia), Cincinnati, and Memphis.


Minneapolis Delta aircraft line up
One curiosity of the transatlantic routes is that Delta doesn't like horrendously early arrivals on the other side of the pond – rather like many passengers – but this is a bit of a pain if you need to get to the office at the other end in time for work.
Atlanta is the number one hub for Atlanta now, with a vast number of international routes. Indeed, the "Fly Delta Air Lines" marker at Hartsfield-Jackson Atlanta International Airport emphasises the presence of the airline.
From Atlanta there are, as you would expect, almost a conveyor belt of flights over the Atlantic to London, with Delta flights at London Heathrow flights at 1800, 2045, and 2245, all operated by B767-400ER aircraft featuring 39 fully flat business class seats. Alas the last remaining Gatwick flight at 1725 has now been cut as the focus moves to Heathrow.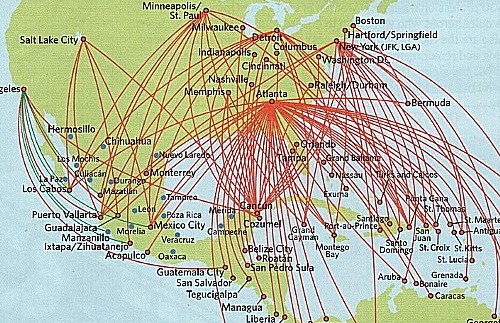 Delta Route Map Latin America Routes
From Atlanta there are also three daily flights to the Skyteam / KLM hub in Amsterdam, with A330 departures at 1505, 1730, and a KLM codeshare at 2240 (operated by a dreaded MD-11). Athens gets a 767 at 1215 (arr 0920), Barcelona an A330 at 1715, Beijing a 767 at 1455, Brasilia a daily 757 at 0905, Buenos Aires a daily 767 at 0900, Brussels a daily 767 at 1730, Dubai a daily 777 at 2155 (arrives 0810 the next day), Dublin gets a 767 at 2050 (arrives 0950), Dusseldorf a daily 767 at 1645, Frankfurt at Daily 767 at 1610, Istanbul a daily 767 at the curiously precise time of 13:33, Johannesburg a daily 777 at 2005, Lagos in Nigeria no less (for the oil traffic) at 2245 on an A330, Madrid at 1745, Manchester (the UK version) 1915, Milan Malpensa at 1630 on a 767, Munich at 1620, Paris (CDG) at 1515 on a 767 (plus an Air France codeshare at 1755 – much better, it's a 777), Rio de Janeiro at 2204 daily on a 767, Rome at 1540 on a rare A330, Sao Paulo daily at 2140, Stuttgart at 1710, at Zurich daily (except some Tuesdays) at 1630 on a 767.
From the second hub in Detroit there are fewer flights, with Amsterdam getting a direct A330 flight at 1555, 1905 plus 2210 on a 767. Beijing has a daily 777 at 2145, Frankfurt a daily 767 at 1735, Hong Kong a 777 most days of the week (although the off days vary) at 1540, London Heathrow a 767 at 2225, Nagoya in Japan an occasional 747 at 1600, and Tokyo a 747 at 1525 plus an occasional A330 at 1930.
From Minneapolis there are fewer pickings still, although Amsterdam still has three flights a day at 1505, 1725, and 2135. London Heathrow gets one single flight a day, at 2140 (arrives 1205) on a 767-400, while Paris has an A330 daily at 1600, and Tokyo a 777 at 1500 three days a week. That really is it – there is little longhaul nowadays from MSP.
Airline schedules change regularly
This information is intended as a guide, but for up to the minute timetables, please consult Delta at www.delta.com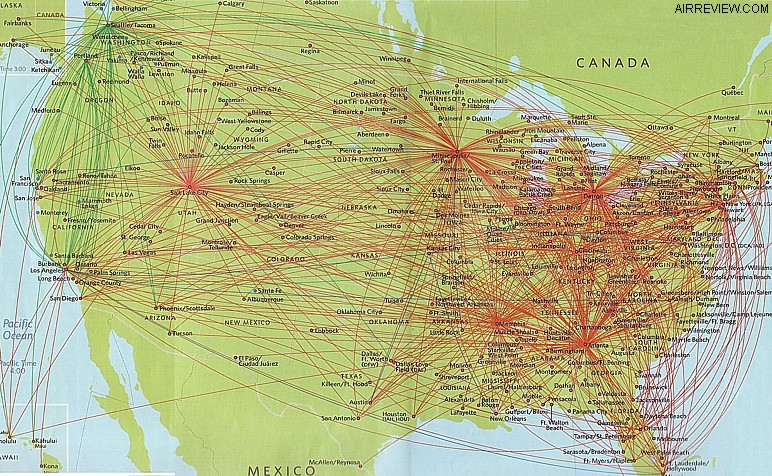 Delta Route Map USA Routes
From
Los Angeles
there is a once a day service to Sydney in Australia, at 2235, landing at 0615, returning at 1000 on a 777. This is supplemented by the 777 flown as a codeshare by Virgin Australia, leaving LA at 2210. LA also has direct Delta flights to Tokyo, a rare daytime flight to Paris at 0810 landing at 2000 (plus Air France codeshares at 1600, 1845, and 2135) and a link to Rome (just an Alitalia codeshare – Delta doesn't fly the route any more).
Incidentally, one warning if you attempt to read Delta printed timetable: times in PM are printed in a barely discernable bold font, while AM is in grey. As you'll find out, airlines in the US are yet to discover the wonders of the 24 hour clock for avoiding confusion.