Delta is to add inflight wi-fi to its small two-class regional jets operated by Delta Connection. The 255 strong fleet of CRJ700, CRJ900 and E170/175 will all have inflight wifi added.
Delta inflight entertainment - International
The good news if you are flying international is that every Delta aircraft has seatback TV. The bad news is that it's never easy with Delta is it? There are quite a few systems in use, and they vary from very good, to pretty rudimentary. Both Rockwell Collins and Panasonic AVOD systems are used, with all vintages. Still, it could be worse. You could be on United.
The systems in use are: Panasonic eFX. This was the initial early system fitted to Boeing 777-200ER aircraft.
Panasonic eX2. This is fitted to Delta's new 777-200LR aircraft. It has many more films and TV shows thanks to a greater storage capacity. Aircraft also have a larger personal video screen.
Panasonic 3000i this is the latest AVOD system, and is fitted to the Airbus A330 in both classes, and on the Boeing 747, but just in BusinessElite.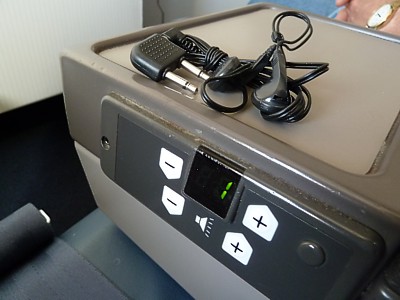 Headphones and Delta IFE controller
Delta inflight entertainment - Domestic
On many Delta aircraft on domestic routes you'll get a seatback TV, with again, AVOD.
A few of the aircraft also have feature live television via Dish Network in both First class and economy. This is however only on the domestic Boeing 737 (700 and 800), Boeing 767-300s, and transcontinental Boeing 757-200.
Some aircraft however still have overhead monitors. The domestic Boeing 757-200 are the worst, and are only slowly being converted from overhead CRT monitors to dropdown LCD screens: even so, there is still no seatback TVs on these.
On domestic, chances are you'll also have Wi-Fi. Indeed, Delta claim to have the largest fleet of Wi-Fi-equipped aircraft in the world. The system in uses is the Aircell mobile broadband network, Gogo. It is on all the McDonnell Douglas MD-88 and MD-90 aircraft, Airbus A319 and A320, as well as Boeing 737, 757 and 767.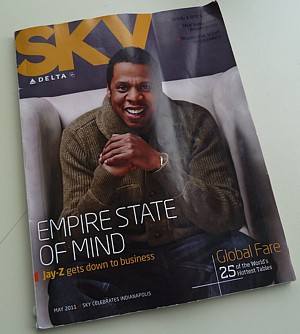 Sky Magazine inflight mag on Delta
Delta Inflight Magazine - Delta Sky Magazine
Delta Sky Magazine is a weighty chunky read. It is available
online
and it is in effect an in-house publication, even though it has been farmed out to published by MSP Communications in Minneapolis, Minnesota.
The magazine is surprising good.