NEWS: Delta Air Lines is installing putting greens at some Sky Clubs, and adding what it is calling a new Luxury Bar. Delta Sky Club's Luxury Bar basically means you pay for it – with known labels of wine, Sparkling Wine and spirits.
Delta SkyClub Locations
Minneapolis
Seattle
Atlanta
Jump to lounge description
Membership Level
Individual Membership
Joint Membership
General Member
$450 or 70,000 miles
$650 or 100,000 miles
Silver Medallion
$400 or 60,000 miles
$600 or 90,000 miles
Gold Medallion
$350 or 50,000 miles
$550 or 80,000 miles
Platinum Medallion
$300 or 40,000 miles
$500 or 70,000 miles
Diamond Medallion
$300 or 40,000 miles
$500 or 70,000 miles
Joining fee
$50 or 10,000 miles
$50 or 10,000 miles
Delta Skyclubs Annual Membership Rates
Delta Air Lines' airport lounges are called Sky Clubs. It operates the usual US model of paid entry, either on the day or annually, and does not recognise class of travel for entry within the US. The simple rule is that on a domestic flight, you won't get admittance with a First Class ticket: a gaping hole in the travel policy.
If you pay for membership, Delta Sky Clubs membership prices are quite high, at US$500 a year for the first year unless you have status, although this does drop to $720 for three years for Diamond Medallion members.
The 30-Day Membership allows you to bring up to two guests with you into the lounge and grants access to all Delta Sky Club locations as well as select partner lounge locations. The 30-Day Membership costs US$90, and is almost worth it if you are visiting the US for a few weeks and flying about.
A really expensive way for Delta Sky Club access is with a one-day pass. This costs no less than US$50, but at least it is valid on arrival, and when you fly on any airline too, but it is really only worth it if you are on a two or three stop flight for most of the day.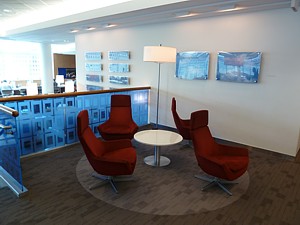 Minneapolis Delta Skyclub Concourse F
You may come across some different names for the clubs.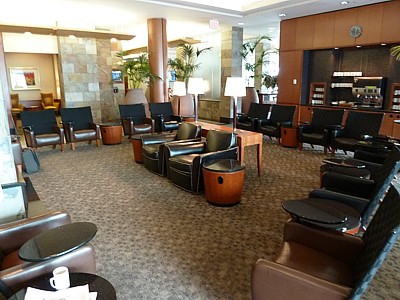 Minneapolis Delta Skyclub Concourse C
Originally, Delta's membership-based airport clubs were called Crown Room lounges, while Northwest's lounges were entitled WorldClubs.
Minneapolis - MSP – Delta Skyclub
Airside - two clubs
Access for SkyClub Members, and Skyteam Elite Plus
A curiosity of the lounges at Minneapolis are there are two totally different lounges, with very different styles: the one next to gate C12 was originally a new style Northwest lounge and is the most cosy, while the other in the F concourse was a Delta Crown Room and is a light bright open hotel lobby type area – but without any views.
Concourse C - Minneapolis Delta Skyclub
Concourse C, next to gate C12
Open 0500-2200
This is the smaller of the two lounges, and also the one with the most aggressive staff: if your paperwork for entry isn't completely in order, you can expect to be sent firmly packing by the three staff manning the desk to the left of the main door.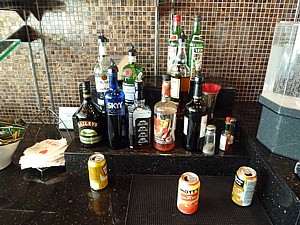 Minneapolis Delta Skyclub Concourse C
As you enter, you see that there are lots of walls, corners, and other areas that make the club more secluded than the other lounge in the F concourse. There is a small part of the main room to the right, around a central service pillar.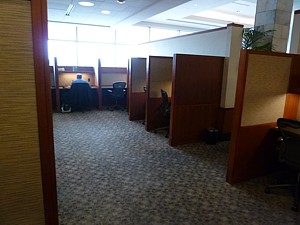 Minneapolis Delta Skyclub Concourse C
To the left of this are work carrels, behind you is a snug area, and then at the far end is a TV room, which also houses the main bar. The bar area gives a great view of runway 12L/30R take-offs and landings.
The rare joy of the bar here is that it is one of the US in the Delta network – indeed, one of the few in the US – that is self-serve, and free-pour. There is a draft beer on tap, with a strange three way beer pump having Heineken, Miller, or Light Summit. In the fridge below there is Sharps beer in cans. On the other side of the bar area there are two rather poor bottles of wine, plus free pour spirits, including Vodka, Rum, Whisky, Gin and Bailey's (not chilled). Bloody Mary Mix is in the fridge.
Here there is also a great fireplace, so it is a lovely snug area to curl up with a Baileys when the snow falls. Alas in this area there is also a vast 42" flat screen television, which is normally locked onto CNN during the week, or sports at a weekend. Many people turn their backs on the fire to cheer their teams: it doesn't make for a cosy atmosphere.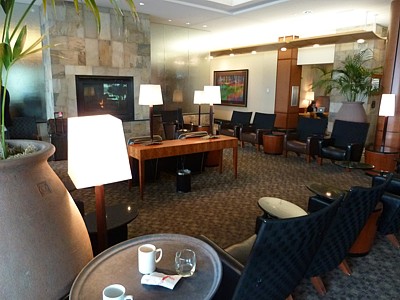 Minneapolis Delta Skyclub Concourse C
Food is in the main part of the lounge, opposite the door, although food is pretty poor. There are packets of cheeses and crackers, fruit with apples and bananas, and a few small cookies. That's it.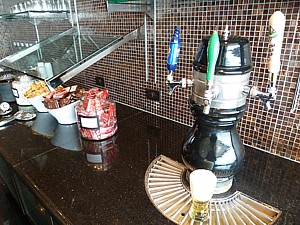 Minneapolis Delta Skyclub Concourse C
The business area, with the computer workstation cubicles, is one of the best places to work at the airport. The computers are fast, there is a printer and fax, and also free wifi throughout the lounge. Privacy screens for laptops are available by request from the service desk.
The lounge is in a great location if you enter the airport via the hand luggage only entrance, or the A/B/C electric tram stops directly across from the club entrance. It's also pretty easy to get to the concourse C/G skyway. However, it is a fair walk from the food court where most of the shops are.
Concourse F/G - Minneapolis Delta Skyclub
Airside, Concourse F/G
Open 0430-2200
This is very much the main Delta lounge at Minneapolis, located at the intersection of the two main concourses, just after security, and with the main entrance by the shops, behind the lifts to the second floor.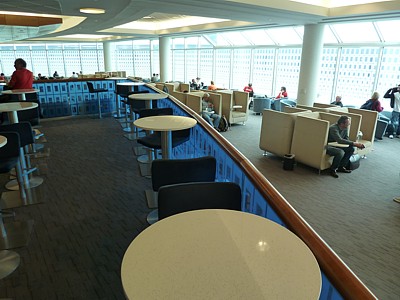 Minneapolis Delta Skyclub Concourse F
There is also a rear entrance open at peak periods. The 12,500-square-foot club at Minneapolis-St. Paul International Airport is Delta's second-largest club by customer volume.
As you enter through the big automatic doors there is a big long white desk with sometimes half a dozen staff guarding the entrance, and helping with bookings: the contrast between this lounge and United's tiny 'one person does everything' around the corner is stark. And then once in, there is even more of a change, with the ultra trendy seats by the entrance a welcome sight.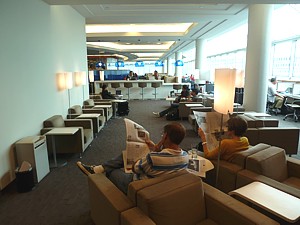 Minneapolis Delta Skyclub Concourse F
Alas it's downhill from here, with the main lounge just one vast room, with high up windows having a view of little more than the air-conditioning ducts. It's on two levels, with the bar up on the 'stage' however this means there is huge sloping ramp into the lounge, with glass panels - now covered in blue plastic. It looks far from pretty, and just emphasises the space: this is certainly the larger of the two Delta Sky Club lounges at the airport, seating over 300 people, and when it was a Northwest WorldClubs lounge it was very much a flagship, with delights such as hot food and small seating corners. It's got a bit more Spartan now.
On the upper 'stage' area by the bar there are a dozen or so dining tables, and also a long white marble worktop overlooking those on the lower area: power sockets (US style only) are set into the shelf 'lip': this is a good area for working if you don't mind everyone peering over your shoulder.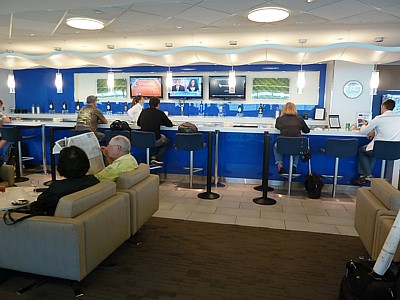 Minneapolis Delta Skyclub Concourse F
On the lower level there are plenty of comfy arm chairs with enormous 'wings' which make them feel really private: alas having a conversation with your travelling companions is harder if you sit here. At the far end on the right of the lounge area is another marble bar top, and a more cosy area where few people sit: the seats here are more conventional, and divided by separator walls with integral lights.

Minneapolis Delta Skyclub Concourse F
The bar area is on the far wall of the stage, and turns into a zoo by early evening: the other Delta lounge is a far better place for a quiet drink. There are however the usual free house wine beers and spirits. Most of the bar area is taken up by seats facing the bar and the three large widescreen TVs: to get a drink you have to line up at the small cordoned off area in the middle, which feels a little like getting a drink at a student union.
Food is now a major disappointment in the Minneapolis Delta SkyClub: the old Northwest hot options have gone. Instead, at breakfast time there is cereal, Bagels and English muffins (the toaster is on the counter) plus yogurt and fruit. After 9am you're down to foraging for nuts or biscuits, with three large jars of these on the corner of the counter by the bar. There are also carrots and celery sticks with ranch dressing for dipping, plus apples and small slabs of cheese. By early evening miniature muffins appear.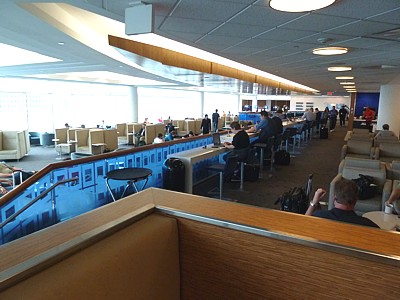 Minneapolis Delta Skyclub Concourse F
The bathrooms are directly opposite the reception desk as you walked in: alas, there are no showers at the lounge.
There are equally no computers in the lounge (you have to walk along to the C lounge for these) however there is free WiFi wireless internet access, and a combined laser printer, photocopier and fax. At the back of the lounge there is also a private meeting and conference room.
Seattle - SEA – Delta Skyclub
South Satellite, near gate S – 9.
Open 0530-2230
Access for SkyClub Members, and Skyteam Elite Plus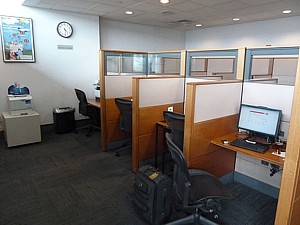 Seattle Delta Skyclub
NEWS: The new Seattle Delta Skyclub has opened. It measures nearly 8,300 square feet and offers a full wall of windows with a view of Mt. Rainier. The club offers shower suites and a recharge zone with comfortable lounge chairs, a full service bar with complimentary beverages; art featuring aerial landscapes of the region; satellite television and a work zone complete with complimentary Wi-Fi.
There is a small Delta Sky Club in Seattle: it was of course for a long time the Northwest Airlines Worldclub. It is in the remote satellite, and just beside the stairs leading to the BA lounge.
It's a bit of a strange place, and deserted for much of the day, with a tall thin main area, and an inner cavern with work carousels.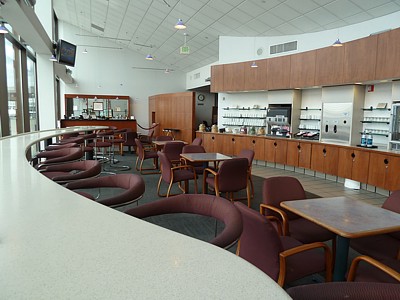 Seattle Delta Skyclub
At least when you enter it is light and bright, with floor to ceiling windows overlooking the runway, and the sound in the distance (past all the rain) with views of the landmark Mt. Rainier, with the bar at the far end.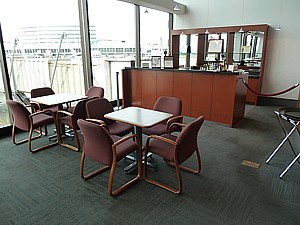 Seattle Delta Skyclub
And indeed it is the bar that this place is well known for: it can get quite lively in the evenings. The bar is manned, so you have to ask for drinks (and indeed, it's pretty much mandatory to tip the barman). However the beer is good, with the local speciality Seattle on draft. This part of the lounge was dramatically improved in the August 2011 revamp.
Food is just basic snacks, including nuts and crackers, on the curving refectory to the right of the bar.
Business facilities are well catered for, with several computers in the small inner dark cave-like area, where there is also a fax and a printer. There is also free-wifi. Newspapers can be hard to come by in the lounge, however there is generally at least a copy of the Seattle local paper.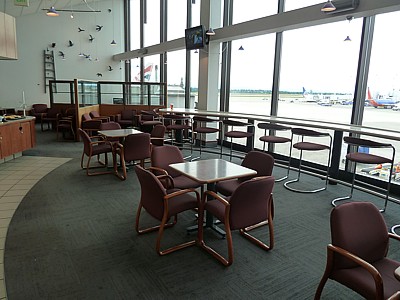 Seattle Delta Skyclub
Atlanta - ATL – Delta Skyclub
Airside - eight clubs
Access for SkyClub Members, and Skyteam Elite Plus
There are no less than five skyclubs in the Atlanta hub. You could, if you wanted, spend all day on a crawl around the lounges.
Concourse A - Atlanta Delta Skyclub
Concourse A, near gate A17
Open 0600-2200
In concourse A there is a vast Skyclub, but it is really worth visiting: it is brand new, having been refurnished in 2011.
It is the busiest club in the Delta system, with more than 55,000 visits monthly, and measures nearly 16,000 square feet. In no way does the modern design of the new Clubs resemble its humble beginnings as the original Crown Room Club when it first opened more than 31 years ago. Rather, the first thing immediately apparent is its open look and feel.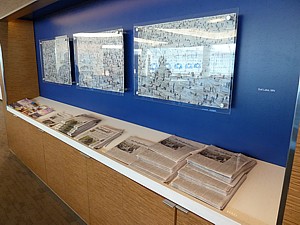 Delta Skyclub
The bar is great: it is a vast long counter, with pretty fast barmen. Basic drinks are free - but you still need to tip $1 a drink. Alas, food is still basic, with only nibbles. Chips, crackers, fruit, and cheese are usually on the menu, although Nutella often makes an appearance as well.
In the revamp extra unused conference rooms were removed and additional seating was added, as well as additional power sockets in the floor.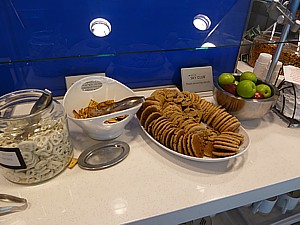 Delta Skyclub
Concourse E - Atlanta Delta Skyclub
Concourse E, near gate E14
Open 0600-2200
In concourse A there is only a small Skyclub, and one that really isn't really worth visiting. It is small, pokey, and gloomy.
Concourse T - Atlanta Delta Skyclub
Concourse T, near gate T6
Open 0600-2200
In concourse T there is a famous attraction - this is the one with the putting greens.