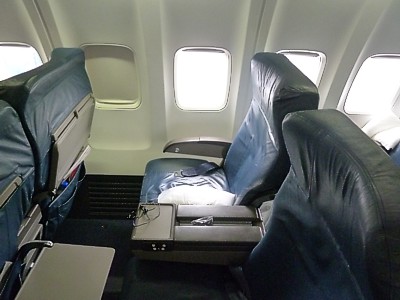 Delta Airlines First Class on an Airbus A320
Delta has placed an order for 100 Boeing 737-900ER aircraft and deferred an order of 100 small narrow-body jets until 2012.
Delta Airlines has a huge, rather unwieldy fleet of pretty much most aircraft types, thanks to various mergers and takeovers which have left it with a fleet of some modern, and some geriatric aircraft. On average the aircraft are 15 years old: that's an average which means that some are much, much, older. Fancy travelling on a nearly 40 year old McDonnell Douglas DC9? Welcome to Delta, one of the few airlines that still has them carrying passengers.
Delta Cabin Classes
Delta Air lines has only a two-class fleet both internationally and on domestic, with Business Elite and economy on international routes, while domestic routes have First and Coach (the US name for economy).
On some domestic routes the cabins are getting very tired, seats are frayed, and controls are worn: rather like the cabin crew themselves. At least one thing is consistent: all aircraft have had a respray and are now in the latest Delta Air Lines livery.
Delta Airlines International BusinessElite
Longhaul Airbus A330 aircraft (ex-Northwest A330) will be retro-fitted with the new Weber Cirrus sleeper suites by 2013.
Business Class on Delta is called BusinessElite, but if you think that Delta will be consistent with their product up the pointy end, think again. There are no less than five different versions of the Business Class seat, varying from very good to distinctly poor 1980s style. At least it's rare to get an old style recliner on Delta, but they are still there, on shorter lower yield routes.
At least the service is fairly consistent in BusinessElite. There is of course a free meal (generally two meals long haul, with a three course dinner, and a hot breakfast, a snack mid-flight, free alcohol and a basic amenity kit.
IFE is also the same, despite variants in the seats, with a decent AVOD on demand In-Flight-Entertainment (IFE) system, and power sockets for a laptop. ... read more about Delta's inflight entertainment and seatback TV.
Cirrus Flat-Bed sleeper suite. Ah, these are the seats to go for. Very similar to the Cathay Pacific Business Class seat, and from the same designer, Weber. All the Boeing 747-400 fleet (ex-Northwest) and half of the Airbus A330 fleet (ex-Northwest) have this seat.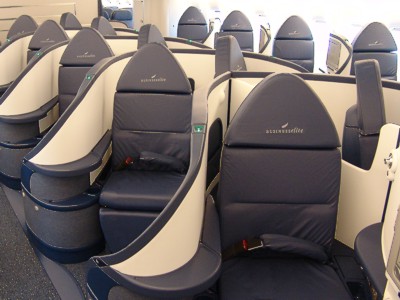 BusinessElite Thompson Vantage Contour Seat on a Delta Boeing 777
BusinessElite Thompson Vantage Contour seats are much poorer, and again are similar to an older design for Cathay Pacific. They have a herringbone formation, in a 1-2-1 layout with the bottom ends of the seats extending under the armrests of the suites in front when in the full horizontal flat bed position. All of the Boeing 767-400ER, 777-200LR and the 777-200ER fleet have them, and they are slowly being retrofitted to the Boeing 767-400ER.
World Business Class seats are the old BusinessElite seats, still found on some ex-Northwest Airbus A330, although they have been removed from the Boeing 747-400 fleet. They are made by B/E Aerospace and are known as the sleep-slope seats, because the don't go entirely flat. They have a 60 inch pitch (150 cm), 20.5 inches of width, and with 178 degrees of recline at distinct slope: many passengers hate these seats, because with just a small bar to rest your feet on, after a nights sleep your ankles will be aching.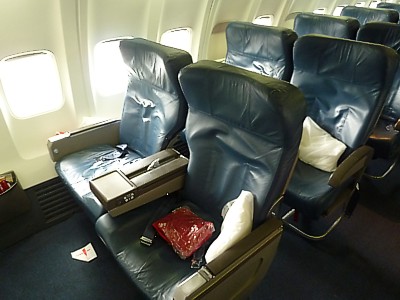 Business recliner seats on Delta
Millennium recliner seats are the really old design of standard twenty-year old recliner business class seat. With 60 inches of pitch, 160 degrees of recline, and 18.5 inches of width they are very standard looking, and aren't especially comfortable. They are still found on Delta's 767-300ER fleet.
Recaro business recliners are similar to the standard recliners, and are standard off-the-shelf Recaro CL 4420 seats with 55 inches of pitch and are 20 inches wide. They are only found on the long-haul Boeing 757s (ex-TWA and ex-AA).
Delta Airlines International Economy Comfort Class
Delta Airlines Premium Economy Class is a called
Economy Comfort Class
. In effect you get slightly more leg room, and free spirits, however food remains distinctly economy. Legroom increases to 35 inches, and the seats recline 50 percent more, but there is no more width.
These seats looks slightly different: they have grey headrests stamped with 'Economy Comfort' branding and red seat row placard. Along with all the usual TV channels, you also get free HBO programmes. All trans-Atlantic, and trans-Pacific aeroplanes now have these seats.
There are however few extra perks: you get to board slightly earlier (in Zone 2) and you gain complementary spirits. That's it really: compared to what some other airlines (such as Qantas) offer for premium economy, there really are few extra perks.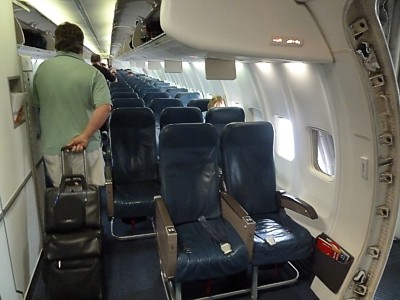 Delta Airlines Economy Class on an Airbus
Delta Airlines International Economy Class
Longhaul Boeing 747s and 767-300ERs that are used on flights of 12 hours or longer are now being retrofitted with the Weber slimline seat.
There is at least a little more consistency with Delta Economy Class, although not as much as you might think, and the consistency is simply because there is less for the airline to play around with. At least almost all international flights have Delta's seatback TV AVOD in flight entertainment system.
The standard design of for Delta International Economy Class seat is the Weber slimline seat. The padding on the seat has been reduced, making it thinner and hence increase knee space. These seats are generally known as the pivot and swivel seats, because they don't recline as normal. Instead there is a high pivot point recline system where the seat bottom moves forward in addition to the seat back tilting backwards when reclining. It really does work to reduce knee strain, but isn't so comfortable after 12 hours. All the Boeing 777-200 (ER and LR), Airbus A330 (200 & 300), 757-200 (ex-TWA), Boeing 767-400ER, and a few of the Boeing 767-300ER have this seat. It has a seatback TV, with AVOD, and with an adjustable headrest. Pitch is 31 inches.
All other aircraft have the basic Delta International Economy Class seat . It is a basic recliner, without the high pivot point, but has the joy of 33 inch pitch. It is still found on the Boeing 747 and some of the Boeing 767-300ER. There is a seatback TV, but no laptop power.
On Delta International Economy you will get a free meal (to two for long flights, however the second meal tends to be something like a complementary snack), and - a real delight among airlines based in the US - free beer and wine.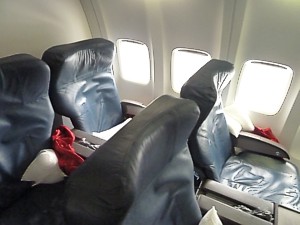 Delta Airlines Domestic First Class on an Airbus A320
Delta Airlines Domestic First Class
Prepare to be underwhelmed. Flying Domestic First Class on Delta doesn't really live up to the First Class name, but at least the seat is a proper full sized seat, rather than a convertible economy seat.
Pretty standard across the vast fleet is the Recaro business recliner using a standard off-the-shelf Recaro seats with 537 inches of pitch and are 20 inches wide. They are used on Airbus A319/ A320, Boeing 737, 757 & 767, and McDonnell Douglas DC-9, MD-88 and MD-90. A few CRJ-700s and CRJ-900s, and Embraer 175s operated by Delta Connection carriers also have First Class. Only a few aircraft have power ports however: the 737-800s, MD-90s, Boeing 757, and 767-300 feature US style power sockets.
Service is OK in First, with free drinks including beer wine and spirits on all flights. On short flights there is a basic snack, but on any flight over 600 miles (roughly 2 hours, but this varies) there is a full meal service.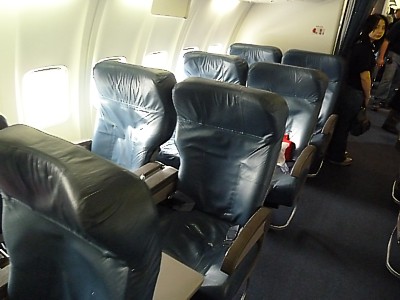 Delta Airlines Domestic First Class on an Airbus A320
Delta Airlines Domestic Economy Comfort Class
Small two-class regional jets (CRJ-700, CRJ-900, E-170, and E-175) are now to be turned into three class aeroplanes, with Delta installing Domestic Economy Comfort Class seats.
Delta Airlines Premium Economy Class is a called Economy Comfort Class. In effect you get slightly more leg room, which increases to 35 inches, the seats recline 50 percent more and you also get free HBO programmes on the seatback TV, but that's it really.
You get to board slightly earlier (in Zone 2), but with a Delta Economy Comfort Class review, you really have to wonder it is worth buying it. You can upgrade at check in for US$80 shorthaul (or $160 East to West coast). There are discounts for elite levels of SkyMiles, and some get complimentary upgrades.
Delta Airlines Domestic Economy Class
Delta has launched EATS: it's new buy on board food service with sandwiches available for purchase on all flights 1,500 miles or more (flights to Hawaii and Alaska continue to receive a free meal service).
So what is Delta's Domestic Economy Class service like? Not very good, quite frankly. Seats are pretty basic Airbus, BAE or Weber designs, with pitch between 30 and 33 inches, and only a few aircraft have moveable headrests.
The good news is that even on domestic, you get free tea, coffee, and soft drinks. Alcoholic beverages are available for a charge.
Delta Airlines Aircraft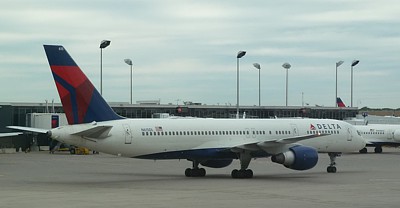 Delta Boeing 757 leaving Minneapolis
Delta has astounded the aviation world by being what must be the last mainstream airline to place an order for McDonnell Douglas 'Mad-Dog' MD-90 aircraft. Production of these aircraft ended many years ago, however Delta has managed to secure eight that were being scrapped by Japan Airlines. These aircraft will replace even more geriatric planes: the last DC-9s that are still in regular scheduled passenger service, some of which are getting on for 40 years old. The 'new' MD-90s are reported to be placed into rotation from the Atlanta hub.
Delta's fleet has pretty much everything: from the newest Airbus and Boeing models, to some planes that were on the production line in the early 1960s. It's big - really big - with over 700 aircraft, and that number means you can come across some real dogs, as well as state of the art wide bodies with all the latest toys. On many airlines it's well worth while checking out aircraft types before clicking a mouse to buy a ticket, but with Delta it's crucial to avoid some notorious oddballs. The general rule is however that if you fly via the Atlanta hub, you'll get newer planes, but as always, this can't be guaranteed.
So if you fancy flying on some historic aeroplanes around some obscure airfields to experience what aviation was like in the 1970s, you don't have to make your way to some distant part of the Philippines: you can just hop on a mainline American legacy carrier: Delta.
Part of the reason for this pot-pori of historical aviation is Delta's takeover of Northwest Airlines. Northwest loved Airbus, but with a soft spot for the Boeing 747 and DC-9s. Delta however preferred all the Boeing models, except for smaller regional routes where McDonnell Douglas came to the fore. The two airlines also had totally different ideas when it came to seats, cabins, service and routes. It was never going to be a marriage of equals.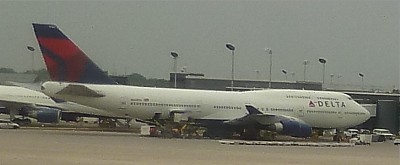 Delta Boeing 747 On the stand at Minneapolis
Delta Boeing 747-400
NEWS: All aircraft are being retrofitted with Bed BusinessElite seats with power ports and slimline seats in Economy.
Delta currently has fourteen Boeing 747-400s in its fleet: all of them were obtained after the takeover of Northwest Airlines. They seat 65 in business class, 42 in premium economy, and 286 in economy, giving 395 on board each plane.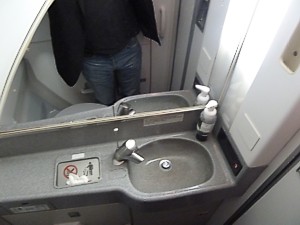 Delta Bathrooms
Delta Boeing 777-200 ER /LR
Delta Air Lines has 8 of the Extended Range (or ER) and 10 of the Long Range (or LR) Boeing 777 twin engine, twin-aisled, widebodes. Some of them are getting on for fourteen years old now, and while it does show a little, at order these were the latest generation of jets with seatback TVs fitted: a revolution back in 1999, they are still pretty good today.
All aircraft have the Flat-Bed BusinessElite seats with power ports, seating 45 in business.
In premium economy there are 36 seats, while in normal economy there are 188.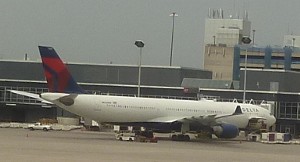 Delta Boeing 767 with added wingtiplets
Delta Boeing 767-300 / 767-400
Delta has a vast, confusing array of Boeing 767s. Indeed, it is the largest operator of the Boeing 767-300ER.
The domestic version is the Boeing 767-300 ER. This features 30 First class seats, and 231 down the back. Premium Economy isn't fitted to this aircraft.
The Boeing 767-300ER is the standard medium-haul aircraft for international and Hawaii routes. All aircraft (currently 7) to receive new interiors, galleys and Flat-Bed BusinessElite seats with power ports. All aircraft (currently 35) to get winglets.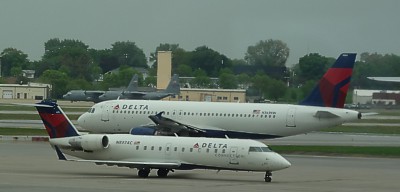 Delta Airbus A320 plus a regional jet Minneapolis
Delta Boeing 757-200
Older Boeing 757 aircraft are to be replaced by Boeing 737-900ER.
Delta Air Lines has the largest Boeing 757 fleet of any airline.
There are no less than 151 in many different variants.
The most common - with 95 in service - have 26 (although 47 have 24) first class seats, and 158 in plain old economy.
There are also 25 with 16 business class seats, 12 (or 8 with 18) economy plus seats, and 146 in economy.
There aircraft are slowly being modernised: you can tell these, as they have newly fitted wingtiplets.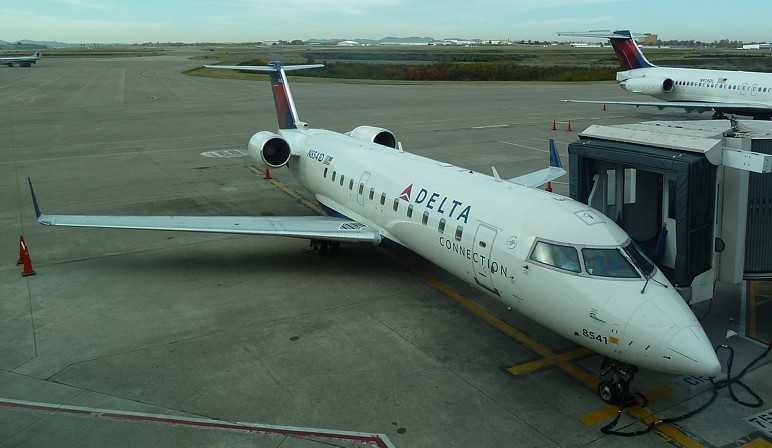 Delta regional jet at Nashville