NEWS: bmi has recently opened its new business class lounge at London Heathrow LHR Terminal 1. This is branded as the Great British Lounge, after a debacle when it was called the No1 lounge. There is also the joint Star Alliance lounge, and you can use either lounge. Singapore Airlines are planning to open a lounge in Terminal 1 in 2012, giving three lounge possibilities.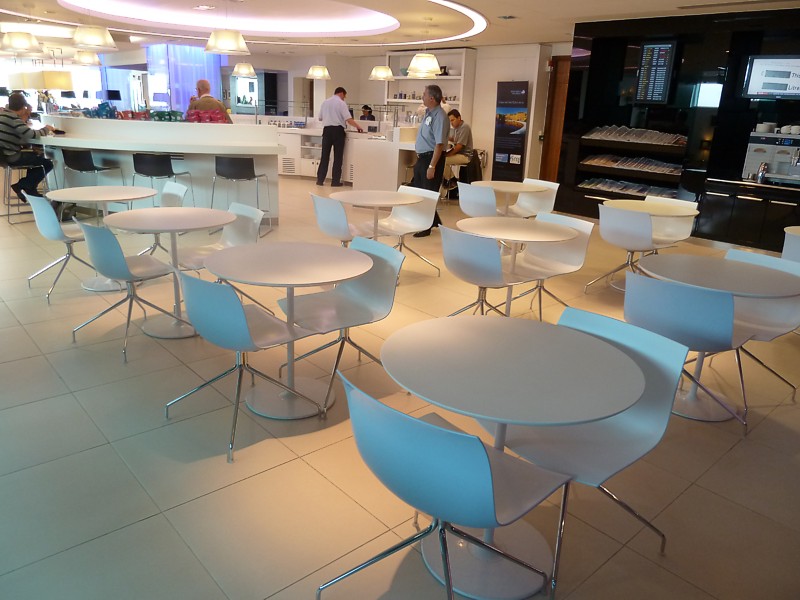 bmi Great British lounge London LHR Heathrow
Just like everything else in the bmi world, everything has changed in terms of lounges following the massive cutbacks, and the axing of many routes. No longer is there a network of lounges at outstations like Paris, Brussels or Amsterdam. No longer are there the small bmi lounges in Terminal 1 with a separate lounge for Golds, although few people are sad, particularly if they suffered the peanuts, 4 spirits on a wobbly optic, and BBC Micro departure screens.
Now bmi has transformed from being an airline that operated a Frequent Flyer scheme and a few small lounges, into a Frequent Flyer scheme that operates two large lounges for all the Star Alliance airlines at Heathrow, and also happens to fly a few planes.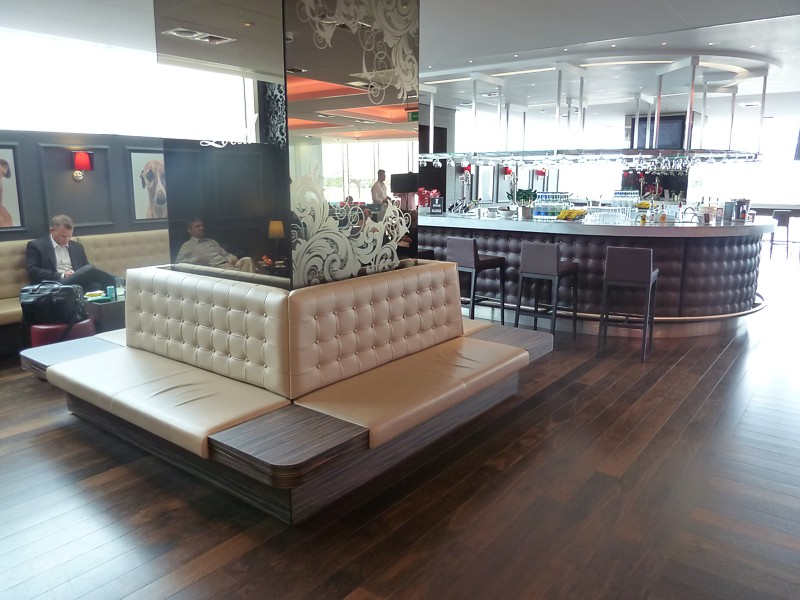 bmi Great British lounge London LHR Heathrow, The Local
Access to the lounges is via the usual route of a Business Class ticket, being a Gold member of the Diamond Club, and unusually even Silver level members, full fare economy, plus, of course Gold Star Alliance members. You can not buy access on the door or in advance to the bmi lounges, however you can buy access to other Star Alliance schemes, such as United's Red Carpet Club which give you Gold Star Alliance privalidges, and hence you then do get access.
There are bmi lounges in the UK at Heathrow (two at T1 international, plus also T1 Domestic), Manchester T3, Edinburgh, Glasgow, Belfast, and Teeside.
bmi maintain Business lounges internationally at all of one outstation, Dublin. The old lounges at Paris and Brussels have now closed. All other international locations get a generic lounge - and these range from ok to dreadful. Access to lounges can be a problem for guests, and for passengers with only a silver level Diamond Club card.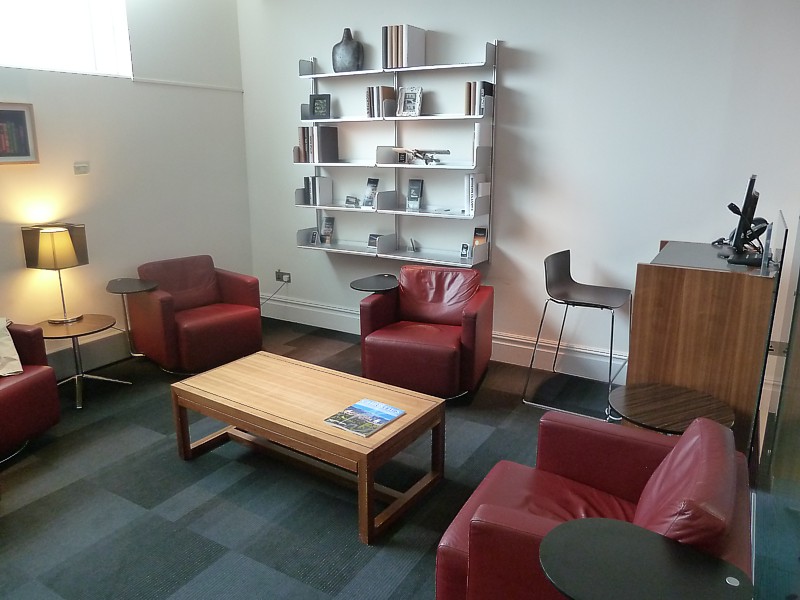 bmi Great British lounge London LHR Heathrow, The Study
bmi London LHR Heathrow lounges
bmi run four lounges at the London hub. London Heathrow terminal 1 lounges for Star Alliance Golds and in Business Class are either the lovely bmi Great British Lounge, the rather dull Star Alliance Lounge Heathrow, or the very small domestic bmi lounge. Also, bmi technically run the Star Alliance Arrival lounge at Heathrow (access if on overnight Star flights, and also for Diamond Club Gold).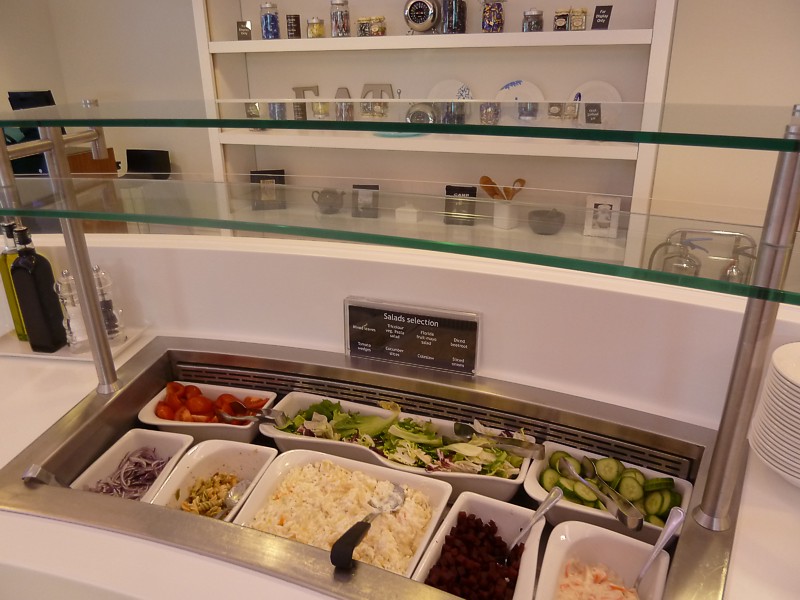 Great British lounge Salad
If you ask at check for direction to the Star Alliance Lounge at London Heathrow terminal 1, pretty much every airline will direct you to the main Star Lounge, right in the middle of the shopping centre that is Terminal 1. However, if you have time (at least an extra 10 minutes in each direction) it is well worth while accessing the main Great British lounge.
Many regulars take in both, grabbing some food (particularly the hot breakfast) in the main Star Alliance lounge, before vanishing to the nicer atmosphere & pub of the Great British lounge.
If you are flying bmi domestic, it's probably best to wait in the main lounge until the last moment before transferring to the bmi domestic lounge at Heathrow, however access is restriced to some Silver card holders.
London LHR Heathrow - bmi Great British lounge
Airside, left after security, by gate 5
0500-2235
Access for business class, flexible economy, Gold & Silver diamond club, Gold Star Alliance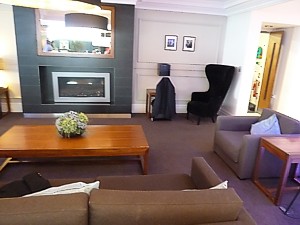 bmi Great British lounge London LHR Heathrow
This is a really good lounge, ideally designed to get you in the mood for long haul flights, which makes it all the more odd that this lounge is designed just for bmi's flights from gate 5, and other Star Alliance flights use the decidedly inferior joint Star Alliance lounge Heathrow (detailed below) by gate 14. Both are on the site of former BA lounges, which explains why it is such a tortuous process getting to the Great British Lounge Heathrow.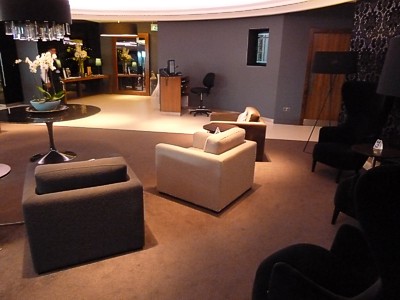 bmi Great British lounge London LHR Heathrow
To get to what was called the No1 Lounge Heathrow you turn left out of security, walk past Duty Free, down the small slope that seems to lead nowhere, back on yourself up the escalator, and along the small corridor. The lounge is to the left of the corridor, on what was the top floor of the old BA domestic lounge.
However, what a difference. It really is a very good lounge indeed, almost the personification of what you want for a couple of hours while waiting for your flight, with separate zones depending on your mood, from The Local for a few beers, to a sitting room with fire, and a loungy inner area with contemporary black wallpaper. It's slick and cosy, with a capacity for only 260, and it always seems fairly empty (possibly because of how few flights bmi has).
As you walk in there is a circular lounge area with deep padded armchairs and blue mood lighting. To the left are the bathrooms, while beyond the circle are the showers. As you go further in there is the dining room area with plain white chairs, then another circle with the food, office space is on the left, sitting room at the right with a sofas and a large fake fire, and then the Local: the large curved bar & padded seats.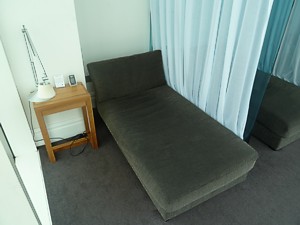 bmi Great British lounge The sleeping area
Facing the floor to ceiling windows are three rows of armchairs surrounded by a cube shape designed privacy dividers. In the divider there are power sockets, with both a UK and European design (no US or Australian). Sitting in the chairs there is an excellent view of runway 27R beyond the taxi way - while on the right is a magazine corner leading to the sleeping area, where there are three daybeds, separated by gauze curtains. Here is one of the few mistakes by the designers: the beds are very light and bright, and not good for sleeping.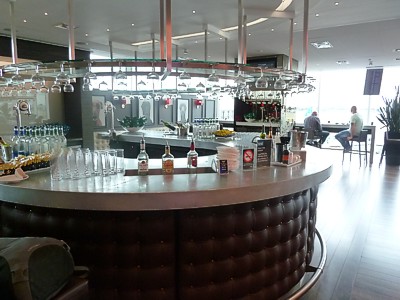 bmi Great British lounge LHR The famous 'The Local' bar
Food is pretty good, served up in the well styled The Café where there are two black Agas inset into the wall: these don't work, but look good, and on the top are a couple of containers of soup plus warming trays of crusty rolls. Other food is served in the centre of the circle. At breakfast there are croissants and cereals, while daytime there are trays of sandwiches in one fridge and salad in the other. In the evening there is hot food designed by British chef Mark Hix who designed the onboard menu, and in the fridge there are small pots of Hix's designer caramel & honeycomb ice cream called Credit Crunch. You can take your food to the large dining room table (it seats 12) but most people sit on the smaller white chairs.
However it is the bar area that is most of note, called The Local. It has a large horseshoe shaped bar which looks as if there should be a barman in the middle: it is in fact strictly self service, but enough people have made the mistake that there is now a large sign saying that you should go behind the bar yourself and take down a wineglass from the hanging collection. There is Stella on draft (with proper Stella handles) or London Pride, Guinness and Tetley's in the fridge behind the bar, where there are also the mixers. On the bar top are two whites and two reds in a bucket, plus six spirits. Alas, Sparkling Wine is normally notable by its absence.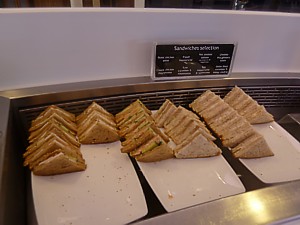 bmi Great British lounge Sandwiches in The Café
Alas the lounge is slightly let down by computers in the Study. This has three areas, a small meeting room type place, six workstations (UK and Continental power sockets, plus network ports), and four computers on a bench. These are the dreadful AG Neovo type. The keyboard is in a square metal box, and typing is a huge pain; even worse the computers are slow and erratic.
The magazine area in the furthest corner is very good, with plenty of travel magazines. There are also three showers, however you need to book a slot on arrival. In here there are still some logos relating to the original name of the lounge, and indeed you may still find staff calling it the name it was launched as: The no 1 lounge Heathrow. Alas this name was already used by an operator that runs pretty neat lounges in Gatwick, Stansted, and now Terminal 3, so bmi had to rapidly change the name of the lounge.
Incidentally, if you have access to this lounge (there is no way to buy entry) make sure you also check in at bmi's new premium check-in area at Zone A, where there are comfy sofas you can wait on as you ticket is processed, and (when it is open) use fastrack. Also, Gate 5 is actually a collection of gates which bmi use for their few remaining flights.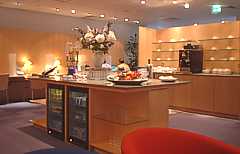 LHR T1 Domestic - the food pod

London LHR Heathrow Domestic - bmi The London Room Business Class Lounge
Terminal 1, Airside, by gate 8
0500-2145
Access if on a domestic flight only, for business class, flexible economy, Gold & Silver diamond club, Gold Star Alliance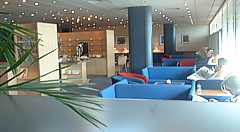 LHR T1 Domestic

This is the main domestic lounge at London Heathrow for the few remaining bmi flights.
It's a fairly small room, long and flat, with 4 food pods, and a great view of the planes ariving for domestic flights.
As you swing past the desk (just a wave of your Diamond Club card often works) with 4 staff, you'll see most of it.
The most unusual feature is often the children playing on the floor of the lounge, watching the TV's which are screwed to the wall of the food pods. Most uncomfortable. If you go to the far end, past the docking stations for PCs, the armchairs are much better.
London LHR International - Joint Star Alliance / bmi Lounge
Terminal 1 - After security, opposite corner from central square & Gate 14.
Open 0530-2200.
Access for First & Business class, Gold Diamond Club, Gold Star Alliance No Access to bmi Diamond Club Silver.
bmi run the Joint Star Alliance Lounge Heathrow for international flights at LHR Heathrow Terminal One. It is not branded as bmi, but it is staffed by them, and replaces a number of separate lounges. If you are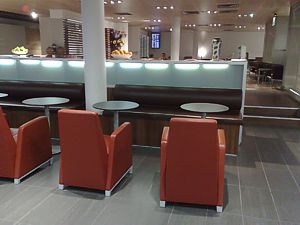 London LHR joint Star Alliance lounge

travelling on bmi with a Star Alliance Gold card you can also use this lounge, even if travelling on a domestic flight, however you will be initially directed to use the bmi lounge, and you will have to be pretty forceful to insist on coming in here, however it is worth it thanks to the much better food.
The London Star Alliance Lounge is used by United, Air New Zealand, South African Airways, US Airways, Asiana, Lufthansa, Austrian, Swiss, TAP and LOT. Thai, Turkish, Air Canada and SAS will start using this lounge when they move from Terminal 3 in 2012, however Singapore Airlines will open their own lounge, on the site of the old SAA lounge.
The only airline that still has First Class flying out of Terminal 1 is United, and they access the small First Class section, however Miles and More HON members can also access this area, if you ask at checkin for a voucher.
This lounge is on the site of the old British Airways Terraces lounge: it can seem quite strange to be approaching it, but with a Star Alliance ticket. Business class is to the left of reception, while First is to the right.
Compared with some of the horrors that can lurk in Heathrow, both of the lounges are a haven of peace, quiet, and tranquilty. Trivia fans should know that when the business side was the British Airways First Class lounge, it was the scene of the infamous riot when a minor musician called Snoop turned up.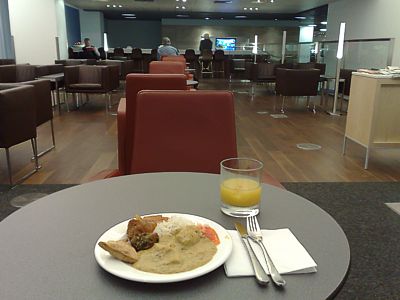 London LHR joint Star Alliance lounge

London LHR - Business Class - Joint Star Alliance Lounge
Access for business class, Gold Diamond Club, Gold Star Alliance No Access to bmi Diamond Club Silver.
Once you are in the lounge, the first thing to notice is just how dull it is. Décor in the lounge takes blandness to a new extreme, with slate-coloured flooring, white walls and two-tone wood panelling. Seeing how some lounges make such an effort in their presentation (such as the Qantas First lounge at SYD, the Asiana lounge in Seoul, and even the new BA lounges) it is surprising to find a lounge that is so boring. There is no view of the planes: indeed, the only window is at the far end of the lounge, which overlooks the bins behind the Queen's building.
As you walk in you enter the self-service dining area with high chairs and tables immediately past the entrance. It resembles a pret-a-manger on a bad day. Further round there are two arms to the U, with a big empty room on the right, having a large flatscreen TV on the wall, and then several rather unaccomplished sets of chairs and tables. The other side of the U has some more comfortable arm chairs, and a couple of newspaper racks (with all of the UK daily papers, but other than the Mail and the Telegraph, there are just a few copies of each), and a children's area in one corner.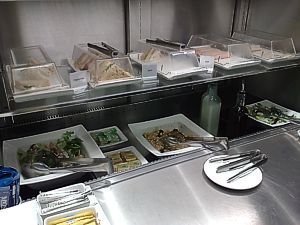 London LHR joint Star Alliance lounge food

Back in the centre of the lounge, on the right is raised area with (amazingly) some decoration, and another with wooden artwork on the walls, plus around the corner another food area (which is almost hidden, and which often has more food left, when there is none, and queues, in the main area. Finally, past this area, is the business centre. There are no computers here, just 8 work cubicles, however there is free Wifi (the password is displayed on a sheet of A4 above the cubicles). Indeed, the surprise is that there are no computers at all in the lounge. There are also 13 shower cubicles with hairdryers and Gilchrist and Soames amenities, which are the old BA showers, and which just have a sticker over the BA logo.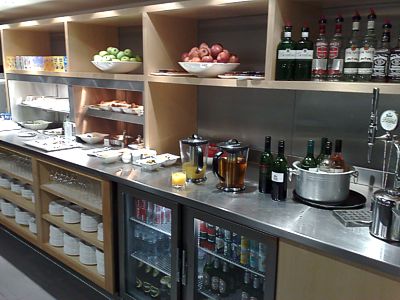 London LHR joint Star Alliance lounge bar

Food wise, the lounge is better than you might expect, with several options that are topped up by a hand appearing from behind the counter, replacing dishes, in either of the two food stations. There is always a hot option, which more often than not is a curry, with plenty of popadoms and bhajis. Salad is a variant on either Greek or Caesar. And there are also three trays of sandwiches (meat, fish & vege), plus fresh fruit and cakes. Breakfast cerial is stocked throughout the day, in small variety pack cartons.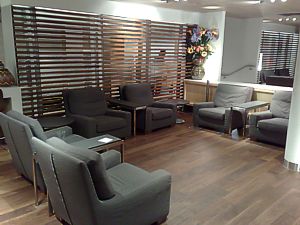 London LHR joint Star Alliance lounge

The bar is disappointment. Spirits are free pour, but consist of just Gordon's Gin, Smirnoff Red Vodka, VSOP, Bacardi Rum, and Whisky with Jack Daniels, Famous Grouse, and Jamesons. There is just one type of white, two types of red, and a rose wine. Most of these are pretty cheap and nasty versions. There is a beer pump for Grolsh, and - rare for a lounge - Magners cider in bottles in the fridge, along with bottles of Becks and cans of Guinness. In the fridge there are also the usual mini cans of mixers and fruit juice, and a coffee machine. In the fridge there are also bottles of water, and cans of Coke, Sprite, Fanta, Britvic Tomato, Canada Dry, Tonic, and lemonade.
Edinburgh bmi Business Lounge
Domestic - main concourse.
Open 0600-2200.
The lounge in Edinburgh is noted by its most incredibly uncomfortable furniture. There are wooden seats which have come straight out of an achingly trendy design catalogue, and which make you ache achingly. Thankfully there are a few comfy armchairs, but they go quickly.
Theres a pile of newspapers by the door, and its worth-while grabbing a couple of Scotish papers, which aren't available on the plane.
The bar selection is better than LHR, with Miller and Guinness in the fridge.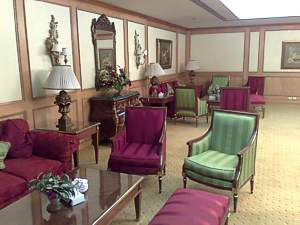 Cairo Egyptair Business Lounge

bmi Cairo Lounge - Egyptair Business (contract) Lounge
After security, top floor.
Open 0630-2200
Cairo Egyptair Business Lounge

The lounge in Cairo is a contract lounge - usually it is used by Egyptair, and it is one of the most extraordinary of pretty much any airline anywhere, if only for it's decoration. Alas, it is also dry. When you check in make sure you get an invite to the lounge (this also gets you 10% off your duty free). The lounge is hidden on the top floor of the terminal - take the lift up to where the coffee shop is, and then hand your invite over at the desk. The lounge itself if separated from the main part of the airport just a rope, so it really doesn't feel very special at all.
Egyptair has themed the areas of the lounge according to the countries it flies to, from the Paris lounge, to the English quarter. There are two main areas for the lounge - you can sit outside, under the modern glass ceiling, or there are the VIP rooms. These are extraordinary. They look like a French palace from the 17th century. There are however a few plasma TVs - normally on CNN - which look rather odd among all the finery.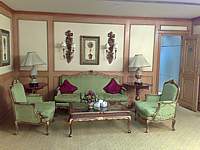 Cairo Egyptair Business Lounge

Food is pretty poor. There are a few pastries and sweetmeats, and bags of crisps. There are however plenty of flunkies running around, so if you ask for the crisps they are brought to you - on a bone china plate.
The lounge is dry, so there is no alcohol in the lounge - however you can pop down the unmarked back stairs to the bar in the main part of the terminal. Here, a beer costs 20 Egyptian pounds.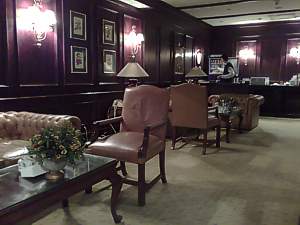 Cairo Egyptair Business Lounge

There are no computers or other facilities in the lounge.
Closed and abandoned bmi Diamond Club lounges
LHR International - Diamond Club lounge
Terminal 1 - by gate 15.
Open 0500-2200 (from 0430 Friday to Sunday).
Access to First and Business class bmi/Star Alliance passengers, and economy passengers with a Star Alliance Gold card.
NEWS: The LHR International Diamond Club lounge is to be shut by the end of the year as a cost cutting measure.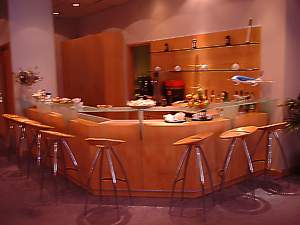 LHR T1 bmi Diamond Club lounge bar

To get to this lounge walk down past the Business Class lounge, and on the left behind the partition are the two sets of double doors for the lounge. Swipe your gold card, and the door will open. Access is for Diamond Club & Star Alliance Gold members (one guest permitted), and bmi passengers travelling on business or full fare economy tickets (Y), no guest permitted.
It seems rather pointless bmi having this lounge, with near identical food, drinks, and papers as the business class lounge, but exist it does. It is normally very quiet. There is a sit up bar beside the model of the A320 (although the woman on the main desk often has to serve here, so service is slow), one food and bar table behind two pods, and a smoking area at the far end, where the TV is located. There is a photocopier and phones, but no computers. There is however Wifi Internet access if you bring a laptop.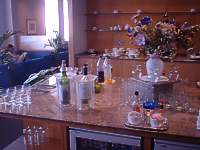 LHR T1 bmi Diamond Club lounge

Newspapers are piled on a large plastic rack by the door. There are all the UK dailies, with everything from the Guardian to FT, Independent to Telegraph. At weekends they even include all of the supliments. Late in the day only the Express may be left. You are invited to take a paper with you. Do take one onto the plane - often you won't get a free one on there.
Magazines are right on the far side of the lounge, facing the smoking area. Mostly they are fairly tame but there is often at least one Wallpaper and a GQ.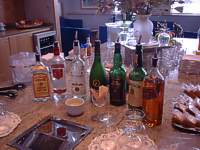 LHR T1 bmi Diamond Club lounge

The snack counter is better than in bmi's other lounge, with an improved bar. There are two types of both white and red wine to chose from (but no Sparkling Wine), and 6 spirits (loose, not in optics) - Gin, Vodka, Bacardi, Reme, Glenlivet, Jameson, and Red Label. Miniture cans of soft drinks are under the counter (but no Bloody mary mix) and cans of Carlsberg and Guinness are in the fridge.
Food is disappointing. At breakfast time there are some pastries, while thoughout the day there is a tray of fruit cake slices, and packets of peanuts. There is a tray of cheese, with Cheddar, Double Gloucester, soft Cuntodou, and Camenbert) and some very nasty "Go" biscuits. Food is kept in the cupboards - occasionally it can be worth having a root through here to see if there is anything else left around.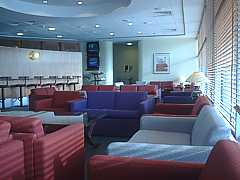 LHR T1 bmi Business Class lounge

LHR International - bmi Business Class lounge
Terminal 1 - by gate 14.
Open 0500-2200.
The lounge is right by the gate - indeed, you have to "wiggle" round the queue of people boarding to get to the lounge. Theres a small desk with a couple of staff, and then you walk round the side of giant model of an A321... and then most people go "is that it?". No. Its not that small. The area upstairs is much bigger, but most passengers hang around downstairs.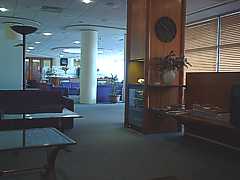 LHR T1 bmi Business Class lounge

Newspapers are in two places. Downstairs, under the ammusing BBC micro generated TV screens with departures, there's a trolley with a lot of newspapers and a few rather poor magazines, such as OK. Upstairs there is a much larger newspaper rack, and you are invited to take a paper with you.
Upstairs, theres much more room, a much better view, and a TV with cable.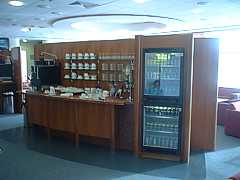 LHR T1 bmi Business Class lounge

The Bar in the business class lounge offers a choice of wine - white or red. Its the same wine as in the planes (see below) which is middle of the road, if not very entertaining. The white isn't kept in the fridge, but in a cooler, so by the end of the day its tepid. Beer is either Carlsberg, or if you're very lucky, bottles of Miller.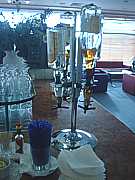 LHR T1 Business spirits

Sometimes there is also Guinness. There are four spirits, all on a rotating (and very unstable) optic. Again (watch this "cheap but full service" philosophy) named brands, but with no options. One whisky, one gin, one vodka, one congac (odd, that). Theres a selection of minature cans in the fridges below or beside the bar, with tonic, coke, and juice.
Food consists of packets of biscuits, packets of nuts, and, errr, thats it. At LHR T1 international, you can walk through the corridot to T2 and Lufthansa lounge. On the Senator side it has Sparkling Wine, and quite good food, so its worth the walk.
Paris CDG bmi Business Lounge
Terminal 1, Satellite 3
Open 0600-2200.
There is only one lounge in the concrete hell that is Paris CDG - and it's a basic Business lounge, with no perks for Gold Diamond Club members. To find it, after going through the strange 1960s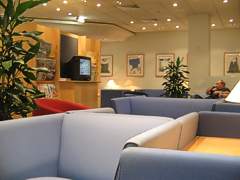 Paris bmi Business lounge

concrete tunnels with bouncy people-movers, you turn a sharp right when you are in the Satellite - which can best be described as third world - and that's a compliment. The whole terminal is falling to pieces, but is thankfully due for a revamp, when all the Star Alliance lounges will be grouped together. Right now, you pass under the small bmi sign, and down in a tiny lift to the basement. Here, the lounge is quite large, but windowless. Gold and Silver members get in, as do bmi passengers on a full fare economy ticket (Y), all with one guest.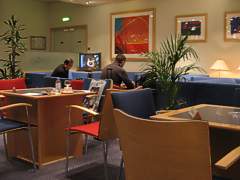 Paris bmi Business lounge

There is one central food & drink pod, with the usual array of seats around the edge. The most comfortable seats are oddly in the smoking section, where you can tuck around 2 corners and be nicely hidden away. There is a TV (with BBC World), but no computers.
The Bar is pure bmi, with the standard single bottle of white (warm) and red wine on top of the counter, and four spirits on optics. Beer is in the fridge, with Kronenborg in strange tall thin cans, and Heiniken in barrel shaped cans. There are miniature cans of juice and Pepsi, plus a lovely tomato juice. There is no Sparkling Wine.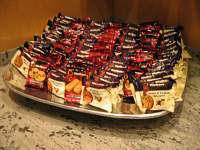 Paris bmi Business lounge

Food is very poor at CDG, with only the usual packets of shortbread, lemon biscuits, or miniature fairy-cakes in plastic wraps. There are however some very good peanuts. The lounge is also hired out to Singapore Airlines, and in the two hours before SQ's midday flight, a tray with rather mournful looking plastic-wrapped cheeses appears, plus biscuits. There is a large (and handwritten!) sign above it saying that this is strictly for the use of business passengers to Singapore (although quite how this is policed is unclear) and even more unusually, First class SQ passengers are allowed to pick at the plate of even sadder looking bunch of fruit. This tray is removed as soon as the flight starts boarding.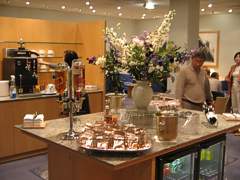 Paris bmi Business lounge

Newspapers are pretty good, with a single copy of all the UK papers, plus large number of all the French ones. There are, alas, few magazines other than a couple of copies of Wallpaper and Home & Garden.
It is worth exploring CDG's lounges if you have some time at the airport. As a Star Alliance Gold you will also get access to the SAS lounge: (at passport control turn right, head round the shops and to the escalators, turn right and follow round), and the United Airlines Red Carpet Club (also used by ANA, open 8am to 1pm and 4pm to 7pm) (at passport control turn right, head round the shops and to the escalatorr, it is on your left as you exit the lift). There is also a Lufthansa lounge in the Schengen-area, in the basement of the LH satellite 6. You need a pin-code from check-in to use it, and as a Star Gold you'll only get access to the Business lounge, with the Senator lounge reserved for Senators and First Class.
Palma - Generic Sala VIP Busines Class Lounge
Main concourse before security, top floor.
Open 0600-2200.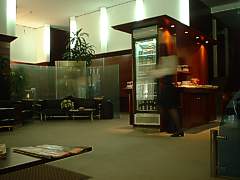 bmi generic business lounge in Palma

In Palma bmi use the
Sala VIP
facilities, which are quite hard to find. They are located
before
security, so ensure you go to them, and leave before your flight is called. To find them go up to the top floor just before security, then right past the chemist with the green front.
There are two parts to the lounge, with a smoking and a non-smoking part, and you can't walk between the two. On the non-smoking side there is a TV area behind the screen, with Spanish TV and a cartoon channel. There is a conference room on the lower level reached by the stairs past the food pod.
Food is mainly cheese and biscuits and packets of peanuts. The drink selection is very good, with many types of spirits, a fridge at each end of the food pod stuffed with beer and wine (but no Sparkling Wine) in small 187ml bottles you can take out (Take a bag to stop the woman on reception from moaning at you). Newspapers are either Spanish or German.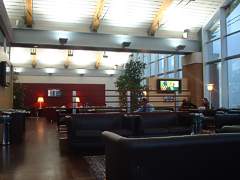 bmi generic business lounge in Venice

Venice - Generic Sala VIP Business Class Lounge
1st floor of departures after security.
Open 0630-2300
At Venice Marco Polo, bmi use the generic
Sala VIP
lounge, which is hidden away on the top floor, up the escalators in the middle of the main concourse, and then along the anonymous corridor at the back.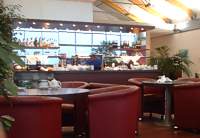 Bar at Venice lounge

The lounge is one of Sala's best, with a great sweeping view of the airport apron; there is even a balcony at the far end, where (on a clear and sunny day) you can just about see Venice over the water.
There is a bar, which is always staffed. You very definately cannot serve yourself. However the choice is good, with several types of wine and even Sparkling Wine. Food consists of nuts, crossants, and crisps. There is a TV in the second half of the lounge, normally on BBC World. There are no computers, however there is a very good stock of British Newspapers. These are stuck on long poles, to stop you taking them out of the lounge.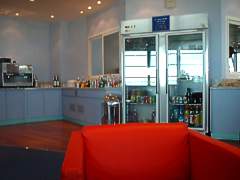 Bar Area bmi lounge at Nice

Nice - Salon Cap D'Antibes AirFrance Lounge
Terminal 2, 1st floor of departures after Schengen security.
Open 0630-2015
Access is given for Diamond Club gold and silver card members and Star Alliance gold members, plus business passengers travelling on a business or Y class ticket. No guests are allowed in the lounge.
This lounge is cursed, blighted even, by being after Schengen security. This means you have to pass through passport control to get to it - however passport control is only staffed after 1920. So if you arrive early, check in, and go past security, you can have a long wait before you can get into the lounge. Once past passport control, head to the lift on your right.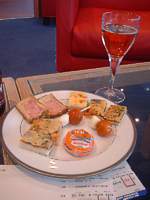 bmi lounge at Nice

The lounge is well worth it though, with fantastic wine, and great food. There is a lousy selection of newspapers as you go in, on the left. There is normally one copy of a UK paper, such as the Times. At the far end of the lounge is a widescreen TV, and one internet computer. There is one shower - ask at reception for a towel.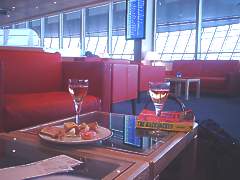 bmi lounge at Nice

The well stocked bar has two types of red and white wine, plus Sparkling Wine, and even a pink Sparkling Wine. If someone has swiped the bottle of Sparkling Wine for their table, spares are kept in the main fridge, on the lowest shelf, behind the white tray. Boxes of cheese are also kept there. There are plenty of spirits (including some cherry variants you may not have heard of) and an amazing array of beers. Heiniken, Kronenbourg, Buckley, Chimay, and incredibly Belgium Kriek Cherry trappist beer. There is also a good coffee machine.
Food is mainly nibbles, but there are plenty to choose from here too. There are miniture crossants and pastries, trays of miniture pizzas and welsh rarebit in the fridge, along with other indeterminable nibbles, plenty of cheese and biscuits.
All in all its a great lounge to kill an hour or two. Alas, it does not open late, and indeed it also shuts early before the main flights leave.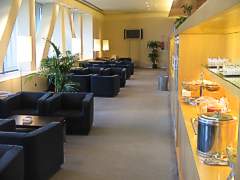 Madrid bmi/Spanair lounge

Madrid - Spanair Business Lounge
Straight ahead security, before non-Schengen area.
Open 0630-2015
Access is given for Diamond Club gold members and Star Alliance gold members, plus business passengers. No guests are allowed in the lounge, regardless of your bmi Diamond Club Status.
At Madrid BD use the Spanair lounge, which has it's advantages (it's a small, obscure airline, so not many Business passengers) and disadvantages (no access for guess, and poor food). Infact the access policy can sometimes seem a little odd, where you are waved through on some occasions, and get a grilling about your Diamond Club card on others. When the Lufthansa, Austrian, Argentina, and bmi flights are all about to take off, it can get a little crowded.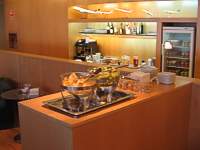 Upstairs Bar Area bmi lounge at Madrid

You enter through the sliding doors straight after security - but note that the lounge is itself in the Schengen area. You have to go through passport control to get to the non-Schengen bmi flights. There are two main areas to the lounge; "on top", where there is a TV and computer area, and downstairs, where there is an OK view of a couple of gates, but not of the main apron.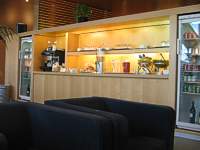 Downstairs Bar Area bmi lounge at Madrid

There are two bars, one in the corridor behind the reception desk, and one big long one downstairs, with two big fridges. Beer is strictly Heiniken, plus the usual miniture cans of soft drinks, and the strange Spanish "Bucklers Sin". There is no Bloody Mary mix, just a jug of Tomato juice, and one of orange. On top, above the coffee machine (if using this, note there are only small cups - so forget getting a Capochino), there are the spirits, with Bacardi, Baileys, Finlanda vodka, a bland whiskey, and a gin. Also on this shelf are two bottles of red. In the fridge are two bottles of white wine, and (only in the fridge by the window) a bottle of sparkling Cava.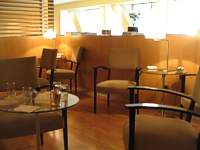 Upstairs Seats bmi lounge at Madrid

Food is very poor in this lounge. There are some olives and apples in a bowl on the shelf opposite the bar by reception, a few pastries, some biscuits, and that's about it. It is one of the few lounges where you can see people bringing in MacDonalds bags.
Newspapers are by contrast very good. There are all the Spanish dailys, the European FT, the UK Guardian and the UK Times. There are some American papers like USA Today, and the International (!) Herald, plus a very good rack of all the German papers.
There is all of one Computer, which has Internet access, but is appalingly slow. The lounge does however have WiFi access, and there are desks (at the far end of "on top") with spaces for 4 computers. There is also a TV and a HiFi (with stern notices about not disturbing other users of the lounge).