Free drinks in economy have now been axed, along with the food, and you have to pay for it when the trolley wizzes past. In Business there is still a free bar, open all the time, although you may have problems getting more than one drink.
All wine comes in 187ml bottles. These will be opened for you unless you ask.
Most wine now comes from comes from La Casila in Spain - which is unusual. This is not really a complement. However it's better than the muck of a couple of years ago when it pumped out Castello MonteVibianno Vecchio, a pretty much unknown vineyard in the Marsciano area of Italy. However bmi seems to have a marketing deal with the guys, and buys all it can. In the Business Lounges, you'll also find one larger full size bottle of red, and one of white.
bmi inflight Wine
However a bmi inflight joke...
"Whats the most common inflight whine in bmi? White or Red."
Yup - bmi give you no choice about this stuff - you either get white or red, with no choice of wines.
Be warned that some wine is from a vintage that was 2 years old, and had already started to deteriorate.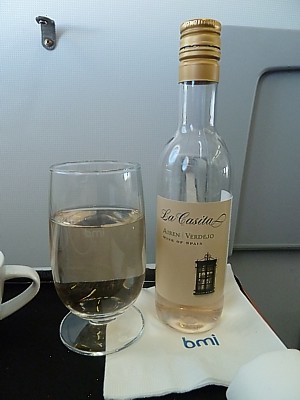 La Casila Verdejo
A bland white £3.00 or €5 in Economy
This is quite unusual. La Casilaerdejo Verdejo wines is aromatic, soft and full-bodied - which is unusual for a white, but then the grape used here is normally used as a red. Verdejo is a variety of wine grape that has long been grown in the Rueda region of Spain. The grape originated in North Africa, but in spain in the 1990s they planted it and with lower temperatures means less oxidation, giving a smoother wine.
When the crew offer this you may hope you are being offered La Casella, located in the heart of the Italian region which produces Vino Nobile di Montepulciano. Oh no, you end up with the Spanish version instead.
12%.

La Casila Tempranillo
A very heavy and thick red £3.00 or €5 in Economy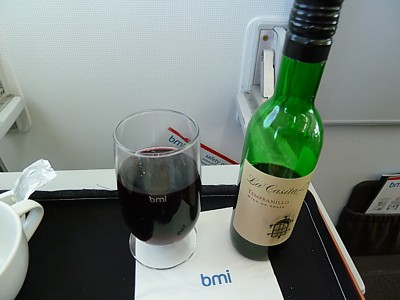 Tempranillo is a variety of black grape widely grown to make exceptionally full-bodied red wines. And so it is in this case, and the La Casilla Tempranillois made from 30 year old vines, grown in chalky soil. The bottle has a very rich and complex taste. It also has a mineral character and infused with a gentle touch of fruit.
Sadly, that full bodied flavour also means it gives thumping hangovers.
12%.


Grechetto Castello
A bland white £3.00 or €5 in Economy
This is deliberately aimed to be sort of middle of the road, not offensive to anyone. Its bland, but drinkable, if not exactly good.
Be warned it has quite a kick in - after a few of these the cabin starts spinning. 12%.


Viognier Curvee Syl Via
A modern white
The Viognier comes in a wacky bottle, and has a wacky taste.
It's French EU wine like, mixed from various table wines, and is, hmmm, at best unusual. 13%.



Grechetto Umbrian Cabernet Sauvignon
A dull red £3.00 or €5 in Economy
Ask for red, and you'll end up with an Umbrian Cabernet Sauvignon from the same vineyard. This is pretty harsh, and you'll need to be pretty high in the clouds to enjoy this.
Its got a bitter taste, and takes your teeth away. 13%.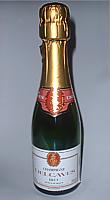 Sparkling Wine Delcaves Brut
Free Sparkling Wine for business £6.00 or €10 in Economy
The bottle looks great, a really classy bottle, which is only served in business.
The Sparkling Wine is however as sweet as they come, not really the best mix of French grapes, but still worth it for the perk. 12.5%

beer
Beer on bmi comes in just two types - Carlsberg or Stella.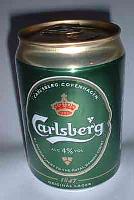 Carlsberg beer
£3.00 or €5 in Economy
A tame and dull beer
The classic pale lager with a global distribution,
Carlsberg
has a refined and satisfying taste. Brewed to the original Danish recipe, it has deep malty notes and a distinct bitterness that generate a full flavoured beer. It is easy drinking at 38,000 feet.
Incidentally, this is the brand marketed as Carlsberg Export in the UK, and is stronger (at 5%) than the normal UK Carlsberg lager which is brewed at 3.8% abv.
5%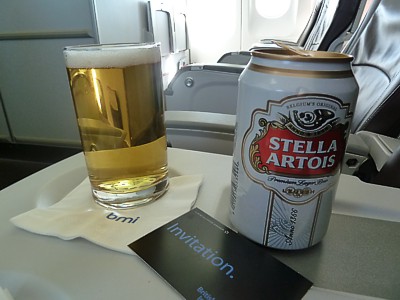 Stella Artois
Fancy a wifebeater?
Served weaker than in UK pubs (so passengers can walk when they get off the plane) its still a lovely smooth Belgium beer (even if it comes from Luton). In a 330ml can.
5.2%.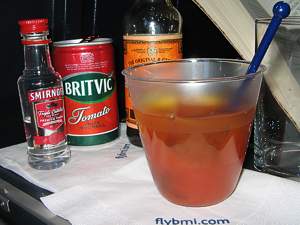 Cocktails
Bloody Mary
£3.60 or €6 in Economy
There are no real cocktails offered in business - however if you ask nicely, the crew will let you mix your own Bloody Mary.
This is pretty good - the tomato juice is brought to your seat, along with a miniture of vodka, and the Worcestershire Sauce & pepper, so you can mix it yourself.
Gin and Tonic
£3.60 or €6 in Economy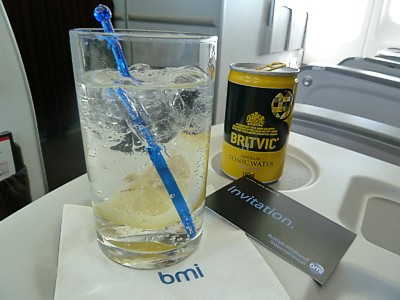 Gordon's Gin with tonic. It could be worse, far worse.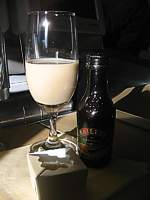 Baileys
Great after a long dinner over the Urals on your way to London Heathrow, before getting some kip at 38,000 feet.