NEWS: bmi is trying, yet again, new routes. The new route to Berlin isn't generating much traffic, and so it is being sidelined in return for a switch to Nice: a route bmi dropped several years ago. bmi is about to switch one of its two remaining A330 widebody jets to a new destination, Amritsar in India. bmi has previously attempted to fly to India, but gave up on that route after only a few months.
bmi has axed considerable numbers of routes following the takeover by Lufthansa. bmi routes must be regarded as being in a state of flux at the moment, and up to date checking of timetables - and bookings - is highly recommended. new routes such as Berlin and Vienna that it would never have touched before have opened up, but are equally having their frequencies cut back.
bmi's excentricity comes to the fore with its routes. With most airlines you can pretty much lay bets on the flights it has one summer being the same the next summer. Not so at bmi, where routes arise, are promoted, and then vanish with startling rapidity - and repetitiveness.
You'd have thought that having tried out a route once, and then scrapped it three months later, the airline would abandon it forever. Not so at bmi, where the airline will sometimes try out a route again, after having scrapped it several years previously.
Under "new" bmi, with Lufthansa's management, things are hopefully less flakey - but nothing at bmi can be taken for certainty.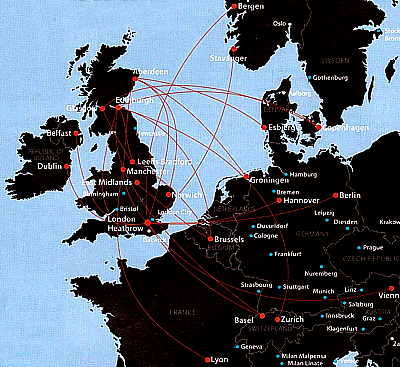 Europe bmi Routemap
It fact, looking at the route network, it is easier to compile a list of closed and abandoned routes. Part of this is because of bmi's desire to become a long-haul transatlantic airline. It tried from the mid 1980s to fly from London Heathrow to New York, and finally when it got permission in 2005 thanks to the axing of the "Bemuda II" agreement, it promptly scrapped all these plans. Perhaps because in the meantime, it had started flying longhaul routes from Manchester. These included Washington (which was axed, twice) and Chicago (also axed, twice). There was a new summer service to Toronto, along with flights to Las Vegas three times a week for several years - a longer stayer than most bmi routes. To the Caribbean from Manchester there were flights to Barbados (axed and then reinstated with a great frequency), St Lucia and even Antigua. These lasted until 2007/9.
bmi have also tried to fly the other way around the world from London LHR, and with a great fanfair launched flights to Bombay. It axed them three months later, using the not unreasonable excuse that the aircraft - one of the three it had longhaul - had developed a huge crack. In truth it seems that while the loads on this flight were very high, the fares were low, and instead bmi cast its eyes down south.
Around Europe there were other destinations that were the mainstay of bmi operations for many years, but have now gone, including Paris (5 times a day for two decades), Amsterdam (8 times a day for 15 years, now axed) Brussels (was 7 times a day) Alicante, Hanover, Milan, Naples, Madrid, Nice, Palma Mallorca, and the long served route to Venice. There has also been intermittent service to Tenerife, Geneva and even Lyon.
Airline schedules change regularly
This information is intended as a guide, but for up to the minute timetables, please consult bmi at www.flybmi.com.
From LHR, bmi has just started flying longhaul to Doha and Riyadh on Tuesday, Thursday & Sunday, also leaving at 0935 (arrives 1845) returning 0040 (arrives 0550). These two lonely long-haul flights require their own vast dedicated checkin at LHR (zone P) which is deserted at other times, a strange use of resourses.
Around the British Isles from LHR there are 11 daily flights to Belfast, 9 to Edinburgh, 8 to Glasgow, 8 to Manchester, 8 to Dublin, 4 to Leeds (2 on a Saturday), and 3 to Teeside.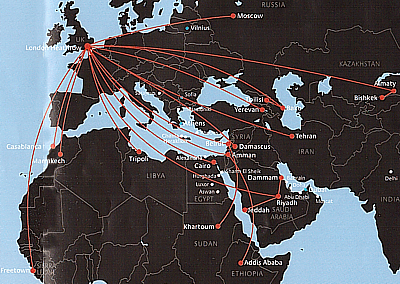 Worldwide bmi Routemap
The other stuff, paticularly to Germany, may get a bmi flight number but its a code share and is flown by one of bmi's owners, Lufthansa. It includes a fair number of routes, like Munich and Frankfurt. Lufthansa fly from LHR Terminal 2, so access to the bmi lounge is only possible by walking over the airside link bridge.
Codesharing with SAS brings up the Scandinavian routes. However these are flown from LHR Terminal 3, so Diamond club fliers get no benefits.
Most of the old European network has been moved to bmibaby the bmi low cost variant, which like bmi has no food, or drinks. It offers routes from the Midlands to Ibiza, or Barcelona, or Nice or Malaga, plus other dodgy European resorts.