bmi History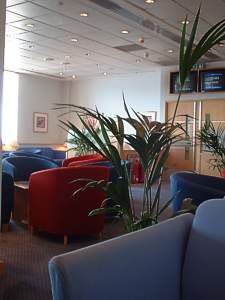 LHR T1 bmi Diamond Club lounge in the late 90s

The airline dates back to the formation of Derby Aviation Limited in 1949, offering ad-hoc charter and freight flights - and indeed for this reason the airline code is BD, with D standing for Derby. In 1953 scheduled flights began from Derby and Wolverhampton to Jersey, and international services commenced in 1956, and dmestic scheduled flights were launched in 1960. By 1964 it was large enough to buy the Manchester based airline Mercury and the company changed its name to British Midland Airways.
A London-based investment and banking group, Minster Assets, acquired the airline in 1968, and promoted the former Mercury ground handling manager Michael Bishop to become the company's General Manager, and started buying jet aircraft, the BAC 1-11, and a Boeing 707, the finally a fleet of Douglas DC-9s.
In 1978 Michael Bishop raised £2.5million to lead the management buy-out, and was appointed Chairman. British Midland Airways relinquishing its continental routes from Birmingham to Brussels and Frankfurt in return for BA handing over its routes from Liverpool to Heathrow, Belfast, Dublin, Jersey, the Isle of Man and Glasgow. However an application to fly between Heathrow, Glasgow and Edinburgh was denied then overturned on appeal.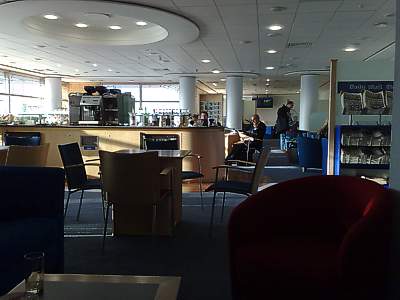 LHR T1 bmi Diamond Club lounge in early 2000

In 1985 the 707 fleet was withdrawn and airline simply became British Midland, and a new logo of a red BM crowned with a diamond shape, and the Diamond Club frequent flyer programme was launched. By 1997 British Midland switched to Airbus and Embraer for its fleet renewal programme.
In what was regarded as a bit of a stitch up at the time, Scandinavian Airlines, a major shareholder in bmi, sold some of its stake to Lufthansa on the condition that British Midland joined the Star Alliance.
In 1989 a British Midland flight operating a boeing 737 crashed onto the embankment of the M1 motorway. It became known as the Kegworth air disaster - 47 people died out of 118 passengers.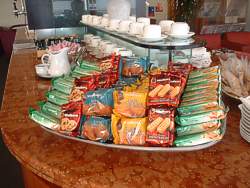 The Old LHR Diamond Club pre 2008

bmi set up a low-cost subsidiary Bmibaby in the early 2000s. This operates Boeing 737s which were discarded as obsolete from the mainline fleet, operating routes to secondary airports around Europe. At the time bmi also got a strange boost to it's publicity, when the bmi Diamond Glub gold lounge at London Heathrow was featured for several crucial scenes in the film "Wimbledon", when one of the main characters was flying back to the US - even though bmi has never flown from Heathrow to the US.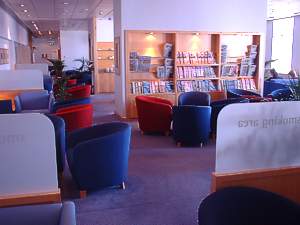 The Old LHR Diamond Club bmi lounge pre 2008

By 2002 with the launch of transatlantic services in 2001 to Washington, Chicago, and Las Vegas using an A330 British Midland was rebranded as bmi. These were later dropped, and bmi tried a service to Bombay (Mumbai) from May 2005 until October 2006, and then switched the plane to Riyadh, Cairo and Amman. In 2006 it also had a go at Moscow using a dedicated A320. The special business class seats were so popular, it converted a total of three aircraft.
In a huge shakeup for bmi, it bought British Mediterranean Airways (BMED) in 2007. This was a British Airways franchise partner, operating a large number of obscure routes to Africa, Middle East and Central Asia. As part of the deal it did however have to sell back to BA a number of BMED's Heathrow slots, however this purchase gave the airline a lifeline: it was able to start flying on routes where there was no competition from BA or low cost airlines, and as these destinations were mainly to 'slightly dodgy oil ports' as they were described at the time, bmi could start charging a serious premium. At last, bmi found a way to start making some money.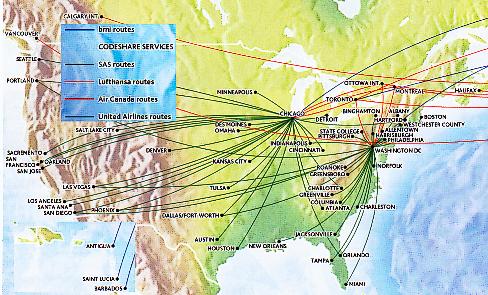 bmi Routemap to the US in 2005 For several years it flew to several US destinations
However even more of a shakeup was on the way. Way back in 1999 Sir Michael Bishop has arranged a "put" option with Lufthansa, that obliged the German airline to buy his stake in bmi for hundreds of millions of pounds, whenever he felt like it. He exercised a put option in October 2008, giving Lufthansa control of the airline. It promptly announced a restructuring, reducing the fleet by nine aircraft, and axing seven routes including Amsterdam, Brussels, Tel Aviv, Kiev, Aleppo, Palma and Venice, and reducing the number of flights between Dublin and London Heathrow.