![endif]-->
bmi Inflight Entertainment
Inflight entertainment varies with bmi. There is none shorthaul.
Longhaul on the A330s, there is the usual seatback video, although there is no AVOD.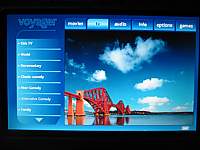 Bluebox screen

Mid-haul
to Cairo and Moscow there are handheld video players
in business class
, called the Bluebox. There are really annoying, as there is no way to neatly prop them up on your table while you are eating, and you have to put them on your knees.
They come with a detachable battery pack which will keep it upright on your table - and you need this pack, as the batteries in the main units don't last for the whole flight.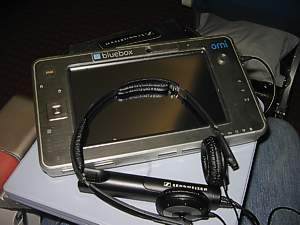 Bluebox in business class

Quite often the crew forget to charge the units, so you'll end up with it dieing just ebfore the end of a film. To avoid this, its often wise to start watching a film as soon as you get the unit, rather than running through the options. You do however get decent Sennheiser noise reducing headphones.