NEWS: bmi has yet again changed its inflight service in economy class. On trans-europe flights (the few that are left) bmi will now serve hot food in economy, with a hot breakfast wrap before 10am, and a hot lunch wrap 12pm-1.30pm and 5pm onwards. At other times bmi will serve cake (lemon drizzle cake, carrot cake and victoria sponge).
bmi has a distinctly small fleet, and tends to stick with two main types. In order to develop and enhance its entire fleet, bmi's long term strategy is to consolidate its fleet on Airbus and Embraer aircraft, to reduce maintainance costs.
The international stuff is done with Airbus 18 A320s, and the longhaul flights with two Airbus A330. ... read more about bmi's inflight entertainment. There are also 9 Embraers, for the tiddly flights.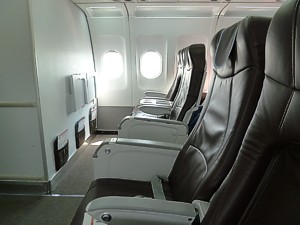 Business Class The new style bmi A320 seat
bmi's economy seats have a seat pitch at 32 inches - an inch bigger than British Airways, but lack the adjustable headrest wings.
Long Haul Cabin Classes
bmi had only two longhaul A330s, and both are completely different.
On one longhaul plane, there are two classes, Business, and Economy. On the other, the economy cabin will be divided into two sections - "Economy" and "Economy Flexible" "Economy Flexible" offers double miles, lounge access and free meals and drinks.
Short Haul (Trans-Europe) Cabin Classes
bmi have axed all business class service on the domestic mainline routes. Here, it is economy only.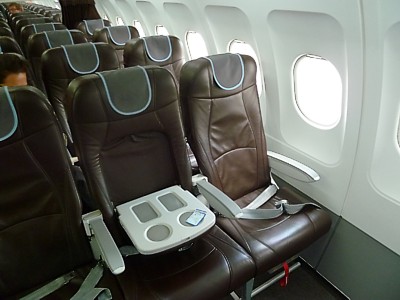 Business Class The new style bmi A320 seat with flipdown table in the middle
There are now
five
types of business class remaining: on some A320s you just get the normal airbus seat with moveable arms, however other newer aircraft have the brown leather seats, and here there is a small table that sits between the two tables. Pitch is 34". On three A320s (the "specials") there are much larger leather seats with a 40" seat pitch, mainly used to Cairo and Moscow.
Finally, on the two remaining A330, one has business class with a full 80" flat bed with 180 degrees of recline, the other does not.
Noone could ever accuse bmi of consistency.
bmi trans-Europe Ticket Classes
Only at the highly eccentric bmi could it be vital - and difficult - to buy the ticket you want. However bmi's mainline operation has been diluted by becoming a defacto low-cost carrier, and as such tries to sell
bmiBaby
(also known as, confusingly, "tiny") fares. These can be distinguished on it's website by the words BABY in the ticket code. These are no frill, non refundable, not changeable tickets. As are
Standard
fares, although these allow collection of bmi Diamond Club points (albeit at a miserly rate).
Premium
is what used to be Economy, and allows perks such as check-in at checkin desks, not at the machines, and collection of Diamond Club miles (at full rate). Note that this ticket, even at it most expensive, still does not offer any free food or drink,
except on so called regional flights
to small remote airports.

bmi Airbus A319/A320/A321
bmi has a varied collection of the single isle A320 variants, many of which came from BMED.
All seats have a 3+3 in business and economy, however there is a true variable sized business class cabin, which is changed in size by moving a curtain. The seats on the left have variable armrests in the middle. When the row is used for business class, the armrests are moved together for the middle seat, meaning that seats A and C become two large business class seats. Seats on the right do not have this - for this reason if you are travelling in business, always ask to be seated on the left.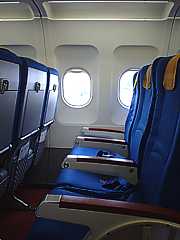 bmi A321 business class seats

There are seven A320 which seat 156, with the variable business class seats extending back to row 8, although in normal configuration they are only used with the first 3 rows as business class. Row 10 and row 11 are overwing emergency exits - if you ask to sit here, you will get 2 inches more legroom.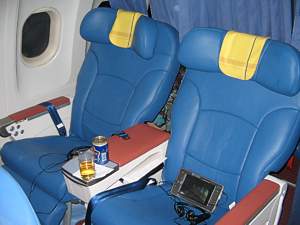 Business class special seats for the mid-haul A320s

There are also three A320s known as the "specials". These have been totally revamped for the mid-haul service. There are five rows of full business class seats up the front in a 2+2 layout. They don't lie flat, but they come close, they don't have TV screens (but portable video players are handed out) but if you ignore the terrible colour scheme, it's way better than the unconverted A320 seats. These planes are used to Cairo, Moscow, and on occasional rotations to Scotland - where the unusual seating can wreck your plans.
There are also seven A321 (with three on order) which seat 195 and are comfortable and modern, however bmi is in the process of disposing of this fleet, and exchanging them for the far smaller A319s (probably because the downward spiral in service means a downward spiral in customers). Service can be a bit slow, with only a single isle for service. There is a 40" seat pitch. There are no overwing emergency exits, but there is a proper door at row 22, so you can as much legroom as you want if you sit in the row beind it.
There are eleven A319. This variant is smaller, and has only one overwing ejectable windows - sit here, in row 8, and you'll get 2 inches extra legroom.

If you fly on bmi's airbus' you'll get to enjoy bmi's safety video on the overhead video screens before takeoff. It does the job professionally, but again adds little in the way of fun.
bmi Airbus A330
bmi has a grand total of two Airbus A330s (it used to have four, although one was on permanent lease to Emirates, and never made it into the mainline fleet, and one that was in the fleet has been passed on). It did have five on order, but this order has been cancelled.
A long haul twin isle twin engined Airbus, bmi of course has one of it's aircraft in the old configuation, and one with a new cabin interior. Only at bmi does it pay to work out your aircraft registation, so you can see what type of seat you'll get.
G-WWBD is dedicated for flights from Heathrow to Saudi Arabia, and has 2 classes. bmi recently updated this aircraft, removing the premium economy section and adding full-flat business seats. There are now only two classes of service: The Business has sleeper seats offering 80 inches of legroom and 180 degrees of recline, with 12-inch seat mounted video screens. There are two separate business class cabins: the foremost, with row 1 one to 3 and the quieter rear cabin, in rows 4 to 7. Economy comes in at 32 inches pitch, however all seats have a TV screen. Row 20 is a bulkhead, while row 26 is an emergency exit.
G-WWBM has the old three classes of service, just to confuse you. The Business has sleeper seats offering 60 inches of legroom and 160 degrees of recline, with 9-inch seat mounted video screens. There is also Premium economy (PE) at 38 inches pitch, individual video screen, and economy food. Standard Economy comes in at 32 inches pitch, and a TV screen. For a year in 2010 it was leased to Turkish Airlines, who used it heavily, and much of the wear you can see on board the aircraft comes from this period.
You may also see references to G-WWBB. This was also a three class bmi A330, and it was a firm favourite on the Las Vegas run, however it is now operated by SriLankan Airlines.
bmi Embraer EMB-145
Beautiful looking planes, with thirteen in the fleet, the 49 seater baby-sized rear engineed Embraers shuttle to the channel islands.
Historical bmi fleet
bmi boeing 757

bmi has two Boeing 757-200, which pop up occasionally. They were leased from Icelandair, but are now owned by Aestraeus and leased back. They are ripe for retirement.
bmi has gone for a rather wacky seatback table design, which will slide left and right to marry up with seats on the left or right - a nice touch if the seat next to you is empty.
Economy has a 3+3 layout, but business is a true 2+2. All saftey announcements on bmi's 757 are done manually.
bmi Fokker 100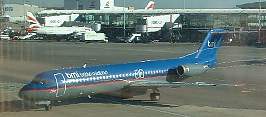 Fokker 100 at London Heathrow

There are four bmi Fokker 100s, a twin rear engined jet seating 106. Rather old and tired, they tend to become the winter standby for the routes to the med such as Venice. Thanks to the rear engines, the forward business class cabin is very quiet, and the dedicated seats here have a pitch of 35" - although they are very narrow. Due to space limitations, there is not a full supply of things like real glasses in the business class cabin. The Fokkers will soon be retired.