NEWS: bmi have axed all inflight perks, free food and drink, and business class on most routes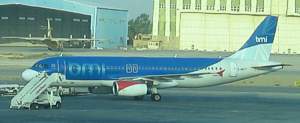 Cairo bmi A320 in mid-haul configuration

At bmi, inconsistency comes to the fore. You really have no idea what you're going to get when you get on board: the inflight experience at bmi can at best be described as patchy.
bmi has yet again changed its inflight service in economy class. On trans-europe flights (the few that are left) bmi will now serve hot food in economy, with a hot breakfast wrap before 10am, and a hot lunch wrap 12pm-1.30pm and 5pm onwards. At other times bmi will serve cake (lemon drizzle cake, carrot cake and victoria sponge). There is also a pile of Daily Express on the airbridge to the aircraft at most airports. On the early morning shuttles to Scotland a selection of newspapers is brought round, and you may also get lucky enough to get a selection of other papers brought round if it's late in the day, and business passengers don't want them.
In business on domestic and international flights from the UK, newspapers are brought round in a small plastic tray, normally with lots of copies of the Express, two Guardians, two Times, an FT, and a Mirror. On flights to the UK, a pile of Daily Express is left by the door for business (although often economy can help themselves too). Spot the Richard Desmond connection here. He owns the Express... and there are frequently interviews with him in bmi's Inflight Magazine, written in glowing terms.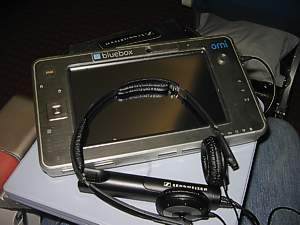 Bluebox in business class

Hot towels are brought around the business cabin on late afternoon and evening flights before takeoff. You will get two offers of drinks, once just after takeoff, and once with your food. You may also get offered a third drink if there is time after you have finished your food. Real glasses are normally used.
The bmi checkin experience
You cannot checkin manually with a human being any longer at LHR
.
At it's main locations, bmi is aiming to automate it's checkin, so you don't have to interact with anyone human. You cannot checkin the old fashioned manual way unless you have a business class or premium economy ticket, or you are travelling intercontinental. All the automated checkin machines have now been racked up in a funnel, and staff direct you to use these machines, and then take your luggage to a drop-off point.
bmi are also now refusing to interline luggage - if you have two separate tickets that interconnect at a location, you must pick up your luggage, and then check it in again for the next destination.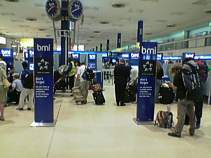 LHR Terminal 1 checkin machines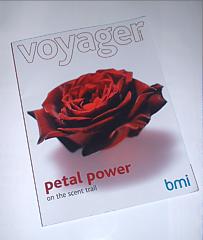 Voyager - bmi Inflight Magazine

bmi Inflight Magazine - Voyager
bmi's inflight magazine is called Voyager, comes out every 2 months, and is a respectible if not brilliant inflight magazine, with a circulation of 35,000. Its also quite hard to get in economy (because passengers swipe it).
It is not often stocked in the business class lounges, and when copies disappear from the planes they are not replaced, so you'll be lucky to find a copy.
It normally contains a couple of syndicated interviews, a review of cities around the bmi flightpath, plus a look at the fleet, and a map showing the few places the airline still flies too. Still, when you can get hold of it, it's ok.
Amenity bag in business class

bmi Longhaul amenity kit
bmi have a full Amenity Kit for their Long and Mid-haul routes.
It comes in a small bmi-logoed bag. There is a toothbrush, with a minute tube of Colgate toothpaste, some bmi "Silence is Golden" earplugs, and tubes of Temple Spa shower gel, moisturiser, and lip balm. There is also a Temple Spa facewipe. With this comes bmi logoed socks and an eyeshade.