NEWS: the bmi Frequent Flyer scheme, Diamond Club, is likely to be closed within the next few years (or possibly, months), and members moved to Lufthansa Miles & More scheme. The two schemes are very different, with wildly varying earning and spending rates, however the major difference will be the axing of the treasured Miles & Cash option. As yet, no deadline, schedule, or transfer plans have been announced, but you should be very wary of building up a big Diamond Club mileage.

The Diamond Club is bmi's frequent flier programme, and is part of the Star Alliance.
If ever there was a reason for bmi to exist, it is the frequent flyer scheme. Often it is said that bmi is an airline that runs a frequent flyer scheme, and has a few planes on the side. With the axeing of most of bmi's fleet, that has now become even more accurate, although to be fair even the Diamond Club is not only under threat, it is under an ever advancing deadline for closure.
This is because bmi is now owned by Lufthansa, and with all the other airlines Lufthansa has bought (Austrian, Swiss), it has axed the local scheme and transfered members to Lufthansa's Miles & More scheme. Indeed, members in some EU countries have already been transfered. The two schemes are very different, with wildly varying earning and spending rates, however the major difference will be the axing of the treasured Miles & Cash option. Also, Lufthansa Senator needs 100,000 miles, whereas the equivalent in bmi of Gold needs only 38,000. As yet, no deadline, schedule, or transfer plans have been announced, but you should be very wary of building up a big Diamond Club mileage. Lufthansa has however told it's shareholders that the bmi Diamond Club will be closed, and a roadmap for integration has been agreed.
The Diamond Club used to be brilliant, now it's just moderately acceptable. After several changes, the scheme now doesn't hand out as many benefits as it did a few years ago, and with some flights it can take up to 6 times as many flights to earn miles for the same free flight.
However bmi's Diamond Club allows you to get up the tier levels far faster than most other airlines in the Star Alliance. In particular it is possible to get to a tier level status which gives access to the lounges for far fewer miles than on other airlines.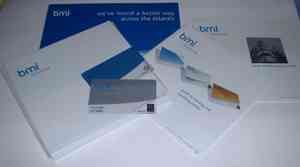 Tier level means the level at which you've flown enough to get the perks of flying bmi. Or rather (Since this is what you want) flying the Star Alliance. And those perks are access to the lounges, extra luggage, and upgrades. You also get the normal miles, which go towards free flights. Tier level starts at blue, blue plus, then silver, and finally gold.
Tier level is determined by the number of membership status miles flown over the preceeding 12 months, while free flights are determined by the number of destination miles. Normally an equal number will be awarded on each flight, but some promotions or airlines only qualify for destination miles.
Silver and gold card members get an extra 20kg additional free baggage allowance - so that means in business you can have up to 50kgs of baggage free.
There is one other perk of the scheme: if you are at anything other than a basic tier level, you get free food on bmi operated flights. This may not be as much of a perk as you may think when you see the food - and you feel a bit of a cheapskate handing over your card rather than cash when the trolley comes around.
Earning bmi Diamond Club miles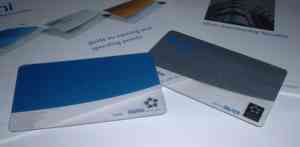 Recent changes to the Diamond Club means that it's now become harder to earn miles, particularly on discounted tickets. Perhaps for this reason the Diamond Club only boasts 175,000 members, and this number went through a decline a few years back as many frequent passengers decamped to
British Airways
when bmi became a one class only airline, and airlines like
Singapore
dropped their codeshares. However the bmi Diamond Club is now on the rise again, thanks to it's low threshold for Gold, and the beauty of its Miles & Cash business class redemptions.
Miles are given according to distance flown, and miles never expire. If you are a silver or gold member, you also get an extra 25% bonus miles. This is added up at the end of the month, and appears on your statement as a "Monthly-Mileage bonus". At this point bmi will also audit your account, and corrections, such as for the wrong booking class, will be made.
To work out how many miles you will earn, look at the ticket class - this is not the same as the class of travel, but the code letter (such as W) on your ticket, which establishes for the airline what you've paid for the ticket.
For bmi flights Business class (c,d,j tickets) earns twice as many miles, as does full fare economy, Transatlantic and to India Premium Economy, plus full economy around Europe (y,a,p). Mid economy (s,u,l,y,o) earns 1.5 times, while standard economy (b,k fares) earns base mileage. Discounted Economy (m,h,q,v,g,o,w,t,n,e) gets half as many, while lower fares (and g,t,n,e around the world) earn 0.25. A recent change is that tiny or baby fares (t,n,e) now at least earn some miles. There is a stardard UK and Europe base mileage rate of 600 miles, and all bmi non UK domestic flights earn at least 800 miles.
bmi baby flights earn miles according to the cost of the flight. To £40, its 150 miles, to £70 its 300 miles, to £100 its 600 miles, and over that level 900 miles.
For Lufthansa flights, and LH's partner Austrian, there is one mile per mile full economy (y,b) while discouted tickets (m,h,q,v,w,s,g,k) earn 50% miles. Business class (c,d,z) earns 2x miles. Lufthansa's lowest fares (o,i,r,x,n,e,t,l) earn nothing, so it can be worth booking on Expedia (which normally books in Q class) to earn some miles.
For SAS flights, there is one mile per mile, on normal economy (y,s,b,m,h,q,v,e) however discounted economy (w,u,k,l,t,g) earn only 0.25 miles, and Snowflake fares (n,r,o,i,x) earn nothing. Business (c,a,d,j,z) is 2x miles. Some domestic scandinavian routes earn no miles.
Singapore Airlines offer good mileage earning, with full miles on even cheap economy fares (s,y,b,e,m,h,w,l,k,u) - even it's cheapest promo fares to Australia at £680 a go - but nothing for Travel Agent promo fares (q,v,g,n,t,o,i,x) which includes Expedia "special" Fares. Business class (j,c,d) fares get just x1.5 miles, and First class (f,p,a,r) are at 2x miles.
Air NewZealand offer full miles on economy tickets (u,e,o,y,b,m,h,q,v,w,t) but nothing at all on Trans-Tasman specials (l,g,s,k,r,n,i,x). This "falling of a cliff" mile earning ability is quite odd, as there can sometimes only be a difference of a few NZ$ in the fares - book carefully. If you book a Trans-Tasman special and a connecting domestic NZ flight, you will earn 600 miles on the Domestic leg, but oddly nothing for the longer flight if it is in this class. Business class (c,d,z,j) earns x2 miles.
South African Airways give full miles on most economy tickets (y,s,b,m,k,h,q), except for discount economy (t,v,w,g) which earns 0.5x.
bmi only gives double miles on some business class tickets (j), while other (c) are lumped in with economy where pretty much every fare earns 1x miles (y,b,h,i,l,m,q,u,v,o,s,a) which is actually marginally more generous than bmi itself.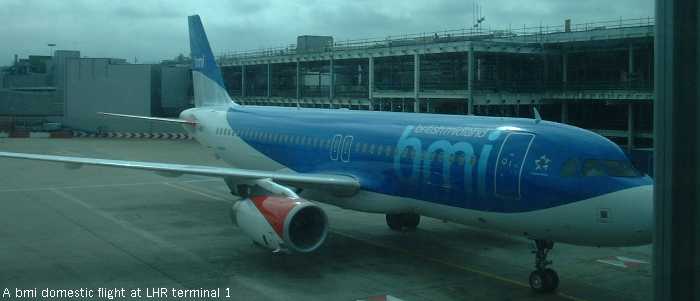 bmi A320 at London Heathrow terminal 1

Spanair & LOT also only give 25% of miles on discounted economy tickets (m,h,s,q,v,l,t,w,k,g), standard miles on economy (u,b) and 1.5 miles on it's strange Y class "book in economy but upgrade to business" Y-up tickets. If you're mad enough to book a full business class ticket on Spanair (c,d,j,z) it'll earn 2x miles.
TAP Air Portugal gives 1.5 miles on business class seats (C,D,Z), earned miles for economy (Y,B,M,H,Q,V) except for cheap economy tickets (O, U, W, S, K, L) where you earn x0.5 miles.
Most other Star Alliance airlines also earn one mile per mile flown (with full miles in cheap economy for US Airways and United), with business class earning twice as many (except for Singapore).
It's also possible to earn miles on Virgin, with 2x miles for Upper Class (j,d,z), 1.5x miles for PE (w,k,s,h) and 1x miles for economy (b,l,m,q,v,x,y) except for deep discount fares (n) which earn 0.5.
You can also earn miles on Qatar and Transaero airlines.
Mileage earning on BD is rather random - beware that on United expensive Z class fares only accrue x1.0 miles, It is also the case for Business class C fares on bmi - a J ticket (cheaper than C on BD codeshares) would be worth x2.0.
Another neat trick is to arrange a stopoff at another airport - even for a few hours - when flying several legs. You then get miles for each leg. But only if you're on bmi (who treat each leg as a new flight - some other airlines treat them as point to point).
Miles are normally credited to your account within 3 working days, however sometimes they appear as the wrong class - particularly if you get upgraded, or if you try the trick of booking a codeshare to get 100% not 25% miles. Missing miles from partner airlines are credited particularly fast.
Very unusually, Diamond Club miles accrue based on the operating carrier (the metal you fly on), not the ticketed carrier (who sells you the ticket), even in the case of bmi itself. The reason that it's particularly strange in the case of bmi, is that the airline's own route network is very limited. Important routes (Germany, Scandinavia, South Africa, Canada) are operated by partner airlines (not all of whom are in the Star Alliance). Given this, one would expect the company to reward our loyalty by sticking to their extensive (and often expensive) codeshare network. It doesn't.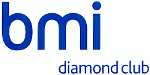 Beware of flying Virgin and putting your point on bmi - they are only a Star Alliance associate member, so you only get destination miles. You will not (despite all the PR gumf from Virgin) get tier miles to increase your status.
bmi Diamond Club - Spending Miles
You can either spend miles for a free flight, or miles and cash, using half the number of points. A redemption in business needs 150% of the points (or points and cash) - so a real bargain can be had for going for points and cash in business - often for what would be an economy fare, you can travel business.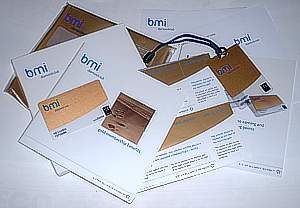 Diamond Club Gold Card welcome pack with upgrade vouchers

bmi have separated the world in Zones. The
UK, France & Germany
are in Zone 1, so from the UK you need 9,000 miles (or 4500 + £40), or 13,500 business (or 9000 + £60).
Sweden, Spain, Turkey & Greece are Zone 2, for 12,000 miles (or 6000 + £40), or 18,000 business (or 9000 + £60).
Canada & the USA are Zone 3, for 45,000 miles (or 25,000 + £140), or 67,500 business (or 33,750 plus £215).
Singapore, Malasia, Bali, & Thailand are Zone 7, for 80,000 miles (or 40,000 + £270) or 120,000 in business (or 60,000 plus £405) or First for 160,000 (or 80,000 plus £540).
Japan, China, Korea & Hong Kong are in Zone 8, for 70,000 (or 35,000 + £240) or 105,000 in business (or 57,500 + £360) or First for 140,000 (or 70,000 + £480)
Australia & New Zealand are Zone 9, for 100,000 miles (or 50,000 + £340) or 150,000 business (or 75,000 plus £510).
And a Round the World ticket costs 200,000 miles (or 100,000 + £680) or 300,000 business class (or 150,000 plus £1020) with a maximum of 6 destinations (and 10 flights) in a 12 month period.
bmi award tickets are valid for three months from the date of outward travel and, if unused, may be returned to diamond club within this three-month period for the points to be redeposited to the memberís account. There is no fee to redeposit the points or to change award travel before the outward bound journey, but partly used tickets will not be redeposited. Point pooling is not allowed. Open Jaws are permitted in the same zone.
Only one stopover is permitted for the entire journey, however you do get a "free" stopover if you don't stay more than 24 hours: as a result bmi members are experts at finding flights that leave the next day, a few hours before you landed, to get a "free" one day stopover. Equally, it is well worth while splitting your journey into two separate one way journeys, so you gain an extra stopover.
Be aware of the nasty rule that if you have to make a connection to a destination that is in zone 1 or 2, you have to pay an extra 7500 miles (or 4000 + £30). So if you want to go from LHR to a destination around Europe and link via the hubs at Copenhagen, or Frankfurt, a miles & cash trip in business will cost an extra 8000 miles and £60 (or in total, a business return from LHR to Spain is 21,000 miles plus £165).
bmi Diamond Club blue level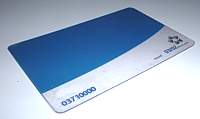 Diamond Club Blue Card

Anyone can become a blue level member.
Blue level allows you to collect points for destinations and status. Beware than when first applying for your card, you'll initially be set a level of 3,000 joining miles, never mind how many miles, or flights, were on your first boarding card. Accordingly when joining just send bmi a very short flight, and add the rest of the flights later.
You'll also be sent one luggage label.
bmi Diamond Club Blue Plus level
NEWS: This Tier level has been scrapped, just two years after being introduced.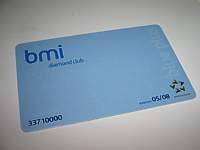 Diamond Club Blue Plus Card

Attained after
3,000
membership status miles in any 12-month period. It has no equivalent or status with Star Alliance.
Blue Plus is a new level that offers no perks on the ground, but does give you free food on bmi operated flights.
After attaining blue plus, membership status miles then reset to zero, ready for the long climb to gold level.
bmi Diamond Club silver level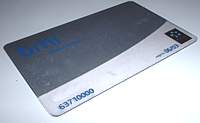 Diamond Club Silver Card

Attained after
16,000
membership status miles in any 12-month period.
This gets you (but not a guest) access to the standard bmi lounges if you are on an economy ticket, business class checkin (at all locations except LHR), plus priority on airport standby. You'll also be sent two luggage labels.
The downside is that silver tier on bmi only gives you access to some lounges - technically its all the bmi ones, but in reality its only bmi flights from LHR T1 and T2. So if you fly bmi LHR to Stockholm (ARN) you'll go from T3 (because its a codeshare) and so you won't get access to any lounge. However you will get into the lounge if you take a bmi flight which is in reality a Lufthansa flight, and which flies from LHR T2.
After attaining silver, membership status miles then reset to zero, ready for the long climb to gold level.
bmi Diamond Club gold level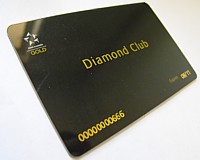 bmi Diamond Club new Gold Card, in black

This is attained after
38,000
membership status miles during your silver membership year.
At LHR this card allows you to still checkin at the "real person" business class checkin desk, instead of the machines, or at other locations at the business class checkin, plus you plus anyone you are with can get access to all of bmi's lounges, even on an economy ticket. You also get two gold luggage labels.
This card give you full Gold Star Alliance benefits, so that means on Star Alliance flights you get business checkin and access to a lounge (the designated Star Alliance Gold lounge).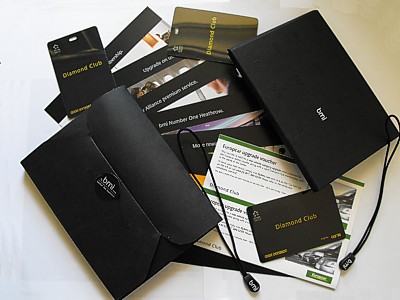 Diamond Club new Gold Card welcome pack, in black

On getting a Gold card there are also 4 complimentary upgrade vouchers, which can be used to upgrade to business with purchased tickets for a bmi operated scheduled flight which still has business class (that is the real problem). It used to be possible to buy more four more upgrade vouchers for 21000 destinations miles, but this option has been cut back. The vouchers should be handed over at checkin, however I have found at LHR, particularly at weekends, the checkin staff ask you to take them to the lounge to be delt with. At remote airports, particularly at locations bmi has only just started flying to, staff may get confused by them, and either (as at Nice) tell you you are already upgraded, or do not know what to do with them.
As a gold card member, you can also book your destinations free flights on bmi operated flights just three working days before departure, instead of the usual seven, plus where possible you and a companion will be upgraded to business (or new economy in transatlantic services) at no additional charge.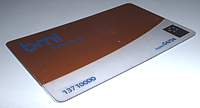 Old style Diamond Club Gold Card

Fun can be had at checkin, if you use the checkin machines, as a Gold. You have priority over seats - so by selecting the seats of lower tier members, you can move then around the cabin, and select their seat. You can then select another seat. As a result you can, if you choose, move away everyone sitting close to you, and then watch the confused looks of other passengers when they board, although this is not recommended.
Compairing how easy it is to get to Gold level, United or Singapore Gold needs 50,000, and Lufthansa Senator needs 100,000. However to get to Gold in one year on bmi needs in total 57,000 miles (3000 for Blue Plus, 19,000 for Silver, then the extra 38,000 for Gold).