Singapore Airlines Reviews
Overview
Singapore Airlines is very much a
full service quality airline
of the old school, with a vast route network which concentrates on getting people from one side of the globe to the other in quality. As such, it has risen above many other airlines by refusing to downgrade its product.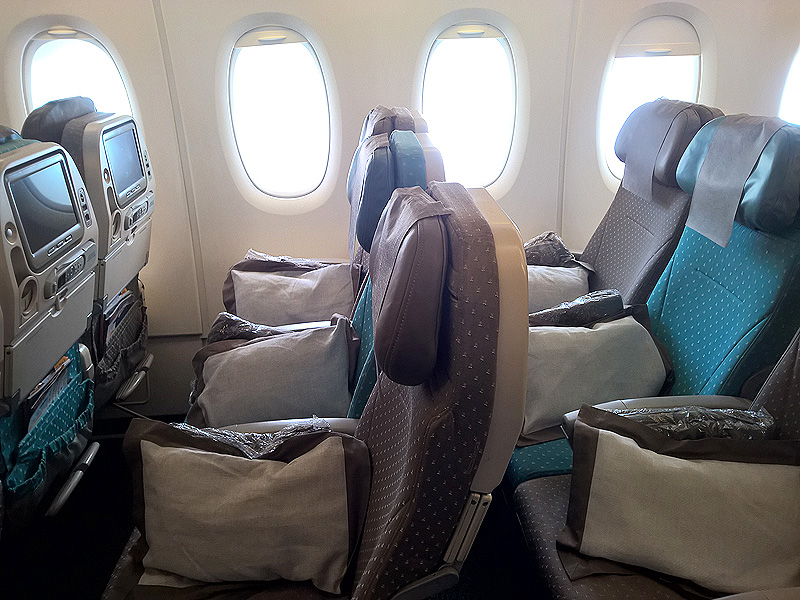 Singapore Airlines Economy Class Seat
Airreview's Singapore Airlines reviews over the past 20 years have indicated it always likes to excel in pretty much every field, from good food, to great in-flight entertainment, decent new planes, high quality lounges, and good loyal staff who really try a little bit extra.
So why is that opinion just ever so slightly declining? In part, it's been hard for Singapore Airlines to compete with the brash new upstarts of the Gulf: Etihad, Qatar, Emirates and the like, offering cheaper fares, and in theory more frills in every class.
However, the basics are there. Singapore Airlines Economy reviews are generally pretty positive. There are still hot towels in economy, menus, freely flowing drinks, two hot meals, and snacks from the galley. It's like flying used to be. Singapore Economy Class seats are however pretty standard in the industry now, with just a 31 inch pitch. Read more about Singapore Airlines Cabin and seats.
Singapore Airlines food in economy is definitely a cut above the rest, with two hot meals on most flights (over 8 hours), and large trays with several dishes, and three choices on almost all flights. The dishes rotate monthly, and are generally above what you would expect on a flight. Read more about Singapore Airlines inflight meals.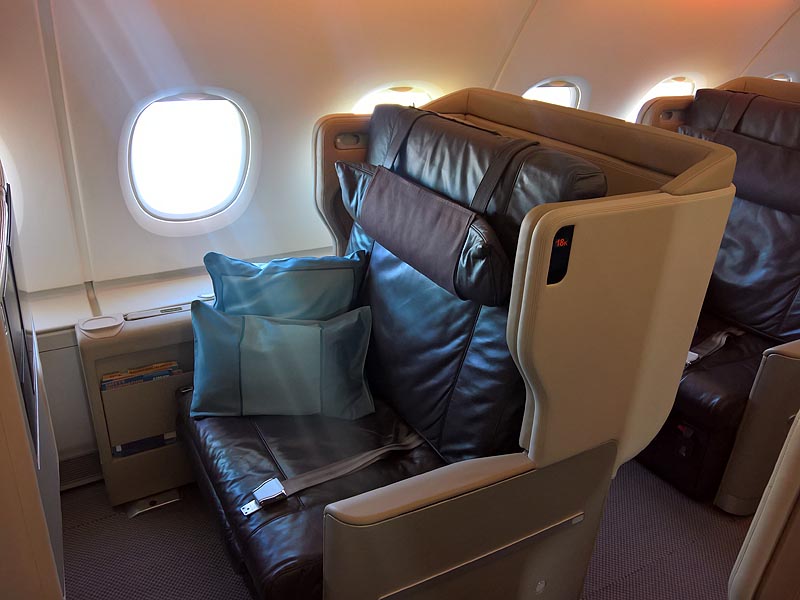 Singapore Airlines Business Class Seat
We can't help but feel that the airline is resolutely Western in its approach, and European too. If you look at Singapore Airlines inflight entertainment, our reviews point to the way it often has UK arthouse films, among the Hollywood blockbusters. Singapore isn't afraid to splash out on new releases in the cinema for its IFE, unlike other airlines on the Asian peninsula which headline with much cheaper dross. There's good AVOD (start and stop when you like), screens are large, and there are plenty of recharging ports for ipads and laptops in all four classes. Read more about Singapore Airlines inflight entertainment.
Yes, four classes - Singapore Airlines Premium Economy reviews have been very positive since its launch, with the (slightly) uprated food and extra drink service notable along with the extra legroom, which is just at the industry standard, of 38 inches.
Singapore Airlines Business Class is good, particularly with the new seat which does away with the vast wide sofa and conforms somewhat more to industry norms. Advance meal booking works, and Singapore Business Class meals are pretty good, although they are of the traditional starter-main-dessert style, rather than anything with more frills. From the glass of champagne on boarding, to holding customers in economy back until Business has left the plane, Singapore Airlines Reviews show Singapore (or SQ, to those in the know) hold to the standards you expect in the premium cabins.
Singapore Airlines | Fleet | Seats | Lounges | Food
Singapore Airlines has a traditional hub network out of - guess where - Singapore, and as such it has been perfectly positioned to capitalise on the Kangaroo mainline route from the UK to Australia, however it is now increasingly looking towards Asia and the US as its main traffic generator.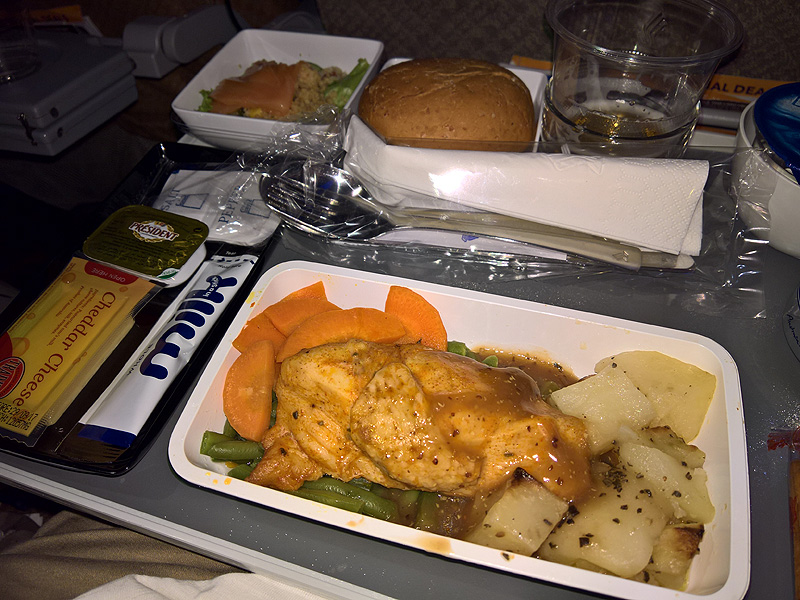 Singapore Airlines Economy Class Meal
Traditionally only serving a few US ports via double hops around the world, the latest range of ultra long haul jets mean it can (just) service these routes with a direct flight, although the long flight from Singapore to San Francisco means almost 16 hours on a plane nonstop, and isn't for the faint-hearted. Alas, the record-holding longest flight to New York has got the chop.
After a few years of cutbacks, Singapore Airlines is once again expanding, for example with four daily flights to London, and also with a new route to the Australian capital, Canberra. Singapore Airlines new Airbus is also being revamped, and the rear economy cabin is being converted to business class.
There are far better Frequent Flyer schemes than Singapore Airlines KrisFlyer. Indeed, there are two different loyalty card systems for those in Premium Classes and in economy. However, Singapore Airlines is resolutely a member of the Star Alliance, giving you the choice of where to put your miles, and earn status.

That status gives access to some of the excellent Singapore Airlines lounges, including the new London and Sydney lounges. However, at the Singapore hub, where you would expect good lounge access, only Business & First Class get access to the real Singapore lounges, which are rather old and not exactly first rate. Star Alliance Gold members are shuffled off to a very inferior lounge, and this can be the kicker for passengers in economy but with status. Why fly on an airline which has a very poor lounge at its hub? Access to the Business and First lounges is heavily restricted; there is no paid access, which seeing the overcrowding in Singapore early in the morning is a good thing. Read more about Singapore Airlines Lounges.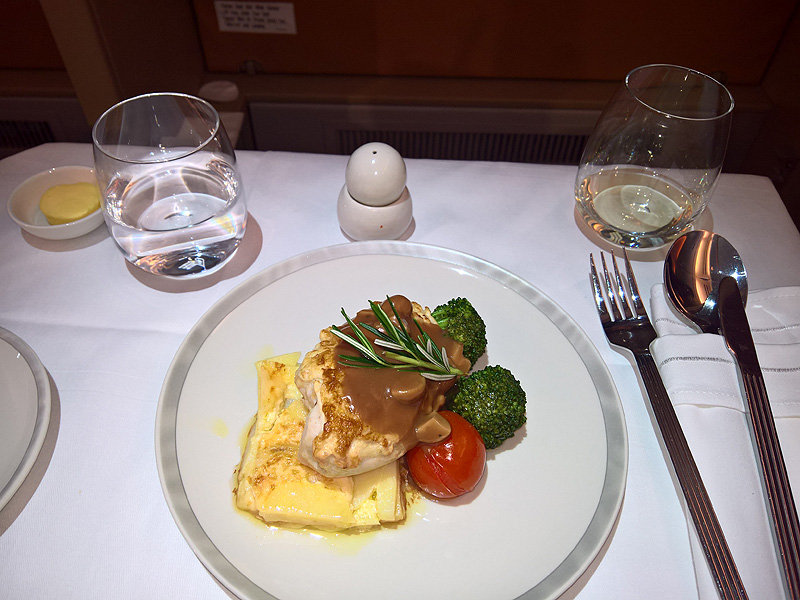 Singapore Airlines Business Class Meal
Eqully, Singapore Airlines Krisflyer redemption seats are hard to find. Because of thise, the way premium seats are shut out for redemption for other Star Alliance members hasn't enamoured other airlines with what is still regarded as the Asian Upstart. Unlike other airlines, Singapore Airlines almost never debases the value of its upper-class seats by granting free upgrades, even to its most frequent flyers, which can be a both a positive and a negative element in Singapore Airlines Reviews.
Singapore International Airlines (also known as SIA or the airline code SQ) can therefore be said to be flying resolutely and profitably against the wind by offering an above average in-flight experience in all four cabins. Whereas most competitors cut fares and service to drive up customer numbers, tickets on SQ are generally priced at a bit above its competitor's fares, just to mark that difference.
Few passengers, and airreview included, feel that the extra money paid by travelling on Singapore is wasted, and many frequent flyers try hard to get on the routes between the UK and Australia.
Indeed, the unique luxury selling point seems to be working, and Singapore is the second most profitable passenger airline in the world.
All in all, Singapore Airlines is one of the few airlines airreivew reviews, and despite a few low points, generally will pick over other carriers.
By Airreview on July 28th, 2019