NEWS: Aegean Airlines have changed their free baggage allowance, with economy allowed only 1 bag to 20kg free, and Business Class 2 bags to 32kg. Also Aegean Airlines is planning to buy the other main Greek carrier, Olympic Air. Both carriers will continue to operate under separate brands after the acquisition
Aegean airlines is a small seemingly obscure airline based around the Greek islands which has suddenly – and rather unexpectedly – become a significant force in European aviation. Operating with moderately full service, and part of the Star Alliance, Aegean is now picking up traffic a large amount of through traffic via its hub in Athens.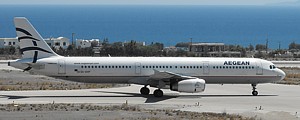 Aegean Airlines A321 at Mykanos in Greece.
The Aegean Airlines fleet is very young, with an average age of just over four years old. A pure Airbus customer, it has a large fleet of Airbus narrow bodies, flying to ver 60 destinations around Europe: most of these are on a pure north-south corridor, flying Northern Europeans south for the summer to the islands, although increasingly Aegean is also picking up some connecting traffic too. Flying nearly 7 million passengers a year, it is telling that over half are foreigners to Greece. Aegean Airline's seats and cabin.
Onboard Aegean Airlines is clean, new, efficient, but not particularly welcoming. Inflight meals are still complementary, but are of the cheese or ham roll variety. Aegean baggage allowance is one free bag in economy. Inflight entertainment is however basic, with only music channels, and that only if you are in business class where you are subjected to 6 different channels of Greek music noless. The sole exception is the route to London, where there are films shown on the overhead TVs, with free headsets. They are of a bland Hollywood movie genre. Aegean Airlines inflight TV details.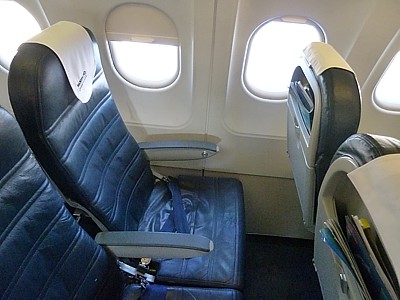 Aegean Airlines A320 economy class seats
Aegean is steadily moving up market away from its low cost roots, just like airlines like Virgin Australia. There is a business class on Aegean Airlines, and it is quite good, although the seats are just the usual convertible Airbus affairs at the front of the aircraft, with the middle seat left empty so seating becomes 2+2. On board there are even such niceties as sparkling wine and hot meals – with one of them being a Greek specialty - although the tray table takes away some of the charm. Certainly charmless are the Aegean Business Class lounges which are basic to say the least, with only simple snacks and a poor bar selection. The latest perk from Aegean is a novel twist on the old 'chauffeur drive car'– Aegean now offer one days free car hire with a business class flight. Alas if you take this, you can't take part in other oddity of Aegean Airlines, which is the concept of 'Discovering Greek wine' onboard, with a free wine tasting session. Aegean Business Class Lounges.
You may not even have heard of Greece's Aegean Airlines, and assume that Olympic Airlines is the only player to get from northern Europe to the sunny playgrounds of the Aegean airlines: infact Aegean is far larger than Olympic, and is taking over the almost defunct airline. Aegean Airline's routes are now relatively extensive, serving almost all the Greek islands – as you would expect – and destinations like London Heathrow (three times a day – the longest route) Paris, Amsterdam, Munich, Milan, Madrid and Barcelona.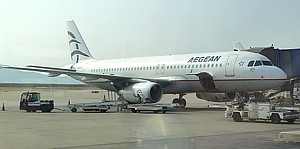 Aegean Airlines A319 on the stand at Athens
Indeed, it may seem odd that Aegean hasn't looked to fly even longer haul – and that is perhaps part of the reason why it want to take over Olympic
Why the young upstart Aegean has succeeded unlike it must older Olympic cousin is simple: it used low-cost airline methods, and new fuel effienet planes, staffed by young, bright staff who aren't hidebound to conventions, or union pay. It also expanded rapidly at a time when the Greek economy was slumping: this enabled it to pick up aircraft on the cheap.
It is impossible to avoid comparisons with other European airlines, such as bmi, which haven't fared so well. Aegean is doing very similar things but unlike bmi it is keeping its eyes firmly on Europe rather than trans-Atlantic and the subcontinent, as bmi did. Aegean routes & destinations.
The airline has however almost become a Frequent Flyer scheme which wags the dog of the airline, just as bmi did. Aegean's frequent flyer scheme Miles&Bonus has become a roaring success, so much so that it almost dwarf s the airline. However Aegean Airlines has the lowest threshold for achieving Star Alliance Gold of any airline, with its Miles&Bonus program requiring just 20,000 tier miles within a year to hit Star Gold: this gives access to Star Alliance lounges worldwide and extra luggage. You can get this perk with just one economy. Aegean Airlines Frequent Flyer scheme.
So is Aegean Airlines a good airline to fly on? Yes, pretty much. It is certainly better than Olympic ever was, and it offers almost a classic modern low-cost European experience. There are certainly far worse ways of getting to the islands in the sun.