The Aegean Frequent Flyer scheme is called Miles&Bonus, and it is part of the Star Alliance. Do not confuse it with the Turkish Airlines Miles&Smiles scheme, or the Lufthansa Miles&More scheme, although you can earn and burn on all three of these schemes with the Star Alliance Frequent Flyer network.
For a small airline like Aegean to have a Frequent Flyer scheme is good – for it to be linked to a major alliance is great – but for passengers to be beating a path to its door to sign up is decidedly unusual. However a surprisingly number of airline passengers around the world (many of whom have never been to Greece) have a top elite level Frequent Flyer card from Aegean. Aegean Airlines Star Alliance gold is very popular indeed.
There is one clear reason. Aegean Airlines have the lowest tier status level in the Star Alliance to obtain Gold status. It may seem an odd thing to be proud of, but it means that achieving Star Alliance Gold is far easier on Aegean than any other airline – and that Star Gold offers up the chance to visit the Star Alliance Business Class lounges on an economy ticket.
The Miles&Bonus programme needs just 20,000 tier miles within a year to hit Star Gold (or even just 16,000 if you go the long way around), which is much lower than the 50,000 with Singapore Airlines, or the 100,000 with Lufthansa. You'll get 1,000 miles just for enrolling, and most flights earn double miles in business class.
However beware: while the point of earning with Aegean Airlines is mainly the Aegean Airlines Star Alliance gold status, if you rack up points on Aegean, you'll also have to spend them with Aegean. And on Aegean that's not exactly cheap. For example the UK to Australia in C will cost 150,000 miles: it is far from the bargain than Aegean Gold is. Even a straight hop from the UK to JFK in First comes in at 120,000 miles (return). There are far better frequent flyer schemes if you actually want to do that rare thing – earn miles on flight to spend on flights.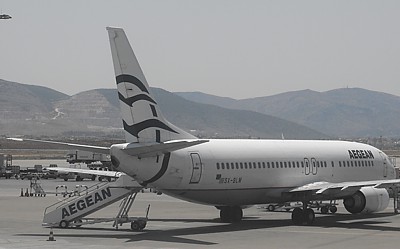 Aegean Airlines At Athens
How to Sign up to Aegean Miles&Bonus
Registration for Miles&Bonus is a right pain in the backside. It's odd, but Aegean have made it as complicated as possible - which may be why they offer a 1000 miles registation bonus to get people to sign up.
The first bit seems easy enough - you just enter your name and date of birth.
But the second page of the form often fails. The hidden error message gives you a clue as to why this has happened. If it says 'unxpected error' (SIC: the e is missing) the email address you have given is already registered to Aegean.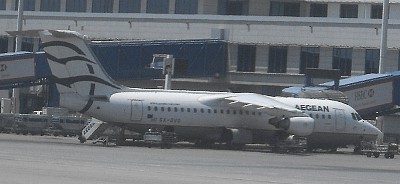 Aegean Airlines BAE146 at Athens
If it says 'Mandatory field: missing - reference'. This is because you haven't filled in the part of the form with your marital status, which is not mandatory, but you need to fill it in to register.
You'll then be taken to a bland page with just a Miles&Bonus logo, a number and your name. The title of the page says 'card print': this is actually your card until you get the real one. Take a note of the number - it is the only time you'll ever see it, and you'll find it very hard to ever recover it if you lose it.
How to spend Aegean Miles&Bonus miles
Redeeming miles is a huge pain (as well as expensive). The only real way to do it is to go to the 'Request award ticket' link hidden on the right hand side of the Aegean webpage, and then fill in the form - which is emailed to the redemption centre, and they will email you back. There is only a basic from and to on the form - if your journey is multi-point, be prepared to have to tell them exactly where you have found connections, and via where. It's up to you to do the searching!
Miles&Bonus Basic Level
This is the most basic level – at this level, you can collect and spend miles, but that's about it.
Miles&Bonus Blue (Silver) Level
Aegean oddly call their Silver Level, 'Blue' – which on other airlines is the most basic level. This can lead to major confusion with other airlines, who don't recognise the status. But then again, it only takes 4,000 miles within a period of twelve 12 months to get to this level.
It comes with all the Star Alliance Silver perks – which aren't much, but may be worth it if you are flying in the US on an economy class ticket.
Miles&Bonus Gold Level - Aegean Airlines Star Alliance Gold
To get Aegean Miles&Bonus Gold Status you just need 20,000 miles, or 16,000 miles within one year from the date which you qualified for Blue status. There are no restrictions on travelling with Aegean, or of taking a certain number of flights, so you could qualify with just an economy return from London to Sydney if you want to.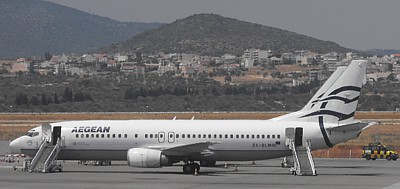 Aegean Airlines At Athens
You gain access to all the Aegean Club Lounges (ok, just Athens, Thessaloniki and Larnaca) but also all Star Alliance lounges, including the Senator lounges on Lufthansa.
You can check in at the business class check in, there is fast track boarding, and there is an extra Baggage Allowance on Star Alliance carriers, with an additional 20 kg (except to the US, where there in generally one extra piece).
There are free upgrades to the next available car category each time you book a car from Hertz. Other perks at this level are decidedly wacky. There is a personalised Miles&Bonus Gold handbag name tag, and direct access to the diplomatic and staff Passport Control ("TAV Passport") fast track at departures at Istanbul Ataturk Airport. In Turkey, this is seen as a very real benefit indeed.
However make no mistake - Aegean Airlines Star Alliance gold is all about the Star Alliance status, and that is why so many passengers now pack A3 Gold.