Aegean Airlines
Rating:

Reviewed by Airreview from

33 flights with 69 photos

.
NEWS: Aegean Airlines has placed an order for an additional five Airbus A320-200 aircraft, to add to the existing fleet of 25 A320.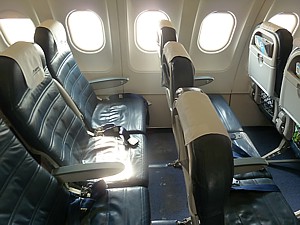 Economy Class Aegean Airliness A320
With a fleet of 30 aircraft, Aegean Airlines flies to more destinations than you might expect – 47 at the last count, and all of them using a fleet of brand new Airbus narrow bodies, virtually all of which are the very much regular, standard, vanilla sized A320s.
Aegean had the advantage after it set up and when it was dramatically expanding of being able to shop for new planes which are cheap to fly, and also the midst of expansion coupled with a slowdown in the industry, which meant it could shop of aircraft at a fraction of the cost they would otherwise be. It settled on the A320 variants.
Aegean Airlines Cabin Classes
Aegean Airlines fly all their aircraft in a standard two class configuration, with the classes separated by a moveable curtain.
Aegean Airlines International Business Class
Aegean Airlines Business Class is very much about the soft, and not the hard, product. Which means, don't expect a lot in terms of the seat.
The Aegean seat is a standard Airbus flexible-cabin business class seat, where the curtain moves according to demand, but there isn't a lot of flexibility in the actual seat itself, which just remains a basic economy seat, but with a pitch of 33 inches. There are however flexible arms which make the seat wider, and the middle seat is kept free for you in the row.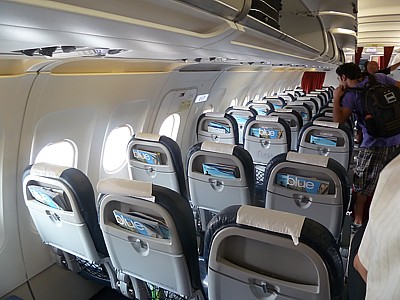 Aegean Airlines A319 Cabin with emergency exit
On Aegean Airlines International Business Class you get access to the Aegean Club Lounges at Athens, Thessaloniki and Larnaca airports.
Aegean Airlines Domestic Business Class
Domestic Business Class is the same as international business class on Aegean, with the exception that the meals are smaller, and there is a nice perk - fly a round trip Business Class flight and Aegean Airlines will provide you with a car from Hertz, free of charge, for one day.
Aegean Airlines International Economy Class
Aegean Airlines Economy Class comes with a better pitch that you'd expect – this is the distance between the seats. Pitch comes in at a mere 30 inches - an inch more than some airlines, although it really doesn't feel that much better. There is also a respectable width of 17 inches. You may incidentally see many websites incorrectly stating that the Aegean seat pitch is 33 inches. It is not unless you get to sit in first six rows, where there is slightly more spacing – but most of these rows are taken up by business class with a moveable curtain.
Aegean Airlines Fleet
Aegean Airlines have a fleet soley composed of Airbus single aisle narrowbodied aircraft.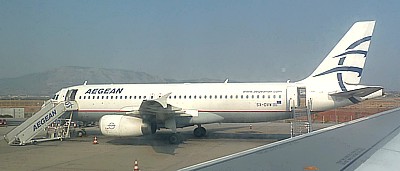 Aegean Airlines Airbus A320 at Athens Airport
Airlinename Airbus A319 / A320 / A321
For most of your flights around Europe and middle east, Aegean Airlines uses the single aisle Airbus, in three variants. It has 2 of the small Airbus A319, 24 of the midsized A320, and 4again of the big long A321.
Aegean Airlines A319 Economy Class
Aegean Airlines A320s seat 168, with a 3-3 layout. Compare this with Swiss who only seat 144 in the same plane – it is quite cramp with poor legroom. Pitch is 30" and width is 17". Row 11 and Row 12 are the over wing emergency exit - if you ask to sit here, you will get 2 inches more legroom. Row 12 is highly prized, as the seat here reclines fully.
Aegean Airlines A321 seat no less than 195, with the same a 3-3 layout. With only a single door in use, it can take quite some time to board this aircraft. These aircraft are mainly used to London Heathrow. The A319 by contrast seats only 138.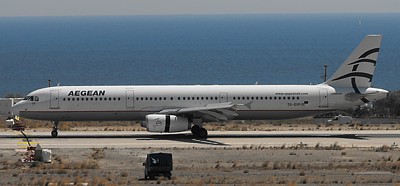 Aegean Airlines The larger Airbus A321 on the island at Mykanos
All models have large 14 inch fold down LCD TV screen under the overhead lockers for both classes, but it is only used on the flights to London. Service can be a bit slow, with only a single aisle for service.
As is usual, Aegean Airlines haven't fitted special seats for the business class on the Airbus 320 - instead, the seats use the Airbus variant with moveable arms, and then beyond the curtain can be flipped up again for the 3-3-3 of economy. Other than that, in Business Class the seats are identical, although you do get three inches more legroom in the first six rows.