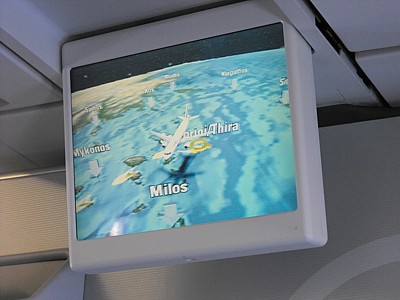 Aegean Airlines Inflight entertaiment
If you are flying on Aegean Airlines, the best advice is to bring a good book.
Forget inflight entertainment on Aegean, unless you are on the one route where the overhead TVs are used – from Athens to London Heathrow and back: on this sole route (the longest, at nearly 4 hours) there is the showing of a film on the overhead TVs.
The film selection isn't actually that bad: they tend to be current releases in the (Greek) cinema, of the middle-of-the-road Hollywood release type variant.
There are also six channels of music which you can select with the in arm IFE controller: only channel 5 (international Pop) is relly worth listening to unless you like Greek Fold (channel 9), Jazz (ch3) or Easy Listening (ch10).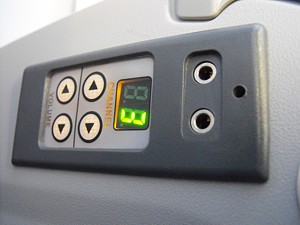 Aegean Airlines IFE controller
Aegean Headphones (called Headsets on Aegean) are free, but they aren't particularly good, being simple sit-in-the-ear versions. Beware that they are of the two-pin 3.5mm jack version.
On all other international and domestic routes, the IFE system just has the usual moving showing the aircraft's position.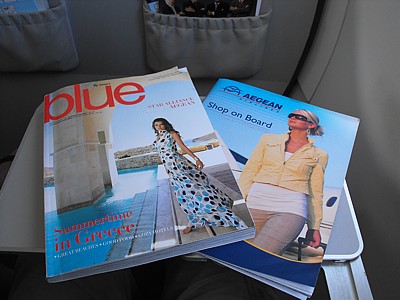 Aegean Airlines Inflight magazine
Aegean Airlines Inflight Magazine - Blue
The Aegean Airlines Inflight Magazine is called Blue, and it is a surprisingly good read. Really think and chunky, it comes over more as a glossy travel magazine, with the usual mix of articles on Aegean destinations, and good places to eat, and right at the end of the mag, fleet information on Aegean.
Cynics may suggest that the only reason why it is so glossy is because Aegean don't have much in the way of inflight entertainment.
There is another magazine in the seatback pockets – Aegean Shop on Board. This is where Aegean's low-cost roots come through, and where it tries hard to sell you anything and everything.