Fiji Airways upgrade at check in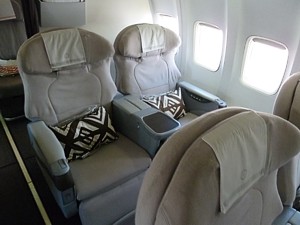 Fiji Airways Business Class Boeing737 Cabin
Are you puzzled by the way everyone in the check in line seems to ask the same question: "are there any upgrades available for sale today?"
The reason is simple - it is much cheaper to gamble on there being a spare business class seat available rather than book and buy it in the first place.
Indeed, so regular is this practice, that all Fiji Airways check in desks now have a (handwritten) list of upgrade prices taped on the inside of the desk.
A typical long-haul upgrade to Business Class from economy on Fiji Airways from Nadi costs FJD$420. Sydney to Los Angeles is however a lot more - to the tune of over $1000. Therefore when paying in Australian dollars it can be cheaper to actually book the seat you want to sit in.
As always, my advice on dressing properly in the pages on how to get an upgrade applies.
Fiji Airways livery
After re-nationalisation and the change of the Air Pacific name to Fiji Airways, the airline avoided paying vast fees to rebranding consultants, by going to an artist 'down the road'.
The airline's new livery has been designed by a native Fiji artists Makareta Matemosi, from the Fiji island of Namuka-i-Lau, which is also the name of one of its new Airbus A330.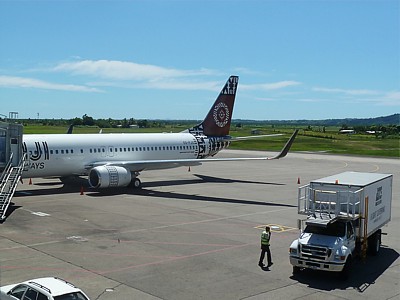 Fiji Airways Boeing 737 at Nadi
Makareta designed three specific "Masi motifs" that represent the airline and Fiji, which are prominently displayed on the new airline. The first Masi, referred to as a Teteva symbol, is at the centre of the tail, and "represents the deep caring nature and friendliness of the Fijian islands."
The second Masi motif, called the Rova, is ringed around the two engines, and "symbolises the warm greeting Fijians extend to visitors." The last Masi, the Makare, which surrounds the Teteva, "evokes the allure of clear water and white sandy beaches."
Codeshares
Should you book the Fiji Airways flights under their native FJ code, or as a Qantas or Cathay Pacific code?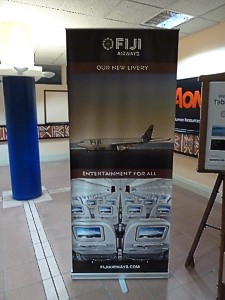 Fiji Airways Nadi lounge banner
This is largely a matter of whether you are a frequent flyer. If you are not, its easier to book flights under the FJ code which is the 'owned and operated by' code.
However if you are in economy, and have status with Qantas you can use the lounges only if you book the flights under the QF code. These flights also give status credits. Indeed, while these flights are not counted as oneworld flights, you'll also find they generate Tier Points and BA miles if you give a British Airways Executive Club Frequent Flyer number.
Fiji Airways website
The Fiji Airways website has had a revamp, and now operates as almost a showcase of what a small airline should be offering, with options showing all the flights that day, and even the cost of upgrading from economy to business.
Main Website: www.FijiAirways.com
Information on Frequent Flyer