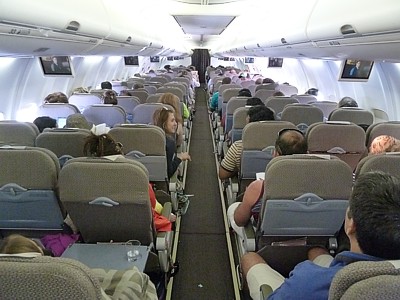 Fiji Airways 737 Cabin
There are four key routes for Fiji Airways, along the corridors from Australia, Hong Kong, Auckland and Los Angeles, all leading to the Fiji hub in Nadi.
Great care should be taken booking flights using the three Fiji Airways A330s. Should any of these be taken in for maintenance, or have unscheduled issues, such as recently when a heavy landing at Sydney took one of the three long haul aircraft out of action for months, causing chaos in the schedules.
The two long-haul routes are from Hong Kong to Nadi, where Fiji Airways flies three times a week: on a Sunday, Monday and Wednesday an A330 leaves Hong Kong at 1655, arriving at 0710. It's overnight for the return too, on a Saturday, Monday and Wednesday, leaving at 2200 and rolling back to Hong Kong at 0430.
Los Angeles has overnight flights too, every day of the week, leaving at 2330, and getting in to Fiji two days later at 0550. On the return you arrive before you depart, leaving on an A330 daily at 2140, and rocking into LAX at 1325.
Honolulu is the other US city served, three days a week on a Sunday, Tuesday and Friday. There is just a 737 leaving at 0250 in the morning, arriving at Nadi at 0735. Flying back to HNL at 1355, getting in at 0015.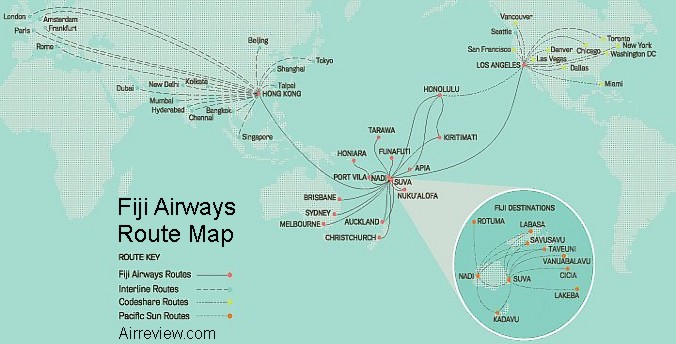 Fiji Airways International Route Map
Australia has a pretty intense service, with Sydney sometimes getting three flights a day. Daily there is an A330 leaving at 1300, arriving at NAN at 1850. Outbound it's a breakfast flight, with the A330 leaving NAN at 0900, getting in to SYD at 1145. There is also a 737, leaving Sydney at 0630 in the morning, getting into NAN at 1220, and in Saturday another 737 leaving at 1055, getting in at 1645. Back to Sydney there is also the daily evening 737 leaving at 1830, arriving at 2125. IT's got to be said however that none of these flight times are particularly convenient for leaving a hotel in Fiji: you either have the 'oh my goodness its early'; a 9am flight - which means a 5am wakeup call, or the 6.30pm flight which means hanging around at the airport for six hours.
Melbourne also has a daily flight, using a 737, at a woeful time: it leaves Melbourne at 2300 getting in to NAN at 0550 the next day. Reverse, from Nadi it leaves at 1810, getting in a 2200.
Brisbane by contrast has some great times, with a daily 737 leaving at 1130 arriving in NAN at 1700 (Except Wed & Sat when it's a 2355 overnighter) while in the reverse the 737 leaves at 0815, arriving into Brisbane at 1030 in the morning.
Auckland too has a great daily 737 flight at 1255, arriving in NAN at 1600. One day a week - the Saturday - there is also an A330 at 1415, arriving at 1710, and a 737 at 0810. Indeed, there are also three flights a day on a Wednesday, with a choice of 0210, 1255 or 1610.
Airline schedules change regularly
This information is intended as a guide, but for up to the minute timetables, please consult Fiji Airways at www.Fiji Airways.com