Fiji Airways inflight bar & drinks
Fiji Airways maintain free drinks on all services, however you won't get a lot.
It's a question of either a free beer, or a free glass of wine.
Economy Class Beer - Fiji Airways inflight drinks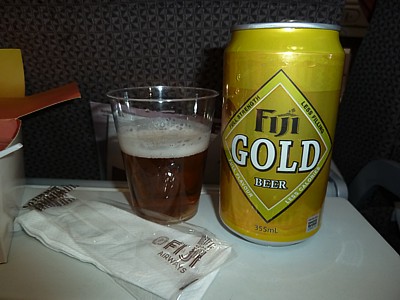 Fiji Gold
Good drinking lager
Fiji Gold is a classic easy-drinking lager beer, brewed in Fiji by Foster's Group Pacific at a brewery in Walu Bay, Suva.
With a great yellow golden colour, it's very clear with only a little bit of white head. Indeed, rather like classic Fosters from the UK.
It's not too bad a drink either, with an aroma of grains, honey and some malt.
4%. 335ml can.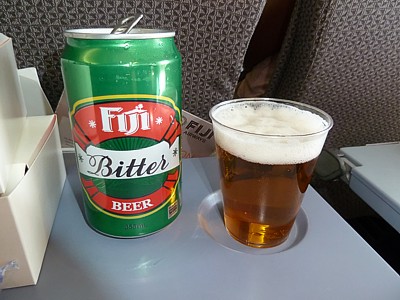 Fiji Bitter
Poor bitter imitation
Ah, now this is one you might want to avoid.
Totally different from Fiji Gold, Fiji Bitter is brewed for the Australian market it is an American Adjunct style beer. However, being brewed by Carlton & United Breweries in Victoria, it has those classic Australian tendancies to taste like a bad version of VB.
4%. 335ml can.
Next Page: Fiji Airways Customer Reviews