Fiji Airways Frequent Flyer Scheme - Tabua Club
Fiji Airways's Frequent Flyer scheme is called Tabua Club. It is part of no alliance.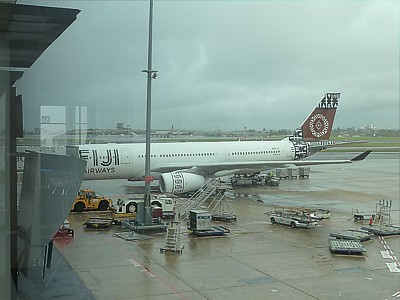 Fiji Airways Airbus A330 at Sydney
Joining Tabua Club costs no less than $499.00 FJD. It offers access to the Tabua Lounge in Nadi International Airport, plus some other lounges such the Qantas Lounge in Sydney, Brisbane, Melbourne and Auckland, Air New Zealand Lounge in Christchurch, Premium Plaza/Travellers Lounge in Hong Kong and International Lounge in Los Angeles.
Joining is easy; it's possible to do it online, although the joining process is convoluted with three pages of forms to fill in, and various bits that are mandatory that are not made clear. You get a membership number as soon as you sign up, however you don't get a 'real' card until you've flown on Fiji Airways at least once.
Next Page: Fiji Airways Business Class lounges