NEWS: Fiji Airways has now upgraded their A330 IFE, so you can order a Pizza at your seat.
Fiji Airways offer two types of inflight entertainment - AVOD on demand TV with seatback video monitors on the A330, or tapes on a loop on the Boeing 737. Both are called - without any hint of irony -
FijiTime
. Both are notorious for lack of quantity or quality, and the 'pay to watch' system on the A330 can be a nasty surprise.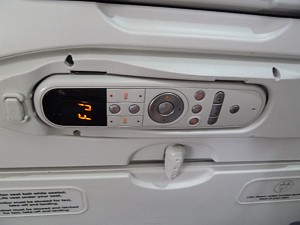 Fiji Airways IFE
A330 Fiji Airways inflight entertainment
On the three Fiji Airways Airbus A330 there is AVOD on demand entertainment in both classes, with a 15.4 inch LCD screen in Business Class, and a 9 inch touchscreen in economy, where the remote is under the TV screen, rather than clamped into the arm as it is on many aircraft. That's the good news.
When it comes to content however, something is lacking. Like, content.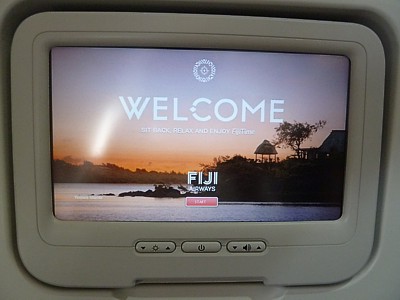 Inflight entertainment Fiji Airways A330
Fiji Airways inflight entertainment listings are not shown on the Fiji Airways webpages - and there is a good reason for that. You'd pack something good to read. On the full system, there are just 8 movies to watch, with two of these being children's films. And they aren't particularly good films either - they are films which have done the rounds for a while. There are also a few TV programmes, with some middle of the road American TV dramas and a couple of documentaries from the UK. And that's about it.
Worse is to come if you are on the A330 on what is regarded as a 'mid-haul' route, such as to Australia. Here, only part of the system is switched on in economy; you get just one movie, and two TV programmes. You have to pay extra for the Bula Bundle to unlock the rest of the content - such as it is. This costs FJD$10.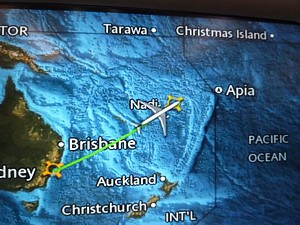 Inflight Map
However the Fiji Airways IFE has one unique feature - or at least also unique, it is shared with Air New Zealand too. You can order a pizza at your seat! Under the flight section, scroll through the food, and you can - at least in theory - hit the button to order (and pay for) a pizza. At least, that's the theory, but when you get to the last section, it says the feature isn't enabled, and you need to press a button to call the crew. Who inevitably look confused by this, and you're probably the first passenger ever to use this feature.
There is some other content on the A330: There are some games, and also some CDs to listen to.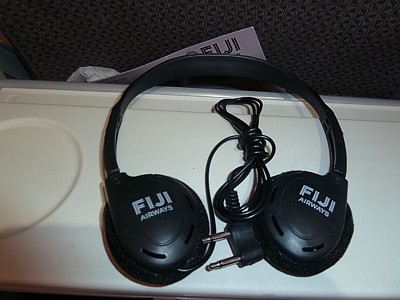 Inflight entertainment Fiji Airways Headphones
Fiji Airways headphones in economy are nice, with decent overhead-band types, and dual plugs.
Boeing 737 Fiji Airways inflight entertainment
Things are a lot more basic if you are on the Boeing 737. Fiji Airways inflight entertainment on 737 consists of tape loops.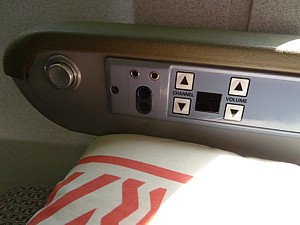 IFE on the 737
In Economy on the 737, there are just small overhead screens which drop down from the ceiling. There is a film on longer flights, and on shorter ones just one TV programme. Now, the 737 can be used on some quite long flights - such as the five hour haul back to Sydney - so with the film only lasting a couple of hours at best, you'd better have made sure you pack a good book.
The Fiji Airways Business Class 737 inflight entertainment is a different beast, and it, rather like the seat, means moving back to the 1990s. There are eight films on tape loops, and your personal monitor can flick between them. There are six films, a children's channel, documentaries, and the moving map.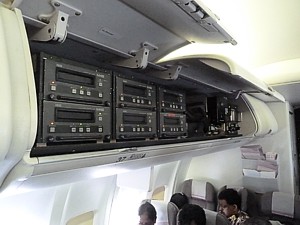 737 Business IFE players in the economy lockers
Fiji Airways Inflight Magazine - Fiji Time
The Fiji Airways In-flight magazine is one of the smallest, thinnest, rags you'll get on any airline.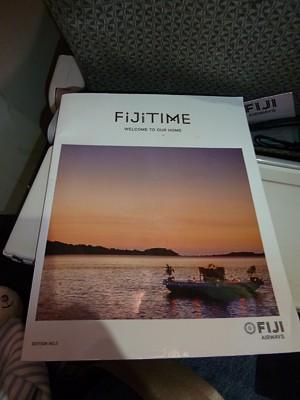 Fiji Time Fiji Airways Inflight Magazine
That's not to say it's particularly bad: it's professional produced and has some very good photography. However the articles are either syndicated or advertorial. There is a brief guide to what's on in Fiji, the Fiji IFE listings, and long detailed fleet information section, and the inevitable details of the Na Store, in-flight shopping experience.