Fiji Airways started as an airline when Harold George Gatty settled in Fiji after World War II. A famous air navigator, he invented the revolutionary ground speed and drift indicator. He submitted a proposal to Fiji's then Colonial Government to start an airline, and the first flight was in 1951, when a 7-seater De Havilland Dragon Rapide took off from the East to West coast of Fiji - at that time a two day drive away over hard countryside.
The airline name was soon changed to Air Pacific, when in the late 1960s seven island governments of the Pacific held shares in the airline, along with Qantas, New Zealand's TEAL (forerunner of Air New Zealand) and BOAC - the British Overseas Airways Corporation (now called British Airways). However the other island nations needed to sell their stakes, leaving Qantas and the Fiji Government each owning about half. Qantas led the management team, and had effective control of the airline.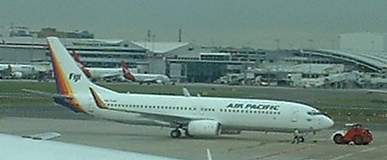 Fiji Airways 737 at Sydney
The partnership led to code-sharing with Qantas - in the 1980s this was very much an unusual concept, but is now widely accepted. By the mid 1980s the airline started buying large Boeing 747 sets on the secondhand market, and started flights to the USA. The collapse of Ansett meant it could replace it's aging Boeing 747-200 with two Boeing 747-400s which came from the Bankrupt Australian airline. The interiors were unchanged, and these aircraft were decidedly old when they were retired in 2013.
Sunflower Airlines, which later changed to Sun Air, started flying domestic routes in Fiji in the 1980s with a single Britten Norman BN2 Islander aircraft, flying the Nadi-Taveuni route. By the late 2010s Sun Air was losing $6 million per year, and was eventually taken over by Air Pacific who renamed it as Pacific Sun, and in 2014 rebranded it again as Fiji Link.

Fiji Airways 737 at Auckland
In July 2010 the new management team announced the start of new Suva-Auckland service and in September 2010, they announced the addition of a third weekly Hong Kong flight.
In April 2011, Air Pacific announced that, due to delivery delays of almost four years by Boeing, it had cancelled its order for eight Boeing 787-9s, and in October 2011, it announced that it had ordered three Airbus A330-200 from Airbus that are expected to be delivered in 2013. In February 2012, it was announced at the Singapore Airshow that it had ordered Rolls-Royce Trent 700 engines for its new planes.
In 2012 Fiji's military government issued Decree No.26 to take control of Air Pacific from Qantas ordering it to no longer have effective control over Fiji's national airline. The South Pacific nation's government, which took power in a 2006 coup, has denied the move amounted to nationalisation, saying instead that it corrected prior activities which allowed foreign citizens to control Fiji's national airlines. The airline has carried on flying since the move and has re-branded as Fiji Airways.